The Conversation: Top 10 of 2019 Thus Far …
Half-way through the last year of the decade, the same cinematic trends exist as far as theatrical releases in the US, those being the best films remain holdovers from the previous year's film festival circuit. Already, a number of festival gems have come and gone without making much of an impression at the box office (Jia Zhang-ke's Ash is Purest White, for instance). It has been a good year for portraits of women discovering a sense of agency across an impressive spectrum of ages and cultures. Here's a glance at ten of my favorite 2019 theatrical releases thus far.
#10. The Heiresses – Marcelo Martinessi (Paraguay) – 1844 Entertainment
Exploring intersections of class, sexuality, and that obscure object of desire, Martinessi drills down into a lead character who has fallen into estrangement and stagnancy, forced to reckon with the absence of her partner, a woman whose considerable debts have results in significant legal recourse. Slowly, and methodically, a woman becomes reawakened to the world around her, much to her own surprise. Read review.
#9. Gloria Bell – Sebastian Lelio (US) – A24
For someone who professes to enjoy dancing, to the extent she'd prefer to die doing it if the apocalypse were to hit, we don't regularly get to see her enjoy doing it—and it's why the final moments of Gloria and Gloria Bell are such wonderful affirmations of a woman allowing herself to let go and embrace her greatest asset—her self. Read review.
#8. Greta – Neil Jordan (US/Ireland) – Focus Features
Huppert, who is still fresh off a career high thanks to the post-Elle Oscar nod, seems to relish the opportunity to become completely unhinged, and Jordan riffs off her The Piano Teacher (2001) role quite effectively. Audience members mildly guffawed upon learning a secret about her character's ethnic heritage, which isn't too far removed from something like the twist in 2009's Orphan (only more superficial and not as necessary). Huppert's brooding Greta comes across like the similarly unbalanced Tallulah Bankhead in the 1965 cult classic Die! Die! My Darling, in which the esteemed stage actress terrorizes Stefanie Powers in similar fashion. Read review.
#7. Non-Fiction – Olivier Assayas (France) – Sundance Selects
Entertaining, and unfolding much like an old-fashioned Sacha Guitry vehicle wherein its flurried, busy-bodied characters finds themselves inextricably enmeshed in topicalities they've mistakenly used to create or pervert their own core realities and ideals, Non-Fiction goes down like a sweet blast of bubbly, fading into a rosy glow by its end credits. Read review.
#6. The Wild Pear Tree – Nuri Bilge Ceylan (Turkey) – The Cinema Guild
Turkish auteur bests his 2014 Palme d'or winner Winter Sleep with this three-hour familial drama which flew in under the radar both at Cannes and its theatrical release, courtesy of The Cinema Guild. A loquacious, complex familial relationship drama, this rivals Ceylan's 2011 masterpiece Once Upon a Time in Anatolia in style and scope.
#5. The Souvenir – Joanna Hogg (UK) – A24
British filmmaker Joanna Hogg scores her most exceptional film to date with The Souvenir, the first part of a planned two-part effort which features a breakout lead performance from Honor Swinton Byrne (daughter of Tilda Swinton, who also plays her mother in the film). A great film about a terrible boyfriend, this 1980s set drama is an austere break-up narrative.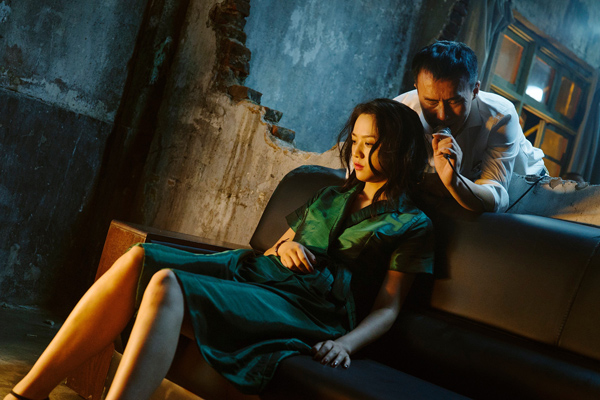 #4. Long Day's Journey into Night – Bi Gan (China) – Kino Lorber
Chinese filmmaker Bi Gan impresses with this 3D specked neo-noir which travels back and forth over a twenty-year time period as a man tracks down a mysterious woman. A ravishing cinematic spectacle, it's one of the most underrated theatrical offerings this year.
#3. Dragged Across Concrete – S. Craig Zahler (US) – Summit Entertainment
Yes, its politics and even its director pose something of a problem, but Dragged Across Concrete is S. Craig Zahler's meatiest bit of aggrandizing cinematic spectacle thus far in a narrative which attempts to deliberate itself on racial and class politics. Mel Gibson, Michael Jai White, Vince Vaughn, Don Johnson and Tory Kittles provoke in this incredibly violent and oft-repulsive crime thriller.
#2. High Life – Claire Denis (France/US) – A24
Denis' High Life, co-written by Jean-Pol Fargeau and Geoff Cox (early drafts of the English language script were penned by Nick Laird and his wife Zadie Smith, but neither are credited) is in the more extreme direction of cerebral sci-fi where one also finds names like Tarkovsky lurking in the existential depths. Its narrative, abusing/using human cargo for devious human experiments in isolation, even conjures echoes of Kubrick twins A Clockwork Orange and The Shining (the latter in part due to the quiet but creeping soundtrack, once more supplied by Denis favorite Tindersticks), and maybe toss in a bit of Alien 3 (1992) with its prisoner collective and amped up toxic masculinity. Oh, and there's the best 'fuck box' in cinema since Woody Allen's comical 1973 Sleeper dared to parody such a novel idea. Read review.
#1. Climax – Gaspar Noe (France) – A24
Featuring a stunning mash-up of period perfect artists like Aphex Twins and Daft Punk, Noe takes inspiration from the drag ball scene to capture a pulse-pounding opening number which evokes equal parts dance club and bathhouse. Noe, forever attuned to the sensory possibilities of cinema, provides a film which begins like a hit of amyl nitrate before it descends headlong into hysterical overdose territory, reeling like a nasty hangover after closing time at Berghain.