I Think They Know Her Alias: Lelio Revisits His Breakout Title with English Language Remake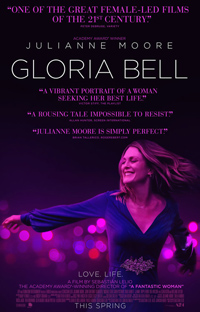 Chilean auteur Sebastian Lelio, who recently took home an Academy Award for Best Foreign Language film thanks to his 2017 title A Fantastic Woman, joins a small coterie of directors who have taken it upon themselves to direct the English language remake of a film from their catalogue. Lelio broke out into international acclaim with his 2013 sophomore film Gloria, which snagged Paulina Garcia a Best Actress award at the Berlin International Film Festival. Having since steered into English language filmmaking with Disobedience, Lelio lands Julianne Moore to star in Gloria Bell, transporting his Santiago set melodrama to Los Angeles. For lovers of the first film, the remake has the tendency to feel a bit less refreshing, as little has changed besides the language and location (even Gloria's reluctant rendezvous with her neighbor's Sphynx cat is recycled). On the other hand, Moore's lithesome interpretation of a middle-aged woman finally learning how to live out loud still manages to be poignant and enjoyable.
Recently a grandmother, the divorced and free-spirited Gloria (Moore) loves nothing more than to attend singles clubs in Los Angeles, dancing to classic disco tunes as she seeks her next chance at finding Mr. Right. Her children (Michael Cera, Caren Pistorius) are each going through their own personal dilemmas while her ex-husband (Brad Garrett) is already happily remarried (Jeanne Tripplehorn). Finding an interesting personality in the form of Arnold (John Turturro), who has only been divorced a year, Gloria believes she might have found the beginning to her next chapter. But Arnold hasn't been able to successfully extricate himself from his past relationship or his adult daughters, who are highly dependent on their father for everything. The immediate strain on their connection allows Gloria an opportunity to reexamine what she wants and why.
Comparison to Paulina Garcia' performance is inevitable, whose performance was a bit flintier and grittier, and somehow a bit more adroit at establishing her character's lonesomeness. Moore has often excelled at finding the empathy and earnestness in passive, repressed women yearning to break out of their shells (such as Safe, The Hours, Far from Heaven, etc.), so her casting elicits a familiar response.
The addition of a surname to the title allows for more musical cues in Lelio's vintage soundtracks, thanks to Gloria's many trips to a vintage, disco-themed club, notably Anita Ward's "Ring My Bell," which announces the onset of her troubled romance with Turturro's Arnold. She seems to be frustratingly oblivious to the obvious lack of enthusiasm they both hold for a potential relationship, and yet, what else is there to do but forge onward?
Finding a partner who is both sexually compatible and amiable enough to be around isn't easy to find, especially the older one gets. Her rationale remains justified, even in this transplanted environment, and yet the stakes somehow don't feel as high here, her searching a bit less plaintive. Lelio still builds to purposeful and jubilant crescendo, set, of course, to the Laura Branigan track, a sequence of letting go which is powerfully reminiscent of Maren Ade's The Forest for the Trees (2003).
A host of friends and family members seem to exist on the periphery of her daily life, the point being she isn't quite engaged with any of them. She's involved with her children's lives, but always as a witness to their experience, whether it's her son's impending divorce, her daughter's pregnancy as the result of a fling with a Swedish surfer, or the marriage of her best friend's (Rita Wilson, used sparingly) child. Ironically, she's in the diametrically opposed predicament of John Turturro's Arnold, a man so enmeshed with his family he can't assert his own individuality, whilst Gloria is left to float off into her own disco fantasies. As Arnold succinctly states of his daughters, "they don't see me as a person." And perhaps this is where the gender dynamics of Lelio's film are most potent—culturally, we're conditioned there will always be the necessity for a man to provide, while an older divorcee such as Gloria is, in effect, is merely a frivolous member of society.
For someone who professes to enjoy dancing, to the extent she'd prefer to die doing it if the apocalypse were to hit, we don't regularly get to see her enjoy doing it—and it's why the final moments of Gloria and Gloria Bell are such wonderful affirmations of a woman allowing herself to let go and embrace her greatest asset—her self.
Reviewed on September 13th at the 2018 Toronto International Film Festival – Special Presentations Programme. 102 Mins.
★★★/☆☆☆☆☆