The Conversation: Producer David Thion
French producer David Thion has spent the past eighteen years gambling on untested talents, fostering the filmography of several Gallic novices into full-fledged auteurs. Working with Emmanuel Mouret right out the gate with 2000's Laissons Lucie Faire!, he would head to the Cannes competition in 2001 producing Catherine Corsini's La Repetition (thus far her only competing title), and bring the debut of Romania's Catalin Mitulescu, The Way I Spent the End of the World to Un Certain Regard on 2006 (where it nabbed a special Best Actress prize for Dorotheea Petre). But Thion's most significant investments would be Mia Hansen-Love (he produced her first three films and returns to work with her on 2018's Maya) and Serge Bozon (producing all three of Bozon's feature and his 2002 short Mods). Along with Bozon, Thion has produced the directorial efforts of screenwriter Axelle Ropert, including Miss and the Doctors (2013) and The Apple of My Eye (2016). Thion added Christophe Honore to his resume with 2016's Sophie's Misfortunes, and returns to work with the director for this year's Sorry Angel (which is Honore's second time in the Cannes competition, following his first entry, 2007's Love Songs).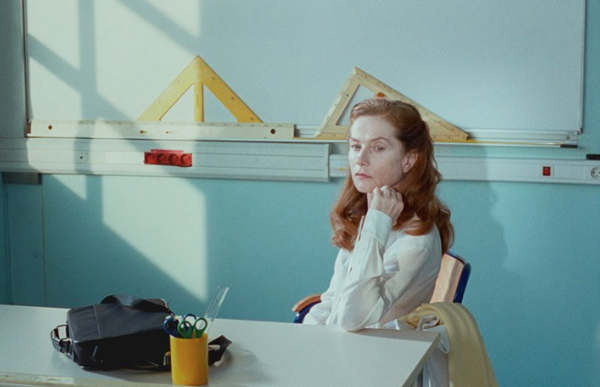 Thion will be a triple threat at Cannes 2018. With Honore in comp, Thion is also bringing Pierre Salvadori's En Liberte to the Director's Fortnight and Guillaume Senez's Our Struggles to Critics' Week. Here's a look at our five favorite productions from David Thion:
#5. The Way I Spent the End of the World (2006) Dir. Catalin Mitulescu
An early triumph for Thion was his involvement with the Romanian New Wave in the production of Catalin Mitulescu's debut The Way I Spent the End of the World, which took home an Acting Prize out of Un Certain Regard (following Mitulescu's Palme d'Or for Best Short, 2004's Trafic) and was Romania's submission for the Best Foreign Language Academy Award. Set during the 1989 revolution in the waning days of Nicolae Ceausescu, Romania's long-reigning (and last) Communist leader, a 17-year-old girl decides to rebel in her own private way. Mitulescu's debut arrived alongside Corneliu Porumboiu's 12:08 East of Bucharest which won the Golden Camera at the same Cannes film festival.
#4. Goodbye First Love (2011) Dir. Mia Hansen-Love
Snagging a Special Mention out of the 2011 Locarno competition, Mia Hansen-Love's third film Goodbye First Love spans a young woman's decade long involvement with, as the title suggests, the first man she fell in love with. Headlined by Lola Creton (in the midst of a period which saw the actress prominently featured in works by Catherine Breillat, Claire Denis, and Olivier Assayas), Love's penchant for authentic emotional development, the sorrowful onslaught of time, and formidable soundtrack were already in prominent operation.
#3. Mrs. Hyde (2017) – Dir. Serge Bozon
Isabelle Huppert was able to add a Locarno Best Actress win for her portrayal of a meek physics teacher who gets struck by lightning and develops a radioactive, somnambulistic alter ego in Serge Bozon's update on the classic Robert Louis Stevenson novella. Anyone familiar with Bozon's body of work should expect to be surprised (and maybe not always pleased) with the level of wackiness in his visionary approximations of French culture and troubling subtexts. Mrs. Hyde (read review) received a limited theatrical release last week in the US.
2. The Father of My Children (2009) – Dir. Mia Hansen-Love
Having produced Hansen-Love's 2007 debut All is Forgiven (which premiered at the 2007 Directors' Fortnight in Cannes), Thion collaborated once again with the director on what many argue is her masterpiece, 2009's The Father of My Children (read review). Hansen-Love won a Special Jury Prize at the 2009 Un Certain Regard line-up for a film about a prominent film producer struggling with financial difficulties and suicidal despair, exacerbated by a difficult new project from an idiosyncratic auteur (which purportedly was based on Bela Tarr).
1. Tip Top (2013) – Dir. Serge Bozon
Bozon's first collaboration with Isabelle Huppert was this madcap, screwball dark comedy based on a British novel by James Tucker (under the pseudonym Bill James). Huppert is paired with Sandrine Kiberlain as a pair of mismatched and viciously offbeat internal investigators (the former a brutal sadomasochist, the latter an unabashed voyeur) poking around about the murder of an Algerian informant. Brooding political subtexts percolate in this odd mix of social commentary and slapstick comedy, featuring Huppert in one of her strangest roles to date (which is saying something). Premiering out of the 2013 Directors' Fortnight, Tip Top (read review) came and went without much noise, and wasn't released in the US until late 2014.
Read Nicholas Bell's previous The Conversation: Producer profile instalments:
Janine Jackowski (2018)
Jean Labadie (2018)
Christine Vachon (2017)
Olivier Père (2017)
Paulo Branco (2017)
Vincent Maraval (2017)
Megan Ellison 2017
Sylvie Pialat (2016)
Saïd Ben Saïd (2016)