Reviews
Addicted to Fresno | Review
But I'm a Sex Addict: Babbitt Returns to Dark Comedy with Mixed Results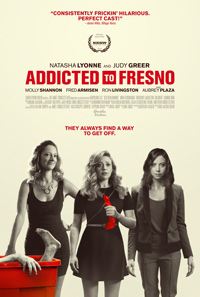 Though the film rests rather comfortably on the shoulders of its talented lead actresses, director Jamie Babbit's latest, Addicted to Fresno, overreaches in its efforts to deliver an endearing yet cynical familial drama about two sisters maturing and growing closer together as they cover up an accidental murder. Written by talented television writer Karey Dornetto ("South Park," "Portlandia"), here writing her first feature, a number of winning elements are present to constitute a successfully cynical dark comedy, but more often than not, a reliance on too many familiar narrative points tends to mish-mash the highs and lows into a mediocre black comedy. Fans of the notable cast members should find much to appreciate, though one is left with a curiously uninvolved feeling once the credits roll.
Recovering sex addict Shannon (Judy Greer) is having a difficult time staying sex free. Her supportive sister Martha (Natasha Lyonne), who has double mortgaged her home to help her troubled sibling out, also gets her a job as a maid for a hotel in Fresno, where she herself works. But when Martha accidentally walks in on Shannon having sex with one of the semi-permanent residents, an altercation ensues resulting in his death. Since Shannon is technically a registered sex offender, they scheme to get rid of his body via cremation at a business specializing in animal burial services only to find themselves being blackmailed by the unhappy owners. Now, the sisters must cough up a large fee, so they scheme to steal from the bounteous presents at the bar mitzvah of one of Martha's yoga instructor's (Aubrey Plaza) clients. Meanwhile, the dead man's sister (Molly Shannon) comes looking for him.
The incredibly busy Babbit, still best known for her boundary pushing 1999 debut But I'm a Cheerleader bounces freely between genre and format, and in-between her film projects she's extremely busy in television. Comedy seems to be her strong point, at least judging from her last feature, the tepid psychological thriller Breaking the Girls in 2012 (but her offbeat 2005 thriller The Quiet is worthy of a better reputation).
As the sisters, Greer and Lyonne are cast prudently against type, something which tends to work wonders for some of the less winsome scenarios they end up in. Unfortunately, Dornetto's script rides precariously close to the hyperbolic excess of something like Carrie Preston's That's What She Said (2012), a film mistakenly assumes merely portraying foul mouthed women is entertainment in itself due solely to their anomalistic existence. But foul mouthed women are not unicorns, and sometimes Judy Greer's contemptuous sex addict delivers a few too many exaggeratedly bitchy quips, and these often juxtaposed too obviously with Lyonne's endlessly chirpy optimism.
Still, it is refreshing to see a few techniques at work here, such as a heterosexual's destructive behavior causing the dramatic tension rather than the other way around. At the same time, Lyonne's character isn't defined solely by her sexual orientation though her subplot involving a romance with Aubrey Plaza (whose deadpan shtick can seemingly be applied to any sexual preference) never feels very necessary, other than giving the poor lass something to do besides remain consumed with her sister's problems. A host of other performers pop up in bit roles, like Ron Livingston, Kumail Nanijiani, and Molly Shannon, which almost gives Fresno a bit of wonky Reno 911 defined flavor of weirdness. But Babbit can't quite reconcile the despicable deeds of the two women, at least not enough to justify such a tidy ending. Perhaps this would have seemed subversive had we been led to care more about them.
★★/☆☆☆☆☆