Mrs. Harris Goes to Paris | Review
Dior on the Floor: Fabian Spins Sweetness into Schmaltz with Anglophile Fairy Tale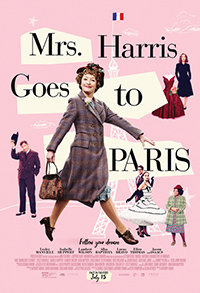 It's never too late to follow one's dreams, as the truncated tagline beckons for Mrs. Harris Goes to Paris, a sing-song narrative of humanist whimsy directed by Anthony Fabian. And for those who dare to pursue their desires, they're bound to inspire the cynical, jaded brutes in their wake, a sentiment belabored in this facelift on Paul Gallico's classic 1958 novel Mrs. 'Arris Goes to Paris, which was adapted for television by Murder She Wrote creator Anthony Shaw starring Angela Lansbury, Diana Rigg, and Omar Sharif in 1992.
Elegant and, at times, striking hot on the poignant charms crafted by Gallico over sixty years ago, Fabian unfortunately had to make room for too many cooks in the kitchen, co-writing a script alongside Carrol Cartwright, Keith Thompson and Olivia Hetreed, which over complicates the simple, sweet journey of a working class charwoman invigorated by a sense of designer beauty.
Splicing elements of the previous production and highlighting episodes previously ignored, Fabian injects an entirely new subplot meant to bolster the camaraderie of the working class while skewering the elitist tendencies of capitalist hierarchies, which this gossamer narrative tends to sag beneath the weight of. Still, an effervescent Lesley Manville buoys the film even during the most egregiously hokey moments in a film extolling the virtues of kindness, empathy, and the transformative power in the pursuit of happiness.
In 1957, London, hardworking charwoman Mrs. Ada Harris (Manville) has been patiently awaiting the return of her husband from the warfront, who she last heard from in 1944. When news finally arrives of his death after his remains are discovered, she is delighted to learn she will receive fourteen years worth of widows' pension. The news arrives in the midst of her campaign to save all her money for the purchase of a Christian Dior gown, a designer whose talents she discovered one day while working for one of her clients. Scrimping and cutting corners, including playing the lottery and (against the judgment of her friends Vi and Archie, played by Ellen Thomas and Jason Isaacs), betting at the dog races, her desire for the dress grows with each pound saved. With her funds in tow, she absconds to Paris, immediately dismayed by the dismissive directress of the Dior fashion house, Madame Colbert (Isabelle Huppert). But seeing as she shows up with cash, which the company is sorely in need of due to the wealthy clients constantly buying on credit, plus the kindness of a wealthy spectator, Marquis de Chassagne (Lambert Wilson), Mrs. Harris attends the show, settling on a dress. However, she was unaware she would need to undergo a series of measurements and fittings while the gown is custom made. As she had only expected to stay overnight in Paris, her passion, kindness and ensuing distress results in a kind hosting gesture from Dior's home accountant, Andre Fauvel (Lucas Bravo) and the head model, Natasha (Alba Baptista). Mrs. Harris recognizes the two of them are in love but inept at communication. As she plays matchmaker, Mrs. Harris eventually begins to set her own sights on romance, infecting even the most jaded of her critics thanks to her joie de vivre.
The biggest problem with this version of Mrs. Harris Goes to Paris is the abyss of stereotypes in which the film bathes its Parisian characters (it's worth noting, Gallico wrote four books in total devoted to the beloved Mrs. Harris, who also had adventures in Moscow and New York). In what could have been an excellent against type for Isabelle Huppert, Fabian combines villainous characters from the novel to craft Madame Colbert as a pretentious harpy of a directress (originally, she manned the floorshow of the fashion shows, with Britain's Diana Rigg, for some reason, previously playing the French gatekeeper).
Gesticulating and speaking in exaggerated English meant to patronize the diminutive Mrs. Harris, Huppert's directed like a Disney villain, her eventual salvation shellacked implausibly into a merry-go-round of resolutions in the third act. It's a pity because Gallico initially painted these two women as unlikely allies against a cruel, patriarchal system. Likewise, Lambert Wilson's kindly Marquis is configured as a potential romantic conquest for Mrs. Harris, which also robs the denouement's various kind gestures of his good intentions.
While the television film took place in 1953, this 1957 version casts Paris as a metropolis on the verge of collapse, a garbage strike equivalent to the fecundity of Gotham's waste service fiasco in Joker (2019). This allows for a sweet vengeance regarding the cruel Madame Avalon (Guilane Londez, who was a memorable supporting character in Verhoeven's Benedetta, along with Wilson), but the complicated catalysts in Fabian's film never allow our sentiments to disappear into the film's insistent desire for catharsis. The meddling with the original formula creates too many plot holes never addressed. The film's cruelty in denying Mrs. Harris her first choice without anyone vocalizing this fact, whatsoever, slides into contradictions about a fashion house's need for cold hard cash. The disparity between the haves and the have nots is merely a facade, come to find, with Mrs. Harris' employers unable to pay her timely, and Dior's 'wealthy' clients never quite able to pay their bills on time (the pop up strike orchestrated by Mrs. Harris to allow Lucas Bravo's accountant suggestion Dior consider a ready-to-wear line for ordinary women is akin to the fantasy of Deneuve's umbrella manufacturer in Ozon's equally fantastical Potiche, 2010).
The film completely loses itself in the romance of Natasha/M. Fauvel, outfitted as they are with hackneyed discussions on their shared love of Sartre (whose approach to defining existentialism through humanity is apparently the lens through which Mrs. Harris is being filtered), with Lucas Bravo suffering through yet another questionable French fantasy following Emily in Paris (2020). There's also a lack in the construction of Mrs. Harris resiliency as a charwoman, lost in the interactions with her trio of employers, including a smarmy Christian McKay, a manipulative Anna Chancellor and the harbinger of doom played by Rose Williams (who seems to be modeled after Diana Dors).
However, the film isn't without some pitch perfect moments, usually when it's letting Lesley Manville breathe some life into Ada Harris in the bookend London sequences, where her camaraderie with Ellen Thomas as Vi and the late staged romance with Jason Isaacs creating a blissful sense of reprieve. Manville brings a magic lacking in the dowdy obliviousness of Angela Lansbury's portrayal, while Fabian manufactures a sense of decadence, especially apparent in the sidelines, including utilizing chanteuse Juliette Greco and a fashion show which compares to the sole color sequence in George Cukor's The Women (1939). Overall, it's a home run for Manville, even when the script mistakes sentimentality for soul.
★★½/☆☆☆☆☆
Distribution: Focus Features