Middling Earth: Wheatley Explores Favored Motifs in Pensive Pandemic Exercise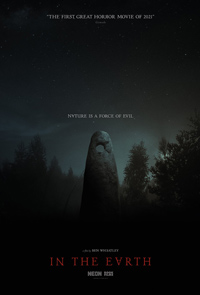 If we've gleaned anything about circumventing Mother Nature, perhaps those 1970s Chiffon margarine commercials featuring Dena Dietrich prophetically made the most astute declaration – it's not nice to fool her. Mirroring the pandemic raging across the globe, Ben Wheatley took a hard left into these unfortunate parameters to concoct his own strange ideations on the potentially dangerous nexus of science and art with his latest In the Earth, fully realized and completed after the onset of COVID-19. The result feels like a rehash of themes explored more intrinsically in several of his earlier features, wherein rural settings and pagan histories make for great bedfellows in genre. Compelling ideas are unfortunately thwarted by lackadaisical pacing and somnolent catalysts. Despite a return to his fervor for psychedelic flourish, Wheatley's narrative and quartet of characterizations are meted out with foreseeable fates.
After living in quarantine for several months during an ongoing pandemic, Dr. Martin Lowery (Joel Fry) makes his way to a research hub called ATU327A deep in the Arboreal Forest. His guide Alma (Ellora Torchia) confirms it will be a two-day journey on foot, but she's familiar with the terrain as well as the woman they're going to meet, Dr. Wendle (Hayley Squires), who runs the hub. Alma has suspicions of Martin knowing the good doctor more than he is letting on, but they set off and see strange things in the woods, including abandoned camp sites. Apparently, since the pandemic, several families have wandered into the forest only to disappear. As they enter the fifteen-mile zone to the hub, they're beaten by an unseen person one night and left shoeless. Martin is hobbled by a jagged gash in his foot, so the two travelers are relieved when they meet Zac (Reece Shearsmith), a vagabond living off the grid in the forest. He patches them up in his makeshift camp only to drug them and engage in, well, strange rituals. Barely escaping Zac, they finally find Dr. Wendle, who reveals she was once married to the madman and they're basically both pursuing the same entity in the woods from different angles. It appears whatever force lurking there won't allow Alma and Martin to leave, so they're forced into assisting Dr. Wendle.
Wheatley's earlier output was the stuff of a genre savant, and his devotees will surely appreciate a return to territory which conjures memoires of Kill List (2011), Sightseers (2012), and A Field in England (2013). In fact, In the Earth, though bearing the constraints of the environment in which it was created considering Wheatley's abilities, jumps the track of the glossy genre output he's favored more recently, including the laudable J.G. Ballard biopic High-Rise (2015) and more uneven offerings, like the monotonous shoot-em-up Free Fire (2016) and the dead-behind-the-eyes rehash of Daphne du Maurier's Rebecca (read review). It starts off promisingly enough, a scientist arriving at the Gantlow Lodge in the Arboreal Forest to visit a research hub run by a mysterious sounding woman he might have carried on an impassioned long-distance relationship with at one point. The exact nature of the pandemic raging in the world at large isn't outlined specifically, only resulting in a stricter than normal quarantine process before he's whisked off on a two day walk with Ellora Torchia's Alma. Torchia, who appeared in Ari Aster's Midsommar (2019) really gets a chance to shine in a rigorous role as a tortured tour guide.
Things begin to run amok when Martin and Alma are waylaid in their fairy-tale journey by Reece Shearsmith's Zac, who drugs them, takes strange photos and gibbers about an entity in the woods, an idea we were tellingly introduced to earlier in the lodge. Parnag Fess, the local legend, means Sound and Light. Zac believes the entity in the woods responds to art and stories, while his ex-wife, Dr. Wendle, whom Martin was on his merry way to meet, is attempting to record the language of the forest through a complex system involving sound and light, etc. Together, the both have been influenced by the real star of the film, a stone pillar with a large hole in the middle of it which attracts all these said energies to it, etc. And, as mentioned, those who have traveled to ATU327A are unable to leave, of course.
While Hayley Squires, who is appropriately presented as a potential madwoman in the woods (and a welcome counter to the stellar performance she gave in Ken Loach's I, Daniel Blake, 2016) fares a bit better in this capacity than Shearsmith, recalling something like Barbara Steele as a lady scientist (think Piranha, 1982), their characterizations are not exaggerated enough to suggest they were logical humans who have become overzealous but divergent followers of this pagan force in the forest.
Ultimately, the stakes never seem quite high enough (even the severe injuries sustained by Martin aren't really incorporated effectively, at least as far as their effects) and by the time In the Earth enters its extended finale, it tends to feel a bit tedious. In the Earth pales in comparison to what Wheatley's previously accomplished in these realms. As Wendle comments about mankind's insistence on 'making stories out of everything,' she forgot to mention our capacity for repetition.
Reviewed on January 30th at the 2021 Sundance Film Festival – Premieres Program. 107 Mins.
★★½/☆☆☆☆☆