Separation [Video Review]
Divorce of Force: Bell Peddles Puppets in Congested Ghost Story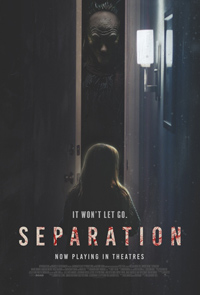 "Separate's always better when there's feelings involved," per Outkast's 2003 track Hey Ya!, and one wonders if William Brent Bell's blandly titled Separation couldn't have felt a bit more concise about these same sentiments.
A ghost story divorce drama about a woefully inept husband, his long-suffering wife, and their traumatized daughter who become embroiled in a malevolent haunting following a violent tragedy, on paper this latest offering from the director behind The Devil Inside (2012), The Boy (2016), and Brahms: The Boy II (2020) suggests a continually evolving genre enthusiast honing his craft. Unfortunately, this first narrative features from scribes Nick Amadeus and Josh Braun gluts itself on phantom red herrings atop the shoulders of a formidably insipid protagonist in Rupert Friend.
Maggie (Mamie Gummer), a harried New York lawyer who resents having to work for her successful father, Rivers (Brian Cox), to support her unemployed husband Jeff (Rupert Friend), finally has had enough. Filing for divorce and concocting a deal which will grant her sole custody of their 8-year-old daughter Jenny (Violet McGraw), Jeff is initially not opposed to the deal, consumed as he is with his own artistic inspirations (his daughter's room is populated by grotesque puppets called 'Grisly Kin' from his last failed project). But when Maggie announces she'll be moving out of state, Jeff is finally alarmed. Conveniently, just as she reveals her plans, Maggie is killed in a vicious hit-and-run, with Jeff as the inheritor of her estate. Depending upon their babysitter Samantha (Madeline Brewer) to help care for Jenny while Rivers himself files for custody, disturbing visions begin to haunt Jeff and Jenny, as if the spirit of Maggie was embodying the lifeless puppets for insidious intentions beyond the grave…

From the jump, Jeff is painted as a nearly irascible loser, and despite her shrillness, our sympathies stray immediately to Maggie (the annoyance creeping into Gummer's voice channels tones reminiscent of her mother). Too bad she's quickly dispatched, in the film's only real jarring sequence, which leaves infrequent appearance from Brian Cox to remind us of how characterization can appear even in the most frivolous of roles (like Gummer's supporting role in Carpenter's The Ward, she proves to be an asset in an otherwise tedious machine). Friend is almost maddeningly opaque, which never meshes with the peculiarity of Madeleine Brewer, who always appears to be a bit crazed and already crossed boundaries in her introductory scene (an energy which also robs the film of what it likely believes is one of its surprise pleasures).
Lensed by Karl Walter Lindenlaub, who worked with Bell on Brahms: The Boy II (and served as cinematographer on many high-profile Hollywood gloss items, like Stargate, Independence Day and Universal Soldier, to name a few), Separation's special effects sequences do feature a kind of cartoonish splendor, which oscillate between feeling cheap and somewhat enjoyably fantastical, like it could morph into Tim Burton anime. But there's little rhyme or reason to these possessed puppets, including the use of talented contortionist/actor Troy James as Nerezza, who appears to be a demonic take on Marcel Marceau.
Creepy dolls and puppets are a subgenre unto themselves, from The Puppet Master series to Dolls to the early obsessions of James Wan, and apparently Bell, as well. In a way, the creepy incorporation, while narratively unsound, does grant Separation some visual texture, and might trigger memories of something like the 1986 Bryan Brown thriller F/X (or maybe the poorly conceived 1991 sequel F/X 2). "We are what we do, not what we intend," mutters Brian Cox in response to one of Friend's many bouts of wishful thinking. Which about sums up the intentions and actual accomplishments of the film.
★½/☆☆☆☆☆