Unclenching the Fists | Review
So Daddy, I'm Finally Through: Kovalenko Explores Familial Dysfunction in Rural Melodrama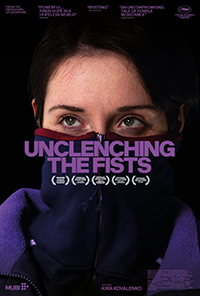 The suppression of women by the heteropatriarchy is tale as ancient as civilization, depicted endlessly across ages and cultures. For her sophomore film Unclenching the Fists, director Kira Kovalenko brings us the isolated region of North Ossetia in the Caucasus for one such tale, in which a young woman is literally locked down so she will never leave her needy father. Of course, the imprisonment is more than just physical, but this straightforward portrait of one particular family's dysfunction reveals secrets and alliances upon a surprise reunion when a prodigal son returns. Premier producer Alexander Rodnyansky (who has produced the first two features of Kantemir Balagov) plucks another of Sokurov's apples in Kovalenko, who promises to be another bright star amongst contemporary Russian directors.
Zaur (Alik Karaev) migrated his three children to the isolated mining town of Mizur in North Ossetia after a tragic incident. However, Zaur has lorded over them with an iron grip, mistaking care for overprotection. Eldest son Akim (Soslan Khugaev) escaped some time ago to work in the nearest city, Rostov. But his absence has caused difficulty for younger sister Ada (Milana Aguzarova) and brother Dakko (Khetag Bibilov), whose passports have both been confiscated by Zaur while they're routinely locked in their apartment at night. When Akim makes a sudden suspicious return, Ada is ready to flee with him to Rostov, at any cost. As they celebrate their father's birthday, extraction proves to be more difficult than the siblings assumed.
Kovalenko's 2016 debut, Sofichka, was an adaptation of a novel by Fazil Iskander, so the various comparisons to Russia's rich literary legacy aren't surprising in Unclenching the Fists. Literally conjuring the opening of Anna Karenina, indeed, 'every unhappy family is unhappy in its own way.' We're wisely left to figure out what exactly the situation is at home, with subtle hints winnowing deeper into a murky pool of intersecting trauma. The focal point is the fresh-faced Milana Aguzatova as Ada, who could likely be an homage to Nabokov's Ada or Ardor, in which a brother's love for his sister tends to dip into V.C. Andrews territory.
Kovalenko presents us with ambiguities, but the evidence remains clear on taboo boundaries being crossed between Ada and Akim, and potentially Ada and her father. A revelation about diapers, followed by an incredibly awkward sexual interaction with one of her admirers, reveals a woman desperate to escape but mentally hobbled by an endless indentured servitude after surviving a deadly school hostage crisis as a child.
A whirling night of escapades, including attempted patricide, a teary dance club aside, some brief hours of respite, and then a reunion at the hospital whereby one character loses their voice just as another finds theirs, it's continually a film of surprising energy and subdued menace. All four principals are making their film debuts, and while all are impressive, Aguzarova is the winning presence, aided by Soslan Khugaev as Akim, lost souls whose connection, while likely feeding into comorbidity, remains poignant.
★★★½/☆☆☆☆☆
Reviewed on July 10th at the 2021 Cannes Film Festival – Un Certain Regard. 97 Mins