Deal of Fortune: Duke Attempts Neo-noir in Passionless Debut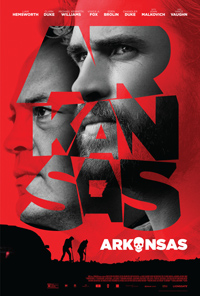 Drug running is generally an unromantic career choice, at least up until the inevitable thrills to be gleaned when avoiding capture. It's freely acknowledged by one of the 'middle managers' operating in actor Clark Duke's directorial debut, Arkansas —a bored drug dealer is a lucky one. However, those invited to watch them might need a different angle to cement investment.
Based on a 2009 novel by Josh Brandon, Duke co-wrote, co-produced and co-starred in the project, which benefits greatly from a striking, even inspired supporting cast. However, at nearly two-hours running time with a narrative built on inertia mixed with significant chunks of flashback concerning a character we're never properly introduced to until the third act, the potential energies of the written form get lost in its visual translation, making its rather simplistic story end up seeming unnecessarily convoluted.
In short, handsome drifter Kyle Ribb (Liam Hemsworth) finds himself promoted as a wholesale drug runner in an illicit organization run by a mysterious figure named Frog (Vince Vaughn). Kyle has never met Frog but travels to Arkansas to meet his new partner, Swin Horn (Duke), their first mission to transport their goods to Corpus Christi. Waylaid by a cop named Bright (John Malkovich), who reveals he is also working for Frog, the two men are told they will work underneath Bright, an intermediary. Moved into trailers near Bright's house, they receive further instructions from another 'middle man,' Her (Vivica A. Fox). A mission in Louisiana, however, finds them followed by the grandson of a buyer who tortures Bright, dying in his efforts to kill his assailant. Now, without a way to contact Frog, Kyle and Swin must lie in wait, unsure if they will be blamed or praised.

There's a great many more unnecessary detritus in Arkansas which makes its rather straightforward narrative feel convoluted. Flashbacks to the mid-1980s reveal the trajectory of Frog, and while this allows Vince Vaughn to steal the film (and an underutilized Michael K. Williams), it bogs down the film unnecessarily. Same with a creaky, groanworthy love story for Swin, who aggressively flirts with a beautiful young woman at the grocery store (Eden Brolin, daughter of Josh) who ends up pregnant with his child and as characterless as where her character started.
Somewhere in this mix is the stalwart Hemsworth, who shines through these layers of quirk simply because he isn't assigned any such superfluous details. Fox is a welcome presence and Arkansas would have been much more interesting had it ditched the puppy love and examined the strange power play between Her and the two men, all who are basically in the same boat with the absence of Bright. At a two-hour running time, Arkansas is a half-baked neo-noir whose lukewarm juices curdle long before the credits.
★★/☆☆☆☆☆