How to Build a Girl | Review
The Girl Most Likely To…: Giedroyc Returns with Novel Coming-of-Age Dramedy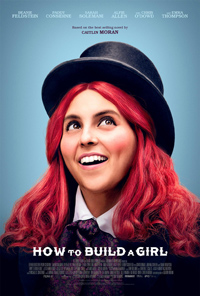 In several respects, the trajectory of How to Build a Girl isn't inherently new—a cross between Louisa May Alcott and Amy Schumer in Trainwreck as it deliberates on female authorship and a young woman learning to find her authentic self. Based on the novel/memoir by Caitlin Moran, the project is a return to narrative filmmaking for Coky Giedroyc, who has worked in television for the past two decades, last on hand in the cinema with 1999's Women Talking Dirty (a title which could have worked here also based on a novel concerning an outspoken woman who transforms those around her) and presents Beanie Feldstein with a novel opportunity to play a 1990s British teen outsider who breaks into music journalism with a bombastic alter ego.
In early 90s Wolverhampton, Johanna (Feldstein) is a bright student learning to break out of her uneventful life. Sandwiched into a shared room with her older brother Krissi (Laurie Kynaston), on the verge of coming out of the closet, in a claustrophobic home shared with her parents (Paddy Considine, Sarah Solemani) and three other brothers as they live off state benefits, Johanna yearns to tap into the male-dominated literary experience she's surrounded herself with as an escape.
Snagging an opportunity to read a contest-winning poem on a local television program (hosted by Chris O'Dowd), Johanna bombs big time. But her life is on the verge of changing when she finagles her way into writing for a musical review publication (meant as a reference to NME) run by a pack of cynical young men. Falling in love with her first interview subject (Aflie Allen) leads Johanna, who has adopted the nom de plume Dolly Wilde, to an epiphany—it's much sexier to feed into the glamorous cultivation of negative critiques. And thus begins a tricky journey to self-discovery wherein Johanna learns tearing down others only erodes her own sense of self.

Moran adapted the script from her own text, which could possibly explain the breakneck pacing which shunts us through the usual pariah clichés into Johanna as a full-blown libertarian whose sexual appetite is as overextended as her vicious tongue. One only wishes the cutesy correspondences she entertains with her inspirational figures taped to her wall (Freud, the Bronte sisters, Sylvia Plath, Liz Taylor, Donna Summer, etc.) could have been excessed, considering the coterie of notables playing these historical figures don't often look the part and often distract from the otherwise impressive Feldstein.
A breakout in Gerwig's Lady Bird (2017) and a headliner in Wilde's Book Smart (2019), Feldstein impresses as the top-hat wearing, flame-haired Johanna/Dolly, another striking and distinct characterization which is set within the same confines of her other two most notable roles to date. At the end of the day, How to Build a Girl eventually falls sway to familiarity, a pat resolution offering easy-won retribution. Still, it's charming and funny thanks to Feldstein, who sails through swaths of omniscient narration with aplomb.
★★★½/☆☆☆☆☆