Threadlock: Llosa Drifts into Elegant Nightmare with Faithful Adaptation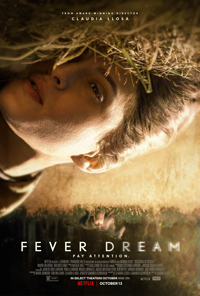 For her fourth feature, Peruvian director Claudia Llosa adapts Samanta Shweblin's enigmatic novel Fever Dream, a text which reads much like the English translated title promises. Llosa, making her first film since her equally emotionally mystical 2014 English language debut Aloft, crafts this complex narrative with necessary aplomb, elegantly navigating Schweblin's ambiguities.
Essentially an eco-horror film slivered into anxieties of motherhood, class, and sexuality, the film is overripe with themes, the nuances of which might be missed in trying to deduce what exactly is going on. By the time it puts together all the frayed pieces, however, Llosa's film clicks into its own resonance, inverting its gender norms for a haunting finale.
The voice of Amanda (Maria Valverde) and a young boy named David (Emilio Vodanovich) drift cryptically over the opening moments of a narrative told through non-linear flashback, the both of them trying to deduce a particular moment in time when the 'worms' appeared. As the action departs from this omniscient vantage point, we learn Amanda is a Spanish national who has moved to the rural countryside in Argentina to inhabit her grandfather's farmhouse. Left to her own devices with young daughter Nina (Guillermina Sorribes Liotta) while her husband is perpetually away on business, she befriends local Carola (Dolores Fonzi), who harbors sinister suspicions about her son David. Seven years prior, a poisoning which claimed her family's livelihood and capsized her marital bliss with Omar (German Palacios), nearly took the life of David. Thanks to the intervention of a local witch doctor, a ritual transported half of David's soul to another body, but whatever came to inhabit her son seems to have changed him into something strange. As Carola and Amanda navigate an awkward connection, the same toxins which have plagued the other locals take root in the newly arrived mother and child.
The original Spanish language title Distancia de rescate (translates into The Rescue Distance) is perhaps a more appropriate narrative indicator, formulated as it is upon this invisible distance between a mother and child regarding viable parental protection. Like the reference to the threads administered and attended by the three mythological Fates, this resurfaces in the intriguing ritual of 'migration,' in which, in order to survive a pesticide poisoning, one's spirit must be split. One half drifts to another available body while the original host accepts the half of a new soul, ensuring physical healing but creating a new 'spiritual' being altogether. In essence, the plot mechanics feel like Rachel Carson's Silent Spring mixed with Stephen King's Pet Sematary (1989), even if Llosa's film is never quite thrilling as such references suggest.

Instead, it's a tale of two women, mothers who are 'fascinated and repulsed' by one another, often suggesting the slightest of sexual tension (like the neutered film version of Fried Green Tomatoes, 1991). Maria Valverde's Amanda is essentially 'narrating' via a conversation with the child David, from what we eventually discover is a dire precipice for her. Until then, it's a meta display of memories enrobed in flashbacks, like specimens trapped in amber. Valverde is an open-faced innocent, caught in the web of Carola's madness, played by the captivating Dolores Fonzi (Paulina, 2015), who has the presence of Nina Hoss on the wild side.
Lensed by Oscar Faura (the favored DP of J.A. Bayona), it's a lushly photographed exercise which plays like a summertime nightmare. The rural isolation, archaic beliefs, and various elements of the production design channel a period piece, finally discounted by modern technology, enhance the film's elements as its own Fever Dream, which features a fine pedigree in its crew, including co-producers Pablo and Juan de Dios Larrain. Perplexing and eventually eerie, it's another masterful narrative of women trying to break out of the rigid, even toxic offerings of their environment, in keeping with her protagonists in Madeinusa (2006) her Golden Bear winner The Sorrow of Milk (2009) and Aloft (2014).
★★★/☆☆☆☆☆