Daughter of Mine | Review
Miss Mom: Bispuri Challenges Family Symmetry in Captivating Sophomore Pic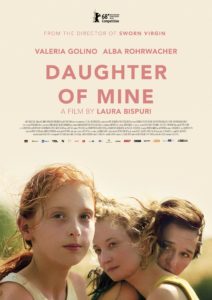 With her sensory filled coming-of-age sophomore feature, Laura Bispuri navigates the sweet and sour voyage of self-discovery via her diminutive protagonist with a film text that is full of warmth. As found in her debut transgender-themed film The Sworn Virgin, the Italian filmmaker's concerns lie in exploring all the subtle implications of the identitarian twist. By emphasizing conciliation and acceptance over division and exception, Daughter of Mine challenges established family roles and clichéd perceptions of emotional immaturity found in pre-adolescents.
Skinny, freckle-faced pre-teen Vittoria (Sara Casu) feels alienated from her family and mates because of her eccentric physical appearance, namely her redheadedness. A sort of mythic looking creature from a folk fairy tale is the direct cause for her estrangement but beyond appearances, she is a calm and dutiful child. While she spends her days wandering alone in a rough, dusty, still untouched Sardinia, hero source of conflict comes from her mother Tina (a brunette coifed Valeria Golino). The emblem of a selfless protective matriarch: she insists on sleeping with her daughter, she monitors every imperceptible changes in her mood, and her overbearingness is witnessed when she requests that Vittoria wash her feet prior to bed, one toe at a time. When party city girl Angelica, played by an effortlessly vibrant Alba Rohrwacher (who reteams with Bispuri) arrives in the village, Vittoria is charmed, and somehow narcotized by her elfish appearance and wild spirit. She finds a commonality with Angelica — her look resembles both her own rare complexion and internal self.
Sardinia island works as a fourth character here and interacts with the affective triangle and effectively acts as a binding force between the three individualities. Bispuri's gaze succeeds in shaping a non-rhetorical portrait of the land by tying up the anthropological attention to both geographical and social marginality with a rarefied, poetical essence. The film does not endorse the pauperistic perspective on the rural representation but enhances it to an oblique and yet truthful look over Italy. Cinematographer Vladan Radovic works with an exploratory template, giving landscapes a textured appeal and invigorating the scapes with a tactile and material quality in order to stress the emotional responsiveness of the Sardinian setting.
Daughter of Mine certainly dramatizes the topical, ideologically exploited conflict between nature and nurture, but what makes the drama genuinely gripping and memorable is the fact that it never turns into a full on study on motherhood. By admitting complexity and fashioning her characters as being nuanced, true-to-life, profoundly lively and fallible, Bispuri avoids advocating for one righteous form of parenthood. The portentous and gracefully naturalistic performance given by the trio of actresses definitely protects the film from all melodramatic risk.
Reviewed on February 20th, at the 2018 Berlin International Film Festival – Competition. 100 mins.
★★★★/☆☆☆☆☆