Wish in One Hand…: Roth Revamps Urban Terror for the Neo-Privileged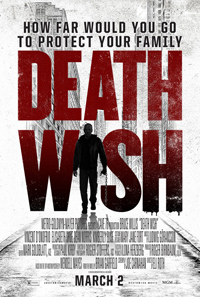 Vigilantism isn't perhaps the best narrative thrust for American audiences during the early days of 2018, where mass shootings and NRA donations have already overwhelmed the cultural consciousness on a day-to-day basis. And yet, here we have a timely (in the conversation piece sense) remake of Michael Winner's 1974 classic Death Wish, the lynchpin of the vigilante film, which spawned four sequels and a late career resurrection for Charles Bronson (not unlike the trajectory of the Taken series for Liam Neeson). Based on Brian Garfield's 1972 novel of the same name, Eli Roth, working from a screenplay adapted by Joe Carnahan, doesn't look a whole lot different from the predecessor. A privileged white man goes on a killing spree following the vicious murder and assault on his wife and daughter amidst the contemporary gun violence epidemic affecting Chicago (somehow leading to miraculously brutal vengeance against the errant, one-dimensional perpetrators). The influence of the iconic Bronson vehicle has been oft resurrected, though usually with more inspired protagonists, such as Jodie Foster in 2007's The Brave One, or Michael Caine in the equally tone deaf Harry Brown (2009).
A successful Chicago ER doctor, Paul Kersey (Bruce Willis) has it all—a cherished marriage to the beautiful Lucy (Elisabeth Shue), and an athlete daughter (Camila Morrone) who was just accepted into NYU. When his family is targeted by a quartet of burglars on his birthday, his wife is murdered, his daughter rendered comatose, and his meaningful existence shattered. Finding himself unable to wait for the police (Kimberly Elise, Dean Norris) to apprehend the men who killed Lucy, Paul begins dabbling with the idea of searching for them himself. After acquiring a gun, Paul lashes out at criminals in the street, soon becoming a media sensation and point of contention in Chicago's continuously segregated landscape, where gun violence has become an everyday occurrence.
Although Roth's rehash plays like something of an anachronism, it isn't devoid of grindhouse tinged tension which so grittily enhanced the period which inspired the original Death Wish (Roth's penchant for cinematic nostalgia leads to several choice nods, including an unexpected homage to Jaws). On the other hand, Roth's extremist set-pieces inspire all the wrong kinds of sentiments despite several talking heads meant to serve as voices of reason, most prominent of the bunch being MTV's Sway, who weighs in with all the right words to demonize the dangerous actions of the man known in the media as "The Grim Reaper."
For all of Roth's past indictments of misogyny (thanks to items like Hostel II, a title released at the height of the subgenre termed torture porn), he tends to tread carefully here. The piece de resistance of Michael Winner's original film was the startlingly brutal dispatch of Hope Lange's homemaker wife (Winner had several questionably graphic rape sequences throughout his filmography), so if there's any modicum of tastefulness, it's with the handling of the ill-fated Elisabeth Shue.
As a testament to America's on-going gun-crisis, Death Wish only exploits the problem for its narrative thrills (something known as 'tactical furniture' only exemplifies the ridiculous ease with which people can purchase high-powered semi-automatic weapons) and will seem hopelessly tacky to many (including a shoot-out in a posh night club which will evoke something like the 2016 Pulse nightclub tragedy). As evidenced by the hoots and hollers it elicited, however, as a culture we're a perilously long way from understanding and examining what it is about senseless, brutal violence which has come to be defined as normal, even demanded in order to pierce through our thickening desensitization and make some sort of imprint.
On the other hand, this is the best use of Bruce Willis in an action film in well over a decade (although someone like a Nic Cage might have wrung the campy daylights out of this throwback) while addressing, in passing, the racial and class disparities which have evolved only enough to warrant flippant references to 'social media' and the 'internet' in this updated version. While a host of notable supporting players don't get much to do (Mike Epps as an affable colleague; Kimberly Elise and Dean Norris as a pair of empathetic but clueless detectives; Vincent D'Onofrio as a doofy brother) Death Wish is at least an example of the kind of adult cinema now rarely served to the masses—it's just too bad Roth and Carnahan didn't set a course for something more subversive or compelling.
★★½/☆☆☆☆☆