The Night of the 12th | Review
Hero Complex: Moll Refreshes Detective Procedural with Cat's Paw Narrative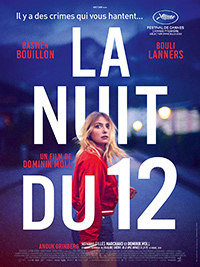 With his early naughts (With a Friend Like Harry…, Lemming) and grisly disappearance thriller Only the Animals being a bit more overt with the criminal element, for his seventh feature film, Belgian filmmaker Dominik Moll sidesteps the strictly sinister Huis clos narrative to put forth something that still has the conventional the aftermath of a crime scene but this is equal parts about the down time and desk job administrative type tasks. With characters who wear their warts and all in public view, La nuit du 12 (The Night of the 12th) deconstructs the hero complex and it makes for a restrained, easy-to-watch, void of over-dramatization and tonally more cerebral (with a light touch of humor) brand of crime film that is more of a how do we do this? rather than, a whodunit?
Tucked away in a village, on the night of the 12th, a murder is committed. Viewers are privy to the actual crime but regular co-writing team of Gilles Marchand and Moll do away with this aspect fairly quickly. Based on the Pauline Guéna's book 18.3 : Une année à la PJ, this is about the other procedures that come into play. Here we get the trickle down effects. What are the tactics? How do we deploy them and how does one work with the team? And worse, how do you deliver the news that someone's child (regardless of age) has been murdered? One cardinal rule is that you do it solo — don't pass the buck to your partner. A title card is inserted from the very get go informing the viewer of the film's authenticity — twenty percent of such crimes in Belgium go unsolved.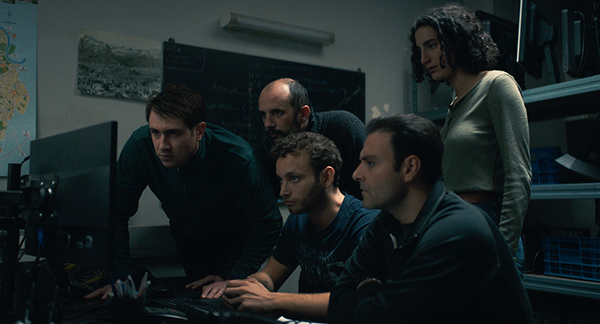 For Yohan (Bastien Bouillon), the murder of Clara means sticking to applied theories — the jealousy narrative theory informed by who was the last person or people the victim had contact with. Current and past flings are flagged and dismissed. Clara's best friend becomes worn out from the emotional toll from several of Yohan's interrogations. So what happens when the conclusions don't pan out? It means losing your work partner (Bouli Lanners). It means the case might gnaw away at you. It means there will be an overlap with the personal life. Overtime makes sense for people who theoretically punch out. Not here. But when a fresh pair of eyes and state department's backing bring the case back to life — what we find is a non-classic take on a familiar narrative.
There's nothing ostensibly seductive about La nuit du 12. It's anti-hero, anti-resolution, and no one with substance abuse issues means this comes across as a huge can of hypothetical worms. Here Yohan puts his after hours time into velodrome cycling – his crutch is unique to say the least. Of note there is another conversation here that men do indeed commit the majority of the crimes – how is it that there aren't more women on the force helping to crack the code? Black cats might be bad omens in popular culture, but Moll's text simply reminds us that cats are cats. Human beings are …flawed and are amalgamations of their failures, ability to overcome and change course.
A moody score by Olivier Marguerit (Onoda: 10000 Nights in the Jungle) provides a bit more intrigue to the mundane. Cinematographer Patrick Ghiringhelli offers a crisp, cold outlook to the proceedings — the disorienting POV in a velodrome hold allegorical value. With concerns to casting – Molls' choice in clean shaven, rather emotionally stable Boullion is an alluring 180 degree choice because he played an unsophisticated policeman in his last film. His character's conventional wisdom and pragmatism only means his derailment won't be low lows but more pinball machine-esque. While the multiple non-layers of the case doesn't really make for alluring, escapist crime cinema, La nuit du 12 is a movie that reminds us solving crimes isn't like in the movies. From time to time, someone needs to be the office hero and change the ink from the printer.
BelReviewed on May 20th at the 2022 Cannes Film Festival – Cannes Premiere. 114 Mins
★★★/☆☆☆☆☆