Plus que jamais (More Than Ever) | 2022 Cannes Film Festival Review
When the Body Speaks: Krieps & Ulliel Fight for the Right Balance in Atef's Final Voyage Drama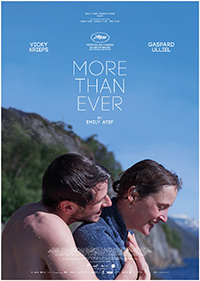 A too young to die portrait that sees a neutralized Vicky Krieps travel northwards to find her pathway…inwards, Emily Atef's latest is a non-postcard, straight-forward account of reconnecting with self — not at the most opportune moment, but when it matters most. Made more noteworthy due to it being Gaspard Ulliel's final screen performance – he fastens his supportive boyfriend character with various degrees of cerebral rage displaying a splintered soul being asked to let go in more ways than one. A melodrama without deep chills, Plus que jamais (More Than Ever) sees Atef make some bolder narrative moves in the film's second half, ultimately once the film steps foot in Scandi-territory we get some unexpected turns, punches, nips, tucks and forward momentum that makes this a worthy essay on a (re)union that reaches for new emotional heights.
A young woman named Hélène (Krieps) doesn't have it in her to attend an evening party among couple friends. Her partner (Mathieu) helps apply her mascara (comically not the best at it) but the heart is there. The social gathering is an awkward event as everyone's lives are full of planned futures — and if Hélène appears to be anti-social and really big on drinking water it signifies her future has hit an impasse. What happens next is a detailed account of how disease can throw a wrench into plans and undoubtedly can push even the closest people to the sidelines. Dignity intact, she begins to explore her options – her immediate future does not include a miracle solution but the randomness of online search sets her into motion. It feels like a book to film adaptation – until it's not.
If Hélène often grasps for air it's due to her lung disease and figuratively Mathieu's anxiety fits by way of a lack of control.  Being terminally ill isn't sexy. It's inconvenient. It kills the mood. It hijacks future plans and it sometimes, as illustrated here, puts a wedge between the people we love and trust the most. Co-written by Atef and Lars Hubrich, there is a clumsy multiplication of small fissure events that make the text feel familiar and moderately irritating, however a fascinating choice is the non-dependence on Norway's gorgeous backdrops to stand in for a wobbly first half. Sure there are repeat references to poetic, painterly inserts of oceans and nature but the approach here is for a more stripped down look into a private headspace and something about cabin being made of stones underlines where she is in on her final journey.
Plus que jamais feels like it benefited from some bold choices in the editing room or the screenplay disposes of secondary characters such as Norway host Bjørn Floberg have more of a larger part), one wishes that there'd be some more stylistic flourishes from cinematographer Yves Cape and that we'd get more of an atypical set-up in that same first-half. There are some virtuous ideas about fighting for ownership during one's final chapter writing — Hélène's crescendo power moves is where performance-wise Krieps is in her element.
Reviewed on May 21st at the 2022 Cannes Film Festival – Un Certain Regard. 123 Mins.
★★★/☆☆☆☆☆