Peaceful (De son vivant) | Review
The Big C Minus: Bercot Submerges Maudlin Disease Drama with Sentimentality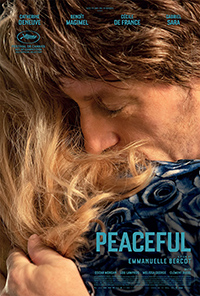 Cancer isn't the only element degrading the lives of those defined by it in Emmanuelle Bercot's latest feature, Peaceful (De son vivant), the director's third time directing the iconic Catherine Deneuve, at least not when explored in a script so jam-packed with familiar tropes and cliches one questions what inspired the need for it to be made. Another entry in a countless glut of similar narratives, Bercot explores the last year in the life of an acting coach suffering from stage four pancreatic cancer, a veritable 'disease for all seasons' as he comes to grips with the reality of his diagnosis. Skittering between a doctor and nurse charged with easing him into that good night and his rather reduced existence defined by his impassioned career teaching acting, Deneuve is a lone wolf of empathy as his constantly dismissed mourning mama.
Marrying popular French cinematic staples, the hospital drama and the loquacious acting workshop marathon, Bercot never manages to elevate these environments from a sort of television series tendency, thus relying on generalized emotional manipulation of life unfairly robbed by an unstoppable disease. With a cast of noted French language luminaries at her disposal, Bercot squanders her assets in sentimentality rather than the sublime.
Benjamin Boltanski (Benoît Magimel) is finally forced with confronting the reality of his unfortunate situation – he's got pancreatic cancer and not much time left to live, though a new oncologist, Dr. Edde (Gabriel A. Sara) remains hopeful chemotherapy can potentially extend what little time he has left. Initially, Benjamin doesn't want to estimate just how long this might be, despite his mother Crystal's (Deneuve) insistence, and declines to share this information with the students whom he teaches acting to, instead focusing on preparing them for an upcoming conservatory. As the last season of his life passes before his eyes, he's unable to hide his condition any longer, instigating his mother to reach out to his ex-wife (Melissa George) and the son he's never met (Oscar Morgan), both living in the US. Dr. Edde and his nurse Eugenie (Cecile de France) tend to the family's emotional needs, trying to prepare Benjamin to be as comfortable as he can during his final days.
Bercot is hardly the first to slide into hackneyed hospital drama, looping intersecting stories through the eye of tragedy in an institution teeming with tangential narrative possibilities. The tone of Peaceful isn't too far from Katell Quillévéré's 2016 medical drama Heal the Living, for instance. But the script's slapping together of Benjamin's acting classes and Dr. Eddie's cornball staff meetings at l'hopital feel like Valeria Bruni Tedeschi's Forever Young fused with an episode of ER.
Magimel (supposedly playing a thirty-nine-year-old) fares well enough in these familiarly staged sequences, a beloved teacher whose personal predicament eventually causes temperamental outbursts as he assists in honing their craft, emotional authenticity, blah, blah, blah. Eventually, these moments take on a sort of strange irony when compared to the sunny and sterile exchanges in the hospital considering how rote and laughably predictable they're conceived.
The egregious amount of emotional labor expected from Dr. Edde and his staff suggests France exists in a parallel universe of expectation and accomplishment, with Gabriel A. Sara forcing his colleagues to end their meetings in raucous song, accompanied by resident musicians (usually English language vintage rock, for whatever reason). Strangely, this plays like the caricaturize version of "Operation Morning Air," the initiative of kindness and transparency obsessively attempted by the head surgeon in Lars Von Trier's series The Kingdom. And then poor, poor Cecile de France is immediately ear marked as a love interest for Magimel's Benjamin, and the quietest, most inconsequential Florence Nightingale scenario gets thrown into this blender as well. There's also an amorous ingenue making doe eyes at Benjamin, showing up in his hospital room to practice her monologue for the upcoming conservatory.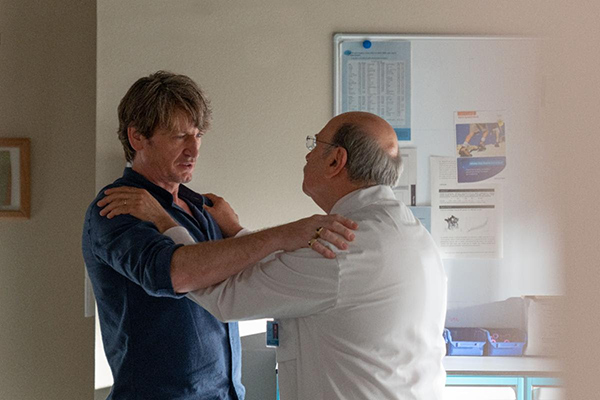 And as if there's not enough character channels to flip through, Bercot and co-scribe Marcia Romano (who adapted Annie Ernaux's Happening with Audrey Diwan and also collaborated with Ozon on early greats, like Swimming Pool and Criminal Lovers) decide to toss an estranged English language son into the mix for Benjamin (which initiates the introduction of Melissa George as the ex-lover, sadly featured in the film's most terribly conceived and amusingly over the top moments).
Through it all, there is Deneuve, and even though she's reduced to being presented as somewhat of a self-consumed nag to her son, she's the only appropriate and consistent emotional wavelength the rest of Peaceful can't quite land on.
★★/☆☆☆☆☆