Bend It Like Beckett: Zellers Adapts His Masterful Play into Exploratory Film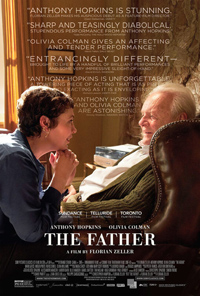 In Paradise Lost, John Milton remarked "The mind is its own place, and in itself can make a heaven of hell, a hell of heaven…" Such is the oscillating juxtaposition of a mind unwinding in the titular figure of Florian Zeller's stellar directorial debut The Father, based on his own play.
A celebrated author of both novels and stage plays (his 2019 stage production of The Mother featured Isabelle Huppert), Zeller has been heralded as one of the most profound contemporary writers of his generation, and can add director to his growing list of significant achievements with his debut, boasting a trio of poignant performances lorded over by Sir Anthony Hopkins in his best screen work before or after his iconic Hannibal Lecter in The Silence of the Lambs (1991).
Approaching 80 years of age, Anthony (Hopkins) has become somewhat cantankerous as he begins to develop dementia. After turning away yet another home care nurse from his London apartment, daughter Anne (Olivia Colman) has become distressed at how to provide care for him since she plans to move to Paris with her new boyfriend. Interviewing a potential caretaker (Imogen Poots), Anthony's confusion slips into hyperdrive when Anne's husband (Mark Gatiss) arrives, unaware of her apparent move to France. Soon, two other men and women he assumes are his daughter and son-in-law (Olivia Williams, Rufus Sewell) become part of a revolving door of figures in his apartment, his narrative and understanding fluctuating.

Zeller crafts an excellent ambience of discombobulation as we quickly learn the plot unfolds from the perspective of Anthony. Slowly, we try to piece together what's real or imagined, memory or madness, aided by the visual cues which suggest Oliva Colman is indeed his daughter while Olivia Williams represents someone else. These human figures are eventually sorted for the audience by the tail end, but succinctly showcases the collapsing capabilities of a mind suffering from Alzheimer's and developing dementia.
Oddly, this is not the first film version of The Father, as director Philippe Le Guay scripted a 2015 film Florida, which takes significant liberties with Zeller's source material, but features Sandrine Kiberlain, Laurent Lucas and Jean Rochefort. Zeller taps Academy Award winning scribe Christopher Hampton (Dangerous Liaisons; Atonement) for his screenplay, the end result being a formidable and frustrating exercise, especially for any who've witnessed a loved one cycle through a disease which moves swiftly and unforgivably. Zeller feels indebted to Beckett, specifically with this play, recalling Vladimir and Estragon of Waiting for Godot, or perhaps the melancholic Winnie of Happy Days and her reverence for the "old style."
Olivia Colman, as attuned to mutating emotional registers as ever, is supremely effective in her handful of sequences. The other Olivia, Ms. Williams, finds her shining moment at the finale, both emotive resources aiding the significant display fashioned by Hopkins as a man who runs the gamut from charming bravado to mischievous jokester, ultimately infantilized by his illness.
The increasingly prolific Imogen Poots (also appearing in this year's French Exit) is a bright spot of energy as a potential homecare nurse, as is Rufus Sewell as a tired, somewhat selfish son-in-law. But the production design by Peter Francis slyly eludes a distinct sense of the interior dimensions, adding to a sense of befuddlement, while Ben Smithard's (Downton Abbey, 2019) cinematography slides from the sterility of shifting interiors to the warm glow of approaching autumn, recalling Fitzgerald's The Great Gatsby, a memory subtext channeling "Life starts all over again when it gets crisp in the fall."
Reviewed on October 20th at the 2020 AFI Film Festival – Special Presentations. 97 Mins.
★★★★/☆☆☆☆☆