A Judgment in Stone: Konchalovsky Mines Michelangelo in Period Portrait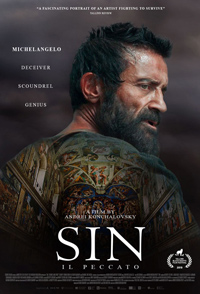 The mental state, rather than the persona of Michelangelo Buonarroti as he struggled to satisfy fluctuating powers during considerable political turmoil, is the subject of Andrei Konchalovsky's Sin. The Italian language period reconstruction from one of Russia's most multifaceted auteurs is less a biopic than a portrait of the struggle behind an artist's most iconic achievements despite the continual compromises of the man, his plans, and degraded agency.
At times languid and terse in this particularly honed period of an artist, it's a recuperation of the extreme agitation which dictated the origins of iconic works of art, forged despite conditions which seem impossible to fathom. Neither austere nor particularly energetic, Konchalovsky forgoes the generally utilized hysterics defining period portraits to present a bedraggled genius whose creativity was sapped by dueling predatorial powers.

Florence in the early 16th century was besotted by political upheaval. As Michelangelo (Alberto Testone) anguishes over the completion of the Sistine Chapel's ceiling, he finds himself reduced to poverty, his funds depleted by those around him, which includes the care for his elderly father (Adriano Chiaramida). Pope Julius II, who commissioned Michelangelo, dies and suddenly the Della Rovere nobility is no longer in power. Despite signing contracts which demand he complete his obligations to them, Leo X of the ascending Medici family imposes a new commission, the façade of the San Lorenzo basilica. With the completion of each project requiring years of significant, grueling toil, Michelangelo finds himself tethered and distended between unyielding masters who recognize his genius but care little for his well-being.
Penned by his usual late-period scribe Elena Kiseleva, Sin is one of Konchalovsky's most unenthusiastically handled titles in the past two decades, eclipsed by the reverence (and film festival glory) of projects which premiered before and after it, such as 2016's Paradise and 2020's Dear Comrades! (read review). It's hardly as sensational as either of those two works, which deal with reconstructing the Holocaust and the aftershocks of an infamous massacre, while it's also notably his first feature set outside of Russia in a decade.
Lensed by Aleksandr Simonov (The Postman's White Nights; Paradise), Sin is a carefully mannered portrait which feels most alive whenever it addresses death or the decay of the human body and spirit. As Michelangelo, Alberto Testone recalls the hirsute visage of a Murnau composite, madness lurking beneath a gaze increasingly subject to paranoia. At times, his ravaged expressions recall the weathered energies of a Willem Dafoe (whose similarly constructed engagement as Van Gogh in At Eternity's Gate, 2018, allowed for more anguish), but it's an intricate dance of continually toxic relationships. His uncompromising 'benefactors' are careless in their unchecked omnipotence, and his paranoia is not entirely unfounded when his personal envoy are subjected to torture for information on how Michelangelo spends his money.
Perhaps most excruciating are the frequent struggles to obtain his necessary working materials, namely the acquisition of marble. The cost of excavating out of quarries (sequences in the Carrara quarry are worth admission alone), depending on who controls the region, etc., is strenuous, dangerous, backbreaking work which makes sculptors in the wake of Michelangelo's creations appear almost frivolous. Here we find a man who eschews personal care to the degree he doesn't bathe or groom himself—had Rodin been forced to mine his own raw materials there would have been much less time for sexual frivolity and manipulation.
But what Sin comes down to is the price paid for what amounts to an artist's hubris and frenzy, led to the realization his creations aren't necessarily a path to salvation. Eventually, Sin feels like a beautiful if ultimately restrained counterpart to Tarkovsky's Andrei Rublev (1966), penned by Konchalovsky.
If art was intentionally designed (or demanded) to be in the spirit of salvation, what then of those inspirations which bring us instead to the wonders of our own achievements? And thus, the Sin of the title finally, on more subtle terms, bestows the inherent glory of what creative elements, including cinema, present. Like Prometheus stealing fire from Olympus, we can warm our own spirits from the glow of our achievements, immortalized in our reverence for the sublime which doesn't damn or castigate, but instead inspires in the most degrading of human conditions.
★★★½/☆☆☆☆☆