Save Your Tears for Another Day: Ozon Revels in the Camp Mystique of R.W. Fassbinder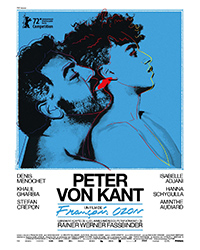 It's clear François Ozon has long been obsessed with the cinema of New German Wave provocateur Rainer Werner Fassbinder, seeing as one of his first successes was 2000's Water Drops on Burning Rocks, adapted from an unproduced screenplay of his idol's. Over two decades later, and working at a similar breakneck pace, Ozon attempts something nearing sacrilege in Peter von Kant, a liberal reimagining of Fassbinder's most hysterically excessive camp masterpiece, 1972's The Bitter Tears of Petra von Kant (read review). Whereas the original was a femme-centric snake pit featuring three of Fassbinder's usual muses (Margit Carstensen, Hanna Schygulla, Irm Hermann), Ozon switches the queered perspective to male and transposes bits and pieces of Fassbinder's own life into the von Kant prism about a monstrous artist who devours all those around him in the quest to quell his desires. The end result ends up being its own sort of uber queer, deliciously retro feast, a bitchy but fantastic homage to a passionate artist whose hedonism changed cinema but ruined his own life.
Peter von Kant (Denis Ménochet) is a revered film director who lives with his assistant Karl (Stefan Crepon), apparently on hand to withstand his master's mercurial needs. A visit from his eternal muse, Sidonie (Isabelle Adjani), a woman whose star power brought him to fame, suggests there's been a reversal of fortune, seeing as she's hungry to act in his next project, an outline he intends to feature Romy Schneider. Along with Sidonie is a new toy she's discovered on her travels, the handsome Amir Ben Salem (Khalil Garbia), with whom Peter is instantly smitten. Reeling from a recent break-up, Peter sinks his teeth into Amir, casting him in his film as a way to coerce the younger man into being his new love interest. However, Peter's obsessive love and unyielding lust strangles their relationship.
As the titular Peter, Denis Ménochet is in keeping with the overtly abusive and imperious Margit Carstensen, and his hulking frame suggests this treatment might have been a fine vehicle for Divine at one point. In many ways mirroring Oskar Roehler's recent Fassbinder biopic, Enfant Terrible (2020), one can see where Ozon sprinkled details of the director's life into Peter von Kant, including (and quite obviously) his obsession with actor El Hedi Ben Salem, echoes of a wife named Ingrid (a nod to Fassbinder's own wife, Ingrid Caven), and Hotel Doblin, a discreet reference to Fassbinder's famed adaptation of Alfred Doblin's Berlin Alexanderplatz. But moving beyond all this, like the original film, it's the story of a larger than life persona who has taken what little agency they have and used it to annihilate themselves and all those around them.
Perhaps the most fantastic addition here is the exquisite Isabelle Adjani, playing a famed actor/chanteuse named Sidonie, who has a toxic relationship to von Kant, a porcelain goddess more manipulative than she seems. Early on, Peter puts on a Sidonie record where she croons "Each man kills the thing he loves," whilst he gazes upon himself in the mirror. A nod to Jeanne Moreau in Fassbinder's swan song Querelle, yes, but also a masterful, metatextual foreboding. It's Adjani's actual voice on the track, and recalls Ozon's early short "A Summer Dress," which utilizes the tangible artifacts of a bygone era Ozon clearly loves. Throughout it all, the real scene stealer is Stefan Crepon in the maid/Irm Hermann role as Karl, a supplicant to von Kant's demi-god tendencies, while Ozon tacks on an adolescent daughter (Aminthe Audiard) for an extra dollop of dysfunction.

It's a lusty autumn in 1972 Cologne, but turns quickly to a winter of discontent as Peter's relationship with Amir sours, and Khalil Gharbia may be one of Ozon's brightest discoveries in a filmography built on the backs of actresses (Peter even deigns to describe his relationship to Sidonie as being in love with the actress and not the woman, a critique Ozon's also faced before). Somehow, against its excessively loquacious odds, we come to feel for the morosely selfish Peter, who like his female alter ego Petra, is searching, quite hungrily, for an impossible kind of love.
Ozon brilliantly aligns Amir's fall with Saint Sebastian, the melancholic and oft-coded imagery for queer subtexts. Shot by the masterful Manu Dacosse, it's a vintage fashion extravaganza (even the von Kant mannequins get a red lacquer makeover), but it's Adjani who absorbs the energy in her handful of sequences. By the time we get to the birthday party blow up, with Schygulla herself popping up to receive some of Peter's lashes as his weary mother, Ozon cements this effort as a sublime sister film which may live forever in the shadow of the original.
Reviewed on February 10th at the 2022 Berlin International Film Festival – Competition Section. 84 mins.
★★★/☆☆☆☆☆