Ties That Bind: Koreeda Examines the Essence of Family from Unexpected Perspective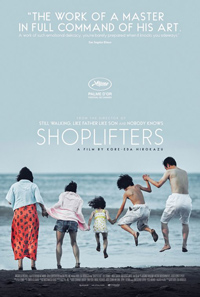 Anyone familiar with the cinema of Japanese auteur Hirokazu Koreeda already knows what to expect from the perennial showman, who rarely takes longer than a year between features as of late. Or, at least, audiences already think they do. Having amassed a lofty resume of narratives featuring broken or compromised families who overcome significant odds to maintain a semblance of normalcy, Koreeda's filmography is littered with similarities, often prizing the perspective of young children, such as the parentless kids at the center of Nobody Knows (2004) or the boys in 2011's I Wish. Notable titles of late, such as 2013's Like Father, Like Son and 2015's Our Little Sister concern families dealing with the aftermath of secretive trauma, often reinventing themselves to accommodate unexpected situations. Every so often, Koreeda steps out into more risqué territories, such as 2009's Air Doll or last year's courtroom thriller The Third Murder. Happily, his latest offering, Shoplifters, mirrors some of his more cherished themes while at the same time examining them from a less predictable angle. Reusing several of his past celebrated collaborators, Koreeda crafts a potent tale of the different ways families can be defined in a touching tale about a ragtag band of petty criminals who come together within society's peripheral malaise to form an emotionally sound nuclear unit.
After a successful shoplifting operation at the grocery store, Osamu Shibata (Lily Franky) and preadolescent son Shota (Jyo Kairi) stumble upon a young girl (Sasaki Miyu) left outside her home in the cold. Taking her home with him, they learn her name is Yuri. Osamu's wife Nobuyo (Sakuro Ando) insists they take the child home after feeding her but decide against it when hearing Yuri's parents speak disparagingly about the child. Their matriarch, Hatsue (Kirin Kiki) is more than happy to look after the child and take her in permanently, as the house belongs to her and is financed by the pension she receives from her deceased ex-husband. Also living in the home is Aki (Mayu Matsuoka), a young woman who has grown emotionally dependent on Hatsue. Eventually, we learn none of the Shibata clan is actually related but behave and believe they are a functional familial unit because they have all chosen to be together. Eventually, however, some of the Shibata's proclivities lead them into troubled water.
Although Shoplifters is, for the most part, an ensemble drama, Koreeda allows Kirin Kiki (who also starred in several of his previous titles, such as 2008's Still Walking and the similarly melancholic After the Storm, 2016) to shine brightest as a kindly grandmotherly figure who allows Osamu, Nobuyo, Aki, and the two children to take advantage of the pension she receives so she won't die alone. Koreeda allows plenty of time for us to ruminate with each of these characters as we puzzle together how they came to inherit each of their roles in Hatsue's crowded household and why they've chosen to believe a life of petty crime is a means to an end.
Eventually, their choices to cheat or steal don't seem quite as insidious considering both their circumstances and their decision to care for two abandoned children despite inheriting considerable risk by doing so. Lily Franky (also of Like Father, Like Son and After the Storm) is also allowed a stand-out performance as Osamu, a man with his heart in the right place but who is ultimately a bad influence on young Shota and Yuri. Mayu Matsuoka and Sakuro Ando (both co-stars of Sion Sono's 2008 epic Love Exposure) both have their tender moments, particularly the latter in the film's third act reckoning when the corrugated family must answer to the law for several rather illegal acts. It's also here where all the painstaking characterization of Shoplifters bleeds into an emotional onslaught, where intentions are revealed, questioned, and eventually reiterated again. Osamu and co. are good people who have done some not-so-good things, and Koreeda provides us with another exemplary portrait of hopeful people in hopeless situations, who despite presenting as hardened and cynical are still empathetic beings trying to disguise the hearts they wear on their sleeves.
Reviewed on May 14th at the 2018 Cannes Film Festival at the 2018 Cannes Film Festival – Competition. 120 Minutes
★★★½/☆☆☆☆☆