Comedy of Power: Huppert Shines in Whistleblower Expose from Salomé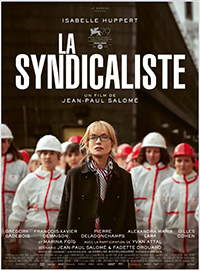 Making a rare appearance in a 'based on a true story' film, Isabelle Huppert elevates a character study in whistle-blowing with La syndicaliste (The Sitting Duck), a reunion with her Mama Weed (2020) director Jean-Paul Salomé. It's also rather an anomaly for the consummately bustling actor in how she's somewhat cast against type as a resilient but fragile personality.
Based on the 2019 publication from investigative journalist Caroline Michel-Aguirre, corruption, violence, and political intrigue swirl maliciously in this tale of blatant misogyny following the sexual assault against a woman whose position allowed her access to the president, ultimately forced to clear her own name against charges of filing a false report. Though inaccurately described as a French Erin Brockovich, the eventual heart of the matter speaks more intimately about the exacerbated injustice faced by a woman who was demeaned and eventually eviscerated by law enforcement and the criminal justice system.
In December of 2012, Maureen Kearney (Huppert) was blindfolded and led to her basement, where the handle of a knife was lodged in her vagina as she was tied to a chair, the letter 'A' carved into her abdomen. Several months earlier, as the head union organizer and board member of Areva, the French nuclear multinational, Maureen was secretly contacted by a member of rival nuclear agency, EDF. After the CEO of Areva (Marina Foïs) was replaced by an unlikely candidate, Luc Oursel (Yvan Attal) just prior to Sarkozy's presidency segueing to Francois Hollande, behind the scenes maneuverings suggested the new CEO was secretly working with the Chinese in a plot she predicted would allow EDF to severely diminish Areva, and gut the job market for French employees.
In her crusade to expose this, her meddling angered the powers that be, presumably resulting in an assault meant to scare her. As the police investigate the crime, lack of supporting evidence and Maureen's behavior (i.e., she wasn't considered 'a good victim') causing her to be interpreted as faking the report lead to charges of falsification. Pleading not guilty after severe pressure from the police almost makes her recant, and she's found guilty, levied with hefty fine and probation. Until she decides to appeal.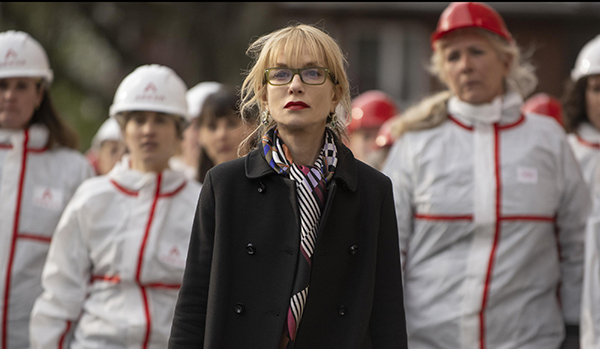 Huppert, looking sublimely effervescent and tres fantastique as a no-nonsense blonde more tightly wound than her coiled chignon. She taps into a level of vulnerability rarely seen throughout her vast filmography. But no one pivots from victimhood to valiance quite like Huppert, with Maureen ultimately clearing her name and having the grim satisfaction of her predictions of France's nuclear plants and the significant dissolution of jobs.
Although this isn't at the level of something like Elle (2016), a signature Huppert performance which deals with a woman turning the tables on her assailant following a vicious rape, Salomé's procedural style allows for the potential complexities of the narrative to be easily understood. Initially, a politically tinged back room drama of shifting power hierarchies, with Maureen dependent on her previous boss (a flinty Marina Foïs) for support and combatting an unusually out-of-control Yvan Attal as her corrupt replacement, the energy shifts gears drastically into a mixture of investigative thriller and courtroom cliche. But it's crystal clear how gender bias clearly usurped the initial charges against Maureen (of whom the real life person was actually Irish), with Pierre Deladonchamps playing an uncustomarily vile cop (in a role originally cast with Benoit Magimel, Huppert's The Piano Teacher co-star). Grégory Gadebois is on hand as her supportive husband, though arguably he's rather an odd match with Huppert's energy.
Although more interesting (and more sinister) when delving into the murky political corruption which eventually hemorrhaged nuclear plants due to corporate greed, as well as skirting into the machinations of Sarkozy and then Francois Hollande, Huppert elevates what could have easily been a pat courtroom procedural about the dangers and small salvations to be won from speaking truth to power.
Reviewed on September 3rd at the 2022 Venice Film Festival – Orizzonti. 122 Mins.
★★★/☆☆☆☆☆