Living Bad (Viver Mal) | 2023 Berlin Film Festival Review
The Mirror Has Two Faces: Canijo's Customers Are Always Blight with Inverse Melodrama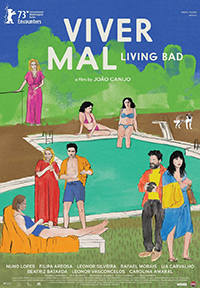 "Happiness consumes itself like a flame. It cannot burn for ever, it must go out, and presentiment of its end destroys it at is very peak," wrote Swedish playwright August Strindberg, a master iconoclast who excelled in creating harrowing psychological warfare between despairing characters in his effort to obtain a semblance of true naturalism. João Canijo mainlines this process with Viver Mal (Living Bad), a counterpoint film to Bad Living (read review), which brings to the fore all the nasty soundbites in the background and heightens the anxiety between the five hoteliers whose misery dominates the previous chapter.
While the viewing sequence of these two reversed titles doesn't inherently matter, it feels more beneficial to experience the significant groundwork established for the party before moving into a deep dive on the guests. Strindberg's egotism seem to be the subtext for Canijo's patrons, dividing this piece into three chapters each inspired by a specific play, including Playing with Fire, The Pelican, and Motherlove, but the originating texts provide more a semblance of intention and energy than actual adaptation.
Each segment of Living Bad consists of three distinct parties, where two members struggle to control or manipulate the affections of the person connecting them. The first sequence is perhaps the most familiar, utilizing Cleia Almeida's Raquel as the other woman picking the flesh off the carrion of Jaime (Nuno Lopes) and Camila's (Filipa Areosa) marriage. Camila's obsession with social media, where she made her own fortune, is only part of the reason for their mutually confirmed seven year itch. Another major part is her admission to sleeping with Jaime's best friend, who's been living with them for several years. It's the most familiar subplot of the three, which doesn't allow for Lopes, who also appeared in Canijo's Blood of My Blood (2011) or Areosa, to really stretch their legs.
However, Canijo's penchant for domineering matriarchs makes a commendable resurgence in the next two sections of Living Bad, featuring trios of people clearly not living right. Famed Portuguese actor Leonor Silveira (of Manoel de Oliveira's Abraham's Valley, 1993) plays the lusciously cranky Elisa, a woman who has arranged a marriage for her daughter Graca (Lia Carvalho) with Alex (Rafael Morais) so as to sleep with her younger lover all the more easily while her child pays for their entertainment. Though their dynamic tends to feel a bit over the top, Silveira is entertaining as a ripe and raucous mother mistress who knows exactly what she's doing.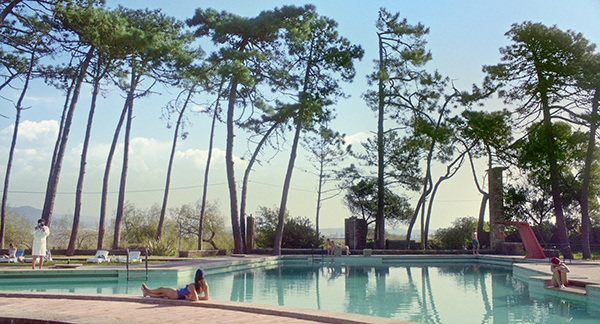 Lastly, Beatriz Batarda is on hand as the classically elitist Judite, who has taken daughter Julia (Leonor Vasconcelos), the apple of her empty eye, on a vacation with Alice (Carolina Amaral), her daughter's girlfriend. With barely concealed disdain for Alice, though not necessarily her daughter's experimenting with sexuality, class seems to be the real salt on the wound. Alice unwisely orchestrates a situation forcing Julia to choose between mother and lover, a main ingredient in any recipe for a broken heart.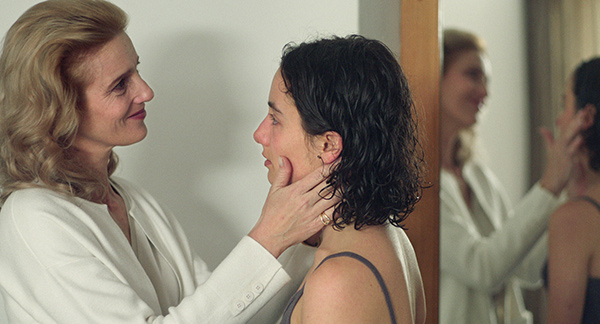 Since we receive limited time with each of the characters and their tense scenarios in Living Bad, it ultimately doesn't pack the same punch as the more intensely focused Bad Living, although it's not any less entertaining for its vignettes cast into the void of others. A four-hour epic film squashing all these intersections together might have felt like a soap opera, and Canijo's surgical separation has distilled the real difference between these two new films, exemplifying a temporary hell vs. a permanent one, as the unlucky in love participants of Living Bad at least all have the opportunity to check out.
While these films aren't exactly love and marriage, as you can experience one quite effectively without the other, together they play like a dense novel of (mostly) unfortunate souls which confirm the effectiveness of Canijo's intense collaborative techniques with his troupe cast and crew, including his first stint with DP Leonor Teles, whose work on both these titles should heighten her international profile.
Reviewed on February 23rd at the 2023 Berlin International Film Festival – Encounters section. 125 mins.
★★★½/☆☆☆☆☆