The Children's Hour: Kore-eda Crafts a Melodramatic Puzzle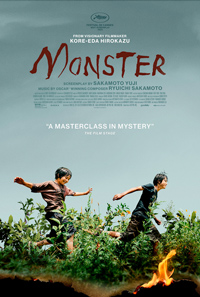 Returning to his native Japan after venturing out to France and South Korea with his last two features, Hirokazu Kore-eda rearranges his favored tropes with Monster, a multi-perspective melodrama with ominous undertones. For those familiar with Kore-eda's filmography, there are a myriad of comparisons to his previous films in the connective tissues, but his latest also includes some surprising elements. Rife with his astute abilities to convey the subtle human foibles of domestic dilemmas, most often between parents and their children, Kore-eda, who has written all his previous narrative features, benefits from utilizing screenwriter Yuji Sakamoto, lending a refreshing sheen to his sterling sensibilities. Unfolding like a thriller, the third act coalesces into one of Kore-eda's most poignant achievements.
Shortly after a nearby building is set ablaze, single mother Saori (Sakura Ando) notices her 5th grade son Minato (Soya Kurokawa) exhibiting strange behavior. He mysteriously comes home with only one shoe, cuts his own hair, and then brandishes a bloodied, bandaged ear. After being pressed by his mother, Minato claims his teacher, Mr. Hori (Eita Nagayama) hit him after insulting him by saying he had the brain of a pig. When Saori approaches the school principal (Yuko Tanaka), she's shocked by how ambivalent she is, though her flat affect might be due to her husband having recently killed their granddaughter in an automobile accident. But Mr. Hori and the other school officials exhibit behavior unexplainable to Saori, forcing her to hire a lawyer. The perspective shifts to that of Mr. Hori from the day of the burning building, and we learn Minato isn't telling the truth. We're not sure why, but the teacher's point of view instead explains why the school administrators are behaving as they are. Finally, the narrative extends itself to Minato, boiling down to his secret friendship with the school pariah, Eri (Hinata Hiiragi).
After having won the Palme d'Or for Shoplifters at the 2018 Cannes Film Festival, Kore-eda has continued to take significant risks with his storytelling. DP Ryoto Kondo represents the only member of Kore-eda's usual crew on Monster, while the film features the final score from composer Ryuichi Sakamoto, delivering his take on the bittersweet piano tinkling Kore-eda tends to favor.
Initially, the film's set-up feels like a mash-up of themes from 1998's After Life, the separated siblings of 2011's I Wish and the weather related metaphorical catharsis of 2016's After the Storm. And these familiar elements are definitely vibrantly sewn into the storytelling, which begins uncustomarily with a mysterious building fire. The film's first hour initially feels agonizing, beginning with Saori's attempts to reckon with the school administration regarding Minato's claims of Mr. Hori hitting him. There's a subterranean element of dark comedy here, including a sorrowful principal speaking like a malfunctioning automaton. More upsetting is Mr. Hori's behavior, nightmarish and unnerving while out of context. Some of these blank spots are filled in by details scattered throughout, such as a rumor of Mr. Hori having attended the hostess bar where the blaze started, an accusation forcing his outburst regarding Minato as a school bully.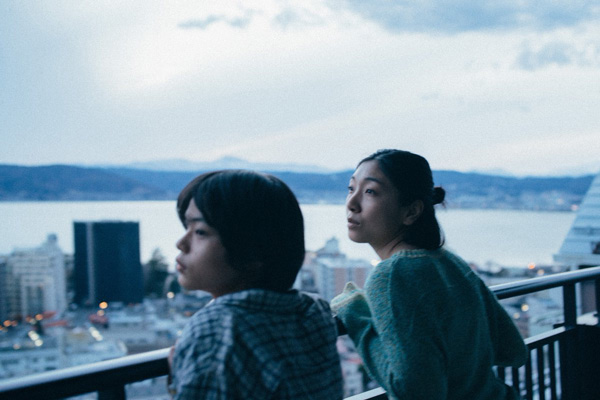 We're still left with a handful of clashing suppositions regarding Mr. Hori and what exactly happened with Minato, but the third act consolidates all of these without feeling repetitive. Instead, all of the patterned themes come together to form a psychological portrait of the children and the adults. What this all boils down to seems to be about authentic communication and what stymies it. The issue of single parenthood, complicated by either death or infidelity, factors into the recipe. What initially seems like cruel lies or confounding actions perpetrated by either the children or the school staff instead fashions a pattern of protection, whether it be for one's job, one's co-workers, or one's reputation amongst peers.
Monster bears a striking resemblance to Lukas Dhont's Close (2022) regarding the disastrous ripple effects regarding enforced gender based behavior, specifically in these two films amongst young boys. Kore-eda is making more of a definitive statement, but only through utilizing the sincerity of how children process their feelings while also attempting to adhere to rigid social norms. Newcomers Soya Kurokawa and Hinata Hiiragi are exceptional standouts, while Sakura Ando and Yuko Tanaka (who walks away with the film's finest exchange) are both impressive. Like Kore-eda's finest distillation specific to a child's perspective, 2004's Nobody Knows, the third act of Monster matches the same level of pathos.
Reviewed on May 17th at the 2023 Cannes Film Festival – Competition. 125 Mins.
★★★½/☆☆☆☆☆