Close | 2022 Cannes Film Festival Review
The Children's Hour: Dhont Explores Unspoken Realities in Masterful Drama
The essence of Close, the sophomore film from Belgium's Lukas Dhont, is akin to the most delicate of objects immediately ruined by the slightest fluctuation of environment, such as a bubble when it touches a surface, or a snowflake exposed to warmth. Exploring the tacit understanding of the abrupt dissolution in even the most intense childhood friendships during the fluctuations of life development, Dhont crafts a tragic portrait of two teen boys whose relationship is corrupted by expectation.
For many, especially those who are part of the LGBTQ+ community, this is a specifically resonant portrayal of how cultural conditioning manhandles us from a young age, particularly for young boys often traumatized into the straitjacket of masculine posturing or risk the abuses of their peers. Dhont presents an intensely intimate portrait through visuals and body language, conveying a rare glimpse at a love and grief so fragile and intense there are no words which rightly vocalize their effect on one's life.
Thirteen year olds Leo (Eden Dambrine) and Remi (Gustav De Waele) share an intense friendship, nearly attached at the hip. The boys spend every night together at Remi's, whose mother Sophie (Emilie Dequenne) regards Leo as another son. As the summer ends, and their idyll in the Belgian countryside comes to an end, the boys enter secondary school. Not realizing their physical affection will make them a target, their female peers question if they're a couple. Leo balks at this, explaining they've merely been best friends forever. But they're too late, and some of the other boys tease and bully him. In response, Leo slowly begins to distance himself from Remi, hanging out with other boys, joining hockey, and then eventually disrupting all their usual routines completely. Unable to cope with this abandonment, Remi kills himself, leaving Leo to try to navigate the grief and guilt he carries in believing it was his fault.
Dhont once again explores the historically unseen emotional terror defining the transitions and developments of queer and trans people. While his 2018 debut, Girl, was a character study on a ballet student's gender dysphoria, Close probes something more universal on cultural dictations of gender norms. To say Close is expressly a queer film would be a misnomer because this is more about the cruelty and labeling waged by others. Their friendship blossoming in isolation, sexuality hasn't yet presented itself, but their physical affection for one another is automatically queered. It's easy to initially feel dismayed by Leo, but for those who have never experienced the panic of being othered, it's a completely logical and familiar response of instinctual survival. This results in the sort of devolving scenario which rightly earns the description of heartbreaking, for it's exactly what happens to Remi, who is eventually cruelly ghosted by Leo.
In many ways, little progress has been made in humanity's understanding and acceptance of how our conceptions and policing of gender norms plague us, creating a historical trauma we are all victims of and, thus, trained to reinforce ourselves. Because of this, we also rarely are willing to truthfully examine the emotional and sexual development of children, allowing for the eternal gestation of misogyny and homophobia, the end results of challenging the notion of masculinity. Every now and then, these realities are vocalized, and Close recalls Andre Techine's classic Wild Reeds (1994), and even the recent Softie (2021) by Samuel Theis. Dhont's approach also bears similarity to the early social realism endeavors of his fellow countrymen, the Dardenne Bros., enhanced by his casting of the exceptional Emilie Dequenne (the title character of their 1999 darling, Rosetta). But the Dardenne Bros. could never capture all the inferences and internalized emotion Dhont manages here and the carefully administered dialogue in a script co-written by Angelo Tijssens.
Reuniting with Girl DP Frank van den Eeden, Close is an experience presented mostly through movement as we segue into following Leo in a strikingly expressive performance from Eden Dambrine, whose wide stare speaks volumes. Gustav De Waele as Remi is also uncommonly authentic, and it's a struggle to bear witness to his emotional outbreaks without having the ability to express what he's feeling and why.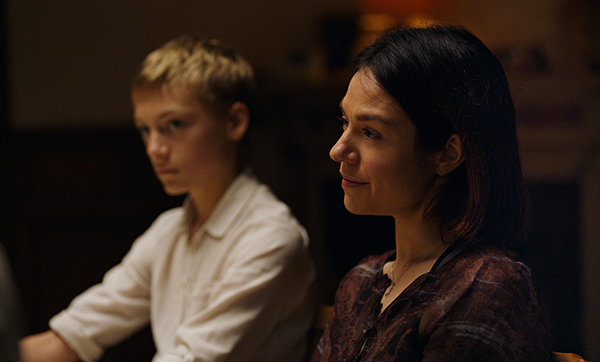 Dhont makes a point to outline how a certain amount of progress has been made, the girls at school being more pleasantly inquisitive about Leo and Remi. And then the sting of the 'f' slur arrives, and no one who hasn't experienced it knows the internal damage of its blow, but here Dhont captures its effect in Dambrine's cascade of emotions in his face and posture. As his mother, Lea Drucker (who starred in another recent tale of familial woe, 2017's Custody) has some tender moments, but his guilt and redemption arrive through his sequences with Dequenne. Landing on a semblance of hope through despair and anguish, it's a hard won lesson learned about our responsibility towards others and the oft-impossibility of communicating feelings we haven't been taught to articulate.
Reviewed on May 27th at the 2022 Cannes Film Festival – Main Competition. 104 Mins
★★★★/☆☆☆☆☆