Un beau matin (One Fine Morning) | Review
All the Mornings in the World: Seydoux Burns Bright in Hansen-Love's Moving Drama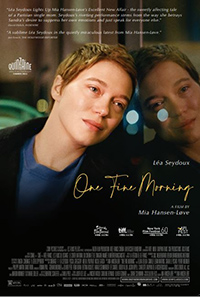 Hannah Arendt succinctly remarked on the inference between 'doing' and 'understanding' in the framework of spectacle vs. spectator, suggesting the price the latter pays "is withdrawal from participating…" One might argue there's no such price to be paid in experiencing many of the films directed by Mia Hansen-Løve, her eighth feature Un beau matin (One Fine Morning) being no exception. Finely tailored with laser sharp characterization and performance work, particularly through an exceptional Léa Seydoux, one feels a unique investment as a spectator to Hansen-Løve's craft, for she creates invitations to share in the bittersweet understanding of life experiences.
Her latest is another portrait of a woman in a particular transition of life, where one season is ending and another begins. It's a narrative necessitating particular complexities in order to be successfully simple, requiring the experience of consuming it rather than simply reading about it. Masterful and poignant, it's about life's fleeting instances, as permanent as dew in the morning grass.
Sandra (Seydoux) is a single mother, raising her daughter Esther (Elsa Guedj) after her husband died five years prior. Working as a translator, she diligently cares for her father Georg Kinsler (Pascal Greggory), a retired philosophy professor who has lost his sight due to a neurodegenerative disease. He has a current partner of five years, but her own health issues preclude her from being able to care for Georg full-time. However, it's clear Georg can no longer live on his own, forcing Sandra, her mother (Nicole Garcia) and sister to move their father into an assisted living facility and get rid of his belongings. The process turns out more strenuous than expected, as her father's worsening condition and the expenses of private institutions in Paris force them to relocate Georg several times. Meanwhile, a chance reconnection with her husband's old friend Clement (Melvil Poupaud) turns from pleasant reunion to romantic connection, even though he's still married and wasn't quite expecting having to contemplate leaving his wife.
Arendt is a fitting connective tissue and footnote in comparing One Fine Morning to Hansen-Løve's similar Things to Come (2016), reflecting the same tone and warmth. Isabelle Huppert taught philosophy that time around, and now it's the profession of Pascal Greggory's Georg Kinsler, suffering from Benson's syndrome, a visual form of Alzheimer's disease, which has robbed him of his sight and is slowly deteriorating his mind—in essence, what he had devoted his life's work to. Hansen-Løve this time centers her tale on one of his daughter's, the widowed translator Sandra, who lives alone with her young daughter. As tends to happen, several events demand her attention at once because romance comes knocking at the same time as her father's steep health decline ramps up. This makes Sandra more vulnerable than usual to Melvil Poupaud's advances, a married lover unable to really meet her needs. Tossed about in here are a melange of supporting characters, including Georg's ex-wife, played by a buoyant Nicole Garcia, and his ninety-eight-year-old mother. The process of dealing with a parent's decline and looming death was also a focal point for Edith Scob in Things to Come, but Hansen-Løve jumps back in an intergenerational shift this time.
What's always apparent in Hansen-Løve's scripts is her love of literature, and her films often play like the intense character portraits one usually only finds in a novel. Likewise, the level of research which goes into determining how her often highly specialized characters speak and behave in a variety of settings, from Poupaud's cosmo-chemist, to a variety of services Sandra provides as a translator, or the pseudo-passive protest her mother's engaged with on the side.
Perhaps the zenith of Hansen-Løve's many beautiful passages of dialogue this time around is when Sandra explains to her daughter what George's library means and the importance of avoiding the sacrilege of throwing his books away. "He chose them. They form his color," she explains. Hansen-Løve's characters often talk about reading published letters between famous or notable people (this time it's Annemarie Schwarzenbach and Klaus Mann), obviously an outmoded form of correspondence contemporary generations don't have the exact equivalent of. Hansen-Løve evokes the same sense of melancholic feeling such letters derive in how she utilizes text messages, communication that will likely be inaccessible to future generations desiring to contemplate how we are now (at least as far as records detailing intimate correspondence).
But between the lines is an emotionally formidable performance from Seydoux, rediscovering wants and needs she thought were potentially gone for good. It's a rare and sublime process to witness utilizing parameters rarely allowed in English language cinema, where films are often dependent on cynicism, comedy, or unrealistic romantic beats to skirt around painful realities of life. Arguably, there are similarities to her earlier film Things to Come, like a moment of levity with family gathered for the holidays, but One Fine Morning is its own unique story about its own unique set of people.
Reviewed on May 20th at the 2022 Cannes Film Festival – Directors' Fortnight. 112 Mins
★★★★/☆☆☆☆☆