Human Capital (2020) | Review
It's Easier for a Camel…: Meyers and Moverman Craft Serviceable, Familiar Remake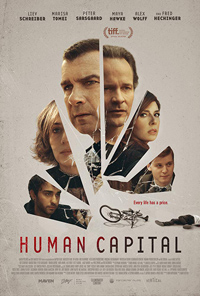 Although it pulls no punches in its re-working of Paolo Virzi's 2013 title Human Capital, this English language rehash from director Marc Meyers finds itself in safe, capable hands with screenwriter Oren Moverman on board. For those unfamiliar with the original, an adaptation of the Stephen Amidon novel, it may seem there's a certain level of proficiency and ingenuity here in this sometimes-vicious class conflict melodrama. However, Meyers version tends to pale in comparison to its original despite a high-profile cast, and the narrative's non-linear puzzle pieces leading up to one detrimental moment doesn't play as effortlessly this time around, if perhaps due to the tug and pull afforded some of the more noted cast members.
A biker is run over on a quiet road late one night, and Jamie (Fred Hechinger), the son of a noted hedge fund magnate, is eventually investigated, along with his ex-girlfriend Shannon (Maya Hawkes). It seems their relationship, however, was the intersection of both their family's demise and the narrative back up several steps to explain their connections. Shannon's father Drew (Liev Schreiber) is a realtor who becomes obsessed with investing in Quint Manning's (Peter Sarsgaard) firm. However, a compulsive gambler, Drew doesn't really have the proper funds to do so and quickly finds himself in a hot spot when Quint's investing bleeds him dry. Expecting twins with his new wife (Betty Gabriel), Drew is quickly led to desperation. Also affected by the downturn of Quint's investments is his dissatisfied wife, Carrie (Marisa Tomei), whose vanity project restoring a prestigious but dilapidated theater becomes collateral damage. And then there's son Jamie, who breaks it off with Shannon when he comes out as gay, while Shannon's relationship with a new beau (Alex Wolff) sets the stage for all the players involved in a murder.
Schreiber's Drew is a character afforded a bit more sympathy in Moverman's script, his Italian counterpart more of a ribald hustler who always seems to get the fuzzy end of the stick. And Tomei's Carrie is a bit more estranged from the proceedings, and despite her performance, isn't allowed the same gravity afforded Valeria Bruni Tedeschi's memorable turn in the original (which won her a Best Actress award at the Tribeca Film Festival in 2014).

Peter Sarsgaard is perfectly cast in another reptilian approximation of humanity (whose character name brings to mind the malevolent ghost of the Quint from Henry James' The Turn of the Screw, also a tale grounded in class distinctions), while the Maya Hawkes/Alex Wolff romance plays a bit tepidly. What's most curious about this remake is the involvement of Moverman, who previously remade another title filmed in Italian (and Dutch) in 2017 with The Dinner, a similar examination of elitist guardians attempting to circumvent the consequences due to their children who have committed heinous crimes.
While Human Capital may have somewhat of an edge over The Dinner, if at least for its attempts to provide overviews of every player's contribution to societal ills, this is by now an all-too familiar scenario which has played out across a variety of platforms (Chilean director Alejandro Fernandez Almendras' 2016 title Much Ado About Nothing is another recent example to be lumped into this category). Fine performances can't quite dispel this familiarity, but Meyers is an intriguing director, and it's clear to see where his interests lie between this and the underrated My Friend Dahmer from 2017 in how community crafts and enables those we eventually deem as monsters, both large and small.
★★★/☆☆☆☆☆