Gotham, Open City: Reeves Reconstitutes an Anti-Hero in Moody Reboot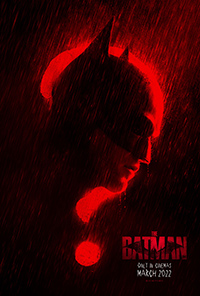 Who would have ever predicted in the fifty-plus years since Adam West first donned the bat suit in 1966 how pervasive super-hero culture would dominate American entertainment? Robert Pattinson joins a growing coterie of actors who have delved into the duality of Bruce Wayne in Matt Reeves' highly anticipated rehash, The Batman, one of the few treatments which correctly calibrates how genre can be used as a tool of subversion rather than propaganda. In other words, Reeves delightfully returns this property to the realm of adult sensibilities as far as mood, tone and characterization are concerned. By now these are characters so endlessly recycled they rival the constancy of Shakespearean productions, with Batman resembling something of a brooding Hamlet anguished over Gotham's infinite ravening wolves hiding in sheep's clothing. While Reeves isn't offering up Batman's Bildungsroman, it's an origin story of Bruce Wayne's changing sentiments, segueing from brutal vigilantism to clandestine savior.
The wealthy, reclusive Bruce Wayne (Pattinson) has been masquerading as a vigilante who dresses as a bat and calls himself Vengeance for the past two years. Documenting his violent cleaning up of the city as an experiment dictated through copious notes, he's earned the respect of at least one policeman, Lt. James Gordon (Jeffrey Wright), who invites him to the high profile murder scene of Gotham's mayor on the eve of the city's elections. A serial killer known as The Riddler (Paul Dano) has begun a high profile killing spree, each time leaving a note filled with coded clues addressed to The Batman. As bodies pile up, Wayne's alter ego leads him to the lair of Oz Cobblepot (Colin Farrell), where he also meets Selina Kyle (Zoe Kravitz), whom he follows, discovering she has access to a world which may hold the clue he needs to unmask the Riddler. Eventually, it becomes apparent the killer's motive involves murky elements concerning Wayne's own parents, slain twenty years prior.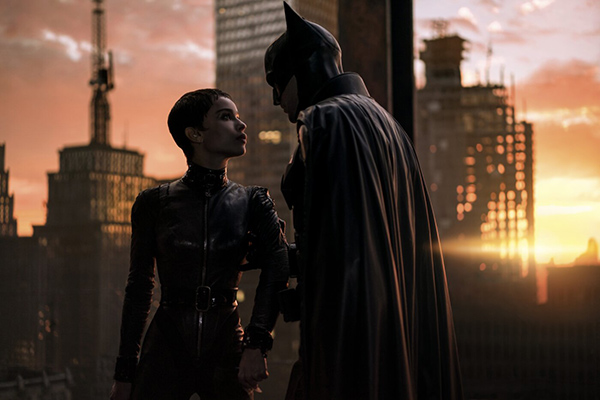 Much like Todd Phillips' Joker (2019), Reeves reconstitutes elements and properties for his own distinctive take on this material, albeit another Frankensteined narrative of rearranged parts. Skimping on exposition (which perhaps explains some of the maudlin omniscient narration), Reeves spends the first two hours of the narrative in glorious Neo-noir mode, formulating a vicious throwback to 1990s serial killer thrillers. Forgoing any hint of supernatural elements, which were always a bit vague in this universe, Reeves channels the metaphorical prowess of the original television series, where characters were channeling energies, rather than being anthropomorphized.
Catwoman and Penguin are nicknames dictated by likeness, for instance, which also lends the film a rare tangible quality. With Gotham City in full autumnal equinox, the Manhattan styled universe is besotted by Seattle's weather patterns, the rotting underbelly of the city floating to the surface in yet another iteration of its particularly jaundiced urban decay. With Villeneuve's Dune (2021) under his belt, DP Greig Fraser solidifies himself as the pinnacle of sulky, forlorn landscapes littered with damaged human debris, and his rendering of Gotham City stands out as more of a character than many of the actors. Colin Farrell, unrecognizable as Penguin, is on hand purely as a taste of how he'll likely be later utilized, although he's included in one of the film's best sequences, a car chase rivaling the heights of either Bullitt (1968) or The French Connection (1971).
Pattinson, oddly enough, adds a different kind of dimension to Bruce Wayne, perhaps the first actor to portray this character who is more captivating while behind the mask. Although the film's third hour tends to drag as it marries the ongoing carnage with elements specific to Wayne's troubled childhood, Pattinson carries this all the way, even as it throws him into humanistic epiphanies about letting go of anger and embracing hope.
Paul Dano is well cast as the Riddler, a far cry from the zany Jim Carrey, and more of a too-close-to-homegrown incel terrorist with somewhat dubious motivations—-if only the narrative had better solidified this "telling the truth about our city" vibe The Batman could have glided into the sublime (Riddler's finale introduces, however briefly, the other villain he will be teaming up with, played by Barry Keoghan). As Dano is prone to do, a hysterical energy overwhelms the denouement, with even his rehashing of Gotham's social services as a dank cesspool of Dickensian proportions. Both Jeffrey Wright and Andy Serkis have little to provide beyond catalysts for Batman/Bruce while John Turturro and Peter Sarsgaard add their own specific elements of menace.
As Selina Kyle, Zoe Kravitz steps into a complicated legacy. With her razor sharp cheekbones and slinky strut, she holds her own whenever she pops into the narrative, but is hardly allowed to flex as much as, say, Michelle Pfeiffer in Batman Returns (1992). But as the third woman of color to play Catwoman (following Eartha Kitt and Halle Berry), there's something to treasure in how she's granted the same complexity as villain/victim while also playing the romantic interest. Historically, the original Catwoman was played by Julie Newmar, but an assumed romantic chemistry with Batman found her replaced by Eartha Kitt (who is still, hands down, the pinnacle of the formidable feline femininity) because a hero could never love a villian and racist social mores dictated there would never be an interracial romance. As these intersections have played out between these characters in the ensuing decades, The Batman is the first time where these cultural dictates feel torn asunder. And even if the film's energies could have felt more powerful were they not shackled so intrinsically to comic book tropes, it's these subtle progressions giving it power. Ultimately, however, this is just another ride in the same amusement park. But if these comic book properties are a recurrent cinematic virus with endless variants, this is certainly the preferred style of symptom.
★★★½/☆☆☆☆☆