Come On, Aileen: Holmer & Davis Craft Old-Fashioned, Straightforward Thriller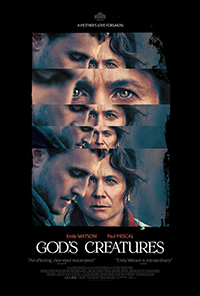 Parents lying to protect their children's potentially heinous crimes is a popular motif in arthouse genre films, often dealing with class issues to highlight how money and social standing easily override the truth. For her second feature, God's Creatures, Anna Rose Holmer co-directs with Saela Davis, who edited her 2015 debut The Fits (read review), in a lofty shift from the energies of their last film. Gender inequity and familial dysfunction are more the underlying themes with this project from Holmer & Davis, who landed Emily Watson to headline their brooding psychological thriller set in a small Irish fishing village.
Although its tone suggests otherwise, a script by Shane Crowley sticks to superficialities in a straightforward tale about a mother's ethical dilemma as regards her wayward son. Despite customarily enjoyable performance work from Watson, it's a disappointing and familiar offering adhering to obvious narrative choices.
Like the billowy, black train smoke announcing the entrance of Joseph Cotten in Shadow of a Doubt (1943), a body washed up on shore signals the return of Brian O'Hara (Paul Mescal), the prodigal son of Aileen (Watson) and Con (Declan Conlon). He's been gone so long he received no news his sister Erin (Toni O'Rourke) had a child and grandfather Paddy is in an advanced state of Alzheimer's. While the family believes Brian has been off somewhere in Australia, he can't seem to provide any substantive information on what he was doing, now apparently committed to reinstating his grandfather's oyster beds for harvest, currently in a state of disrepair. However, it will be a year before Brian could see a profit, so Aileen, a shift supervisor at the local seafood packing plant, steals some oyster seedlings from work. Thrilled to have her son back at home as a rift with Con initially drove him out of the house, Alieen takes him out for drinks one night at the local pub. They run into Sarah (Aisling Franciosi), an employee of Aileen's who also used to date Brian years ago. But everything changes after that night when Sarah starts missing work and then files sexual assault charges against Brian. When the police question Aileen, she follows her son's lead and confirms she was at home with him that night. Her lie then causes significant ripple effects in the local social ecosystem.
There's nothing inherently shocking or surprising about God's Creatures, not even the third act climax meant to right significant wrongs. Since the audience is never in doubt about Brian's guilt, the entirety of the dramatic arc relies on the shoulders of Aileen, and it's here, an hour into the film when charges are made, where the narrative flounders. We've seen plenty of films where parents cover up for their kids (the recent B-grade thriller The Lie comes to mind), and the mood of the film recalls Clio Barnard's Dark River (2017) in neither wanting to be quite genre nor quite arthouse. The score from Danny Bensi and Saunder Jurriaans would have felt effective had it been transposed on material justifying it, while here the moody crescendos tend to feel as misleading as a red herring.
Watson is supremely watchable, but the limitations of Aileen are frustrating. Still, she's the most well-rounded character, seeing as Paul Mescal (recently featured as a sexual temptation in The Lost Daughter, 2021) is simply a child without any redeeming qualities and The Nightingale's Aisling Franciosi is also an underwhelming composite (her finale monologue feels significantly inauthentic, which doesn't help matters).
And then there's the matter of plot holes, including a woefully inert police investigation seeing as there were other witnesses whose opposing statements might have elevated the tension, as well as backing Aileen into a corner even more difficult to back out of. Instead, glaring clues for what's to come are methodically planted regarding Brian's poaching. Certainly watchable but not as provocative as it could be, on the positive side, it's an opportunity to showcase Watson.
Reviewed on May 19th at the 2022 Cannes Film Festival – Directors' Fortnight. 100 Mins
★★½/☆☆☆☆☆