Loosey Goosey: Hawley Gets Histrionic with Uneven Melodrama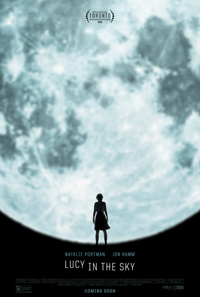 At the end of Now, Voyager (1942) the chain-smoking Bette Davis delivers her iconic line to Paul Henreid, "Oh Jerry, don't let's ask for the moon. We have the stars." Considered one of the most memorable and quotable lines of dialogue from Hollywood's Golden Era, it caps Irving Rapper's hefty melodrama with an immaculate moment which has allowed for the film's enduring immortality despite the initial mixed critical reception it received upon release, dealing as it did with the troubled but hopeful spinster who finds happiness despite not having everything she wants. A similar legacy could be in order for Noah Hawley's uneven narrative debut Lucy in the Sky which fashions a similarly complex and superficially charged veneer around Natalie Portman playing a composite of infamous astronaut Lisa Nowak, who in 2007 wore adult diapers as she embarked on a manic cross-country trip to confront her colleague and ex-lover.
Seeing as Nowak became a punchline in the media zeitgeist, the revised script by Hawley from a treatment by Elliott DiGuiseppi and Brian C. Brown, needed to do a lot heavier lifting than simply cutting out the scandalous detail of the diapers to maintain its central protagonist's integrity. But the film has bigger problems maintaining a semblance of tone and resorting to obvious and distracting metaphorical devices which is perhaps not a surprise since Hawley, a writer and director on celebrated television series "Fargo" and "Legion" arrives from a different medium held to less strenuous expectations in a format allowing for more time to iron out belabored peripheral detritus.
Astronaut Lucy Cola (Portman) finds her perspective of life on Earth forever changed following her experience gazing back upon the planet's insignificance from space, a place she finds herself obsessed with returning to once she makes her way back home. Suddenly, her modest life with Drew (Dan Stevens), her kind but rather dull husband who also works for NASA, seems meaningless, and after several flirtatious encounters with her colleague, fellow astronaut and recently divorced Mark (Jon Hamm), she descends into a passionate affair. Except Lucy doesn't realize Mark's interests in her are purely sexual. As she attempts to reconfigure her life as she trains for the next mission, everything seems to fall apart when she realizes Mark may also be sleeping with another colleague.
While its critical reception has already doomed Lucy in the Sky to the relegation of a misfire, it has several strengths which will unfortunately be resolutely ignored for the time being, at least until audiences likely recuperate it several decades from now. Central to this is another committed performance from Natalie Portman as Lucy, who digs her heels into overblown empathetic overdrive as a woman awakened to the small, unimpressive reality of her life on Earth, married to an unremarkable man and engaged in a life otherwise unremarkable sans her distinguished profession and constant ambition as an overachiever. Yes, her southern drawl goes a bit in and out quite frequently, but some stellar characterization is laid between Portman and her overbearing, alcoholic mother played by the queen of geriatric surliness, Ellen Burstyn, who steals all her scenes despite a portrayal quite similar from any number of recent roles, such as "Political Animals," "House of Cards" or Todd Solondz's Wiener Dog.
In many respects, Hawley falls woefully short of occupational realities, exaggerating workplace melodrama unlike, say, Alice Winocour's recent Proxima, an austere, almost wholly procedural drama concerning Eva Green's struggle to reconcile her guilt about leaving a daughter behind for a year-long mission—conversely, Hawley's portrait of a woman astronaut reaches a greater universality with its broad strokes.
Portman is so good, in fact, it's almost easy to forget how banal this melodrama really is. Take away the extravagance of her profession and Lucy in the Sky becomes a run-of-the-mill affair, though one which could have been more successful as a smaller, intimate character portrait, the kind of vehicles reserved for studio era actresses whose heroines were the name of the film, or the continually perennial passions of the French, who still excel in this genre.
The remainder of the established cast have a little less to do, such as Zazie Beetz, Tig Notaro and Dan Stevens (a bit broadly drawn as a nebbish company man). Both Jon Hamm and Colman Domingo are allowed some pointed exchanges with Portman while poor Pearl Amanda Dickson as her niece struggles to chew through some poorly hewn passages of dialogue.
More of a sticking point, however, are overutilized metaphors—butterflies, cocoons and perverted metamorphoses paired with all the floating fantasies turns what could have been subtle character cues into grating, blaring checkmarks. And, of course, a cover of the titular tune of the title (which could have been a track avoided altogether, allowing for some intrigue) doesn't assist with the darker undertones of the plot, which is again hobbled during Lucy's mad dash through a department store to assemble 'supplies' for her 'mission.'
Interesting but never as extraordinary as the media frenzy which surrounded the original accomplished woman, forever defined by a moment of impassioned madness many of us are allowed to suffer from in private, Lucy in the Sky is still better than its initial film festival ruling would have one believe—but maybe like a diamond, or those classic Hollywood films whose flaws we have come to dismiss or forgive entirely, it will eventually be valued for either the blemishes or assets which shouldn't be entirely forgotten.
★★★/☆☆☆☆☆