Murder on the Familiar Express: Collett-Serra's Airborne Caper a Watchable Throwback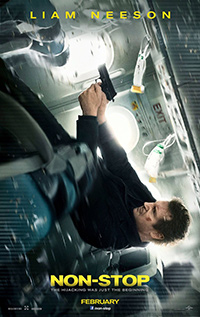 Director Jaume Collet-Serra has jumped aboard the Liam Neeson renaissance train, reuniting with star for Non-Stop after their 2011 effort, Unknown (and, they've recently wrapped a third feature due out next year). With Neeson's insistent return to the action fold, his latest outing fares well in comparison, a glossy whodunit that feels like a familiar (and fun) Agatha Christie narrative thrust onto a plane, filled with moments you'll question later but offering a generous amount of engagement generally lacking in many recent big budget offerings. A host of recognizable faces admirably (though not entirely successfully) warps the process of elimination via casting choices, and while it doesn't quite manage a smooth landing in a rather truncated finale, it offers enough mainstream enjoyment to at least avoid making you angry with it.
A depressed and alcoholic US Air Marshall, Bill Marks (Neeson) seems to be struggling with multiple instances of garden variety pressures. Unable to abstain from the booze juice before getting on his latest assignment, a non-stop international flight to London, he grazes a picture of a small girl we assume is either a dearly departed or estranged daughter. Gruff and unkempt, Bill isn't exactly pleasant to co-workers or his boss via a cell phone conversation prior to departure, but a young lass traveling on her own seems to break through his icy façade, along with Nancy (Michelle Dockery), a friendly flight attendant that seems to be looking out for Bill. We catch glimpses of a variety of passengers to focus on, including fellow first class mates, Zack (Nate Parker), and Jen (Julianne Moore), a somewhat fraught woman who asks to sit next to Bill in a window seat. As they commiserate, Bill gets a mysterious correspondence on his cell phone over a secure network from an individual demanding that $150 million be deposited in an account or a passenger on the plane would die every twenty minutes. Quickly, Bill discovers that this is hardly a prank, and that the culprit is trying to make it seem that Bill is the one attempting to hijack the plane.
While not exactly slick, Collett-Serra manages to keep events and twists unfolding at a decent pace, minor hiccups (such as Neeson barking to all of coach about the events that led him to being a down and out alky) clipping along as quickly as major reveals. For those familiar with Agatha Christie, the set-up feels akin to something like Murder on the Orient Express, which featured a host of notable names in the supporting cast, a ploy to deflect attention from one another as we try to solve the mystery. Here, we have a whole host of notable names as possible red herrings, like Moore (looking fantastic), Scoot McNairy, Nate Parker, Corey Stoll, Michelle Dockery, and, even Lupita Nyong'o from 12 Years a Slave (looking jazzy with a Grace Jones inspired cut, though, in the type of minor supporting not worthy of her talents).
If only the screenplay could have been brushed up a bit, as there are several moments of silliness that could have been excised completely (the unnecessary presence of a lone little girl who is supposed to make us more sympathetic to the loss Neeson's character suffered by giving him a chance to show his softer side is quite annoying), including a third act that really goes off the rails, featuring a final, explanatory speech from an antagonist that's a bit trite and ludicrous.
Long before September 11, 2001, the imperiled flight motif has been a dramatic minefield for cinema, whether it be the somber after effects in vintage fare like Phone Call From a Stranger (1952), action star fodder like Executive Decision (1996) or genre infused thrills like Flightplan (2005), so Non-Stop's greatest detriment is the eye-rolling motive (followed by an even more hurried wrap-up, as if it's too embarrassed to keep us in our seats any longer). But up until then, even the unintentional laughs makes for an entertaining experience.
★★ 1/2 / ☆☆☆☆☆