Enea | 2023 Venice Film Festival Review
Deal or No Deal: Castellitto Distracted by Design in Drug Pusher Drama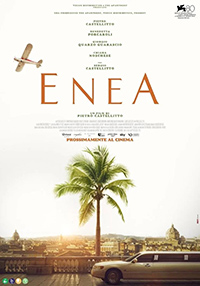 Director Pietro Castellitto embarks on a familial affair with sophomore film Enea, in which he stars as the lead alongside his real life father, actor/director Sergio Castellitto as members of a wealthy Italian family who become involved in a drug money feud. Taking slight inspiration from Virgil's Aeneid, a young man nearing thirty finds his aimlessness interrupted when a novel opportunity lands in his lap to sell twenty kilos of cocaine for a local king pin.
Despite being an inviting screen presence, Castellitto can't quite decide on a cohesive approach to the material, introducing shards of themes and characters about intergenerational differences and the suffocating ennui of the present all chaotically introduced before the narrative finally starts to take shape. Once the dramatic catalyst clicks into place, it's an inevitable series of events leading to the happy ending for the titular hero. And yet, somehow, will all these colorful characters, nothing generates much interest in a film which feels so wrapped up in creating a style it completely forgets about the substance required to make anyone innately likable or memorable.
Enea (Pietro Castellitto), on the verge of turning thirty, is searching for a sense of meaning. His father (Sergio Castellitto) masks his own forlornness while his mother (Chiara Noschese) seems oblivious to her family's woes, working as a notable television host. Her latest interview with famed journalist Oreste (Giorgio Montanini) on his new novel, Kisses Will Return, detailing an infamous gangster's exploits, coincides with the author's son and her youngest child (Cesare Castellitto) fighting at school. It appears Oreste's son was bad mouthing Enea, spreading gossip about selling drugs to minors. Enea's best friend, Valentino (Giorgio Quarzo Guarascio), who has just obtained his license to be a pilot while also dealing with his own family's significant dysfunction, shares the same sense of aimlessness. However, local drug lord Giordano (Adamo Dionisi) taps the pair to sell a large shipment of drugs he's just received. When Giordano is murdered at the bidding of Oreste, Enea and Valentino must return the money they've received for the drugs or risk getting killed themselves. Meanwhile, Enea explores a romantic relationship with the beautiful Eva (Benedetta Porcaroli).
Castellitto's 2020 debut, The Predators, which is similarly balanced on two different kinds of families and their various interactions, took home the Best Screenplay prize out of the Venice Film Festival's Orizzonti sidebar. He's taking a bigger swing with Enea, but perhaps miscalculates his capabilities in balancing all these characters in a film which feels like a Paolo Sorrentino film calibrated for Gen Z attention spans. The first hour of the film feels incredibly frantic, jumping randomly in its editing as it zig-zags between characters and moments, many of whose connections feel incredibly forced. The film's opening scene, where Enea and Valentino are in mid conversation with his mother, is likely the film's most relaxed and coneys the most interesting ideas. Everything ensuing feels rushed, including his barely constructed romantic relationships with Benedetta Porcaroli's Eva and Giorgio Quarzo Guarascio's Valentino, a lover and best friend, neither who share any discernible chemistry with Enea.
In some of this frenzy, there are inevitable surprise moments, such as the hit on Giordano (which arrives after an obnoxious scene where the gangster is reminiscing about his dead mother's cooking) and a failed attempt to kill Enea, whose main chef likes to do really nasty sexual things with the salmon before he makes it into sushi. The eventual face-off with Montanini's thematically named Oreste ends with a bang, albeit without any real emotional impact considering the sacrifice it involves. On the plus side, Radek Ladczuk's cinematography is vibrant, even if it's mostly caressing the faces of Pietro Castellitto and Benedetta Porcaroli, who make for a handsome but infinitely dull couple. In its exploration of aimless youth in an increasingly apathetic world, Enea, perhaps fittingly, feels as hollow as its characters, living empty lives defined solely by a fascination with death.
Reviewed on September 5th at the 2023 Venice Film Festival – In Competition. 115 Mins
★/☆☆☆☆☆