The Palace | 2023 Venice Film Festival Review
It's Only the End of the World: Polanski Checks Out with Broad Satire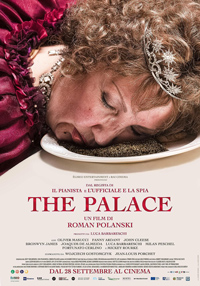 As many are likely to avoid The Palace, the latest film from persona non grata Roman Polanski, as those who deign to (are even able to) watch it will likely deride it. Turning ninety years of age this year, there's something to be said for an auteur of his age delivering something so nonsensically innocuous with a satire on elitist, obnoxious hotel guests getting obliterated at the turn of the century in a swank Swiss hotel. Though what that something is, at best mixed, which is unfortunate if it will stand as his swan song. Reuniting with Jerzy Skolomowsi (who penned Polanski's debut, 1962's Knife in the Water, a cornerstone of the Polish New Wave), co-written with his wife Ewa Piaskowska, it sounds like it would be a slam dunk for Polanski, who, if he's proven anything, it's the underlying terror of confined living spaces, either rented or mortgaged. A formidably strange ensemble of notable international names float about, all preoccupied in their self-consuming vignettes, some of whom generate minor chuckles, while others are taxing to behold. Polanski completists may likely find a highlight or two to prize, but it's a far cry from the artistry inherent in his last film, 2019's An Officer and a Spy.
As the day begins for the stressed out staff on New Year's Eve 1999 in a luxury Swiss hotel called The Palace, head manager Hansueli (Oliver Masucci) attempts to bolster morale before the flurry commences. Almost immediately, chaos ensues. A brash American, Bill Crush (Mickey Rourke) demands the hotel get him a room, even though they've no record of his reservation. A faded porn star, Bongo (Luca Barbareschi) has a skiing accident on the slopes. A zany Marquise's (Fanny Ardant) dog won't defecate in the snow, demanding the only practicing physician available, Dr. Lima (Joaquim de Almeida), a plastic surgeon, to assess the situation. A British billionaire, Arthur William Dallas III (John Cleese) has a live penguin shipped in to celebrate an anniversary with his much younger wife, Magnolia (Bronwyn James) and a group of sinister Russians insist on storing an abundance of precious luggage in the hotel's war time bunker (to which there is only one key). With anxiety about a worldwide internet and electronic outage, the agitation of the guests and their fumbling situations reaches fever pitch.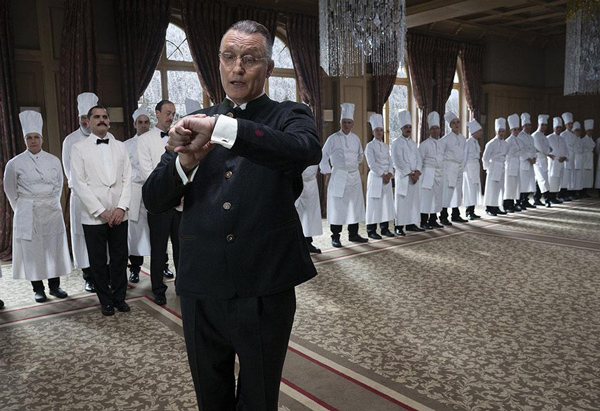 The lyrics of The Eagles' "Hotel California" come to mind throughout The Palace, a place "You can check-out any time you like/But you can never leave." Taking place on the advent of the year 2000, when global fears about the Y2K crisis had the world on edge, the film's most successful bits tend to utilize real life snippets of the dreaded night, such as Boris Yeltsin stepping down as Russia's president and handing 'temporary' control over to Vladimir Putin. Likewise, Mickey Rourke attempts to utilize the occasion for a complex money laundering scheme, convinced a global banking crash will make him filthy rich. Rourke, donning a putrid straw colored wig, does double duty as a man being confronted by his long lost son from Czechoslovakia, which creates some of the film's most irritating moments.
John Cleese, likewise, grates as an ungodly rich oligarch with a twenty-something wife, dying in the midst of copulation and suffering from immediate rigor mortis which results in his bride being unable to dismount. The hotel manager must then assist her in a Weekend at Bernie's type skit by parading his corpse around the hotel as if he were still alive. If he dies before midnight, she stands to forefrit inheriting his billions, as stipulated in his will. Joaquim de Almeida serves as connective tissues between characters, a plastic surgeon who moonlights a veterinarian for a zany Fanny Ardant (who jams to Lou Bega's 'Mambo No. 5' in one of the film's more interesting shout outs), with fake grass installed in her restroom for the dog's comfort. A bevy of heavily modified European women (including Polanski alum, Sydne Rome) descend upon Dr. Lima like flies, and would have seemed equally at home as part of the child eating coven in Nicolas Roeg's The Witches (1990).
One sees how there are moments in which The Palace could have developed a kinship with something like The White Lotus or Ruben Ostlund's Triangle of Sadness (2022), but it's simply not smart enough to rise to the occasion. Alexandre Desplat delivers his second of two grating film scores this year (following the twee nightmare blaring on Wes Anderson's Asteroid City), which proves to make any chance at light comedy ruined.
Considering Polanski's filmography, where dwellings are specific to the locus of violence, madness, and destabilization, The Palace, on paper, assumedly would provide him to explore his eternal motif exponentially. From his iconic 'apartment trilogy, Repulsion (1965), Rosemary's Baby (1969), and The Tenant (1976) to the detrimental hotel room in Frantic (1988), and the isolated abodes where revenge torture in Death and the Maiden (1994) and adolescent elitists implode in Carnage (2011), the dwelling space is the canvas on which Polanski tends to seed his particular penchant for human hysterias.
As a comedy, it would appear The Palace is in keeping with something like 1992's Bitter Moon, hybridized with the structure of Sklomowski's intersecting ensemble drama 11 Minutes (2015). But not unlike Polanksi's greatest misfire, the head scratching What? (1972), which is centered by a Sydne Rome's American tourist encountering a horde of weirdos at an Italian villa, The Palace hits more off-key notes (such as oddly shouting out Chinatown, 1974, for whatever useless reason) than anything, like a rough outline of jokes needing to be reworked. Bizarre and eventually exhausting (with some subpar special effects, including snatches of the hotel's facade, not to mention the rather wearisome penguin, utilized for the film's final gag, which is amusing only in the most vulgar, adolescent sense), The Palace doesn't quite exceed the price of its reservations.
Reviewed on September 5th at the 2023 Venice Film Festival – Out of Competition. 100 Mins
★★½/☆☆☆☆☆