One Night in Miami | Review
One Night Only: King Bespeaks Intention in Compelling, Recuperative Debut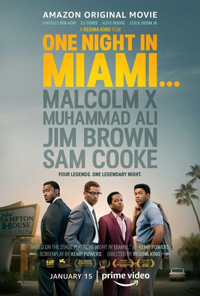 A night-time commiseration between Malcolm X, Muhammad Ali, Sam Cooke and Jim Brown is the subject of One Night in Miami…, the directorial debut of Academy Award winner Regina King, adapted from the play by Kemp Powers. Would that it were, the meeting of four iconoclasts, each having reached a certain professional tipping point as they passed the first peak of their powers on one anonymous night in 1964, each revealing dreams of new careers, identities and even ideologies. The meeting is unfortunately a work of fiction, but as brought to cinematic life by King showcases the abilities of a lauded performer using her platform to breathe life into personalities remembered for specific achievements, gathered here in conversation both historically specific and yet universally pertinent on the power of creative artistry, the duty of wielding one's influence for positive social change, and how to work collectively to combat the racism which limits the potential of all Black Americans in the United States.
In February 1964, four notable friends gathered in a hotel room in Miami to celebrate Cassius Clay's (Eli Goree) win over Sonny Liston. The event, organized by Malcolm X (Kingsley Ben-Adir), also included NFL star Jim Brown (Aldis Hodge) and pop singer Sam Cooke (Leslie Odom Jr.). But little do the three invitees know, the evening was intended by Malcolm to be one of sobering discussion as far as how each of them are utilizing their powers and platforms to advance the Civil Rights movement. While each of the men are a bit dismayed, hoping for a night of revelry, it becomes the initial announcement for Clay to state his joining of the Nation of Islam as well as his new name, Muhammad Ali. A friendly environment becomes one of heated debate as each of the men examine the limitations of their careers and how they can branch out into more beneficial, creative outlets.
When actors take the opportunity to direct their own projects, usually following a certain peak in their career or a surge in their popularity or even as a novel vanity project, the end result is often heavily stylized as an homage or a star-studded showcase for the most visible, familiar facets of filmmaking. Regina King's directorial debut features none of these follies in a meaningful, empathetic presentation of four acclaimed notables challenging one another's concepts about how to advance not only their own standing, but their community's as well.
It is King's purposeful, unfussy installation which is surprisingly amiable and troubling in its assessment of issues which are far from being solved even sixty years later. A marvelous ensemble piece (which has limited supporting roles featuring Michael Imperioli and Lance Reddick), which does tend to have the feel of a well-produced play, even as King steps outside of the hotel room's claustrophobic confines, four up-and-coming performers inhabit the personas of four unique figures, with each exhibiting an essence which sidesteps caricature. As such, One Night in Miami… segues easily into an exercise of thoughts, arguments and ideas which makes for some surprisingly compelling camaraderie tinged by anxieties and distress.
If there's a particular stand out, it's Kingsley Ben-Adir as Malcolm X, militant but not unyielding in his challenging of Sam Cooke's contributions to the Black community diminished by availing himself to white audiences. It's a situation as hectoring then as it is now, the potential diminishing of one's Blackness in service of appealing to a larger, white mainstream. Is assimilation the answer or creating one's own altars of worship or gold standard measures?

If Malcolm X seems to be granted the greatest complexities, on the verge of leaving the Nation of Islam, an entity turning its back on him just as he recruits Cassius Clay for the clout he'll need to make the transition, One Night in Miami… is perhaps most recuperative in its depiction of Sam Cooke, played passionately by Leslie Odom Jr. Cooke is less remembered as a personality than Malcolm X, Jim Brown or Muhammad Ali, and pop culture references often tend to focus on his appeal to white audiences (such as a joke by Wesley Snipes' Noxeema Jackson in To Wong Foo Thanks for Everything, Julie Newmar, 1995).
As an argument between Malcolm X and Sam Cooke boils over into the latter storming out of the hotel, the dismissive "good riddance" resounds like a slap, and allows for Aldis Hodge to nab his own shining moment in a challenging aside with Ben-Adir. Although we meet each character facing a situation which exemplifies the racist web which entangles each of them, King presents the greatest sting through some unique casting with Beau Bridges as Brown's benefactor.
It's troubling not only as a direct example of how white culture embraces Black talent in any arena of entertainment yet erases their humanity, but also for the casting of Bridges, who in the early part of his career often played young white men who were naive but well-meaning allies to the Black community (such as For Love of Ivy, 1968 and The Landlord, 1970).
Lensed by Tami Reiker (The Old Guard – read review), who does a fine job with our limited snippets of what's meant to be period Miami night-time exteriors, One Night in Miami… is an impressive directorial debut from the formidably talented King, who has herself always been an elevating power through her work, from early appearances in John Singleton's first features (particularly her scene-stealing work in Poetic Justice) to her priceless voicework in "The Boondocks" and the notable yet short-lived "Watchmen."
Reviewed virtually on September 10th at the 2020 Toronto International Film Festival. Gala Presentations – 116 Mins
★★★½/☆☆☆☆☆