I Can Hear the Mermaids Singing: Eggers Unleashes a Hyper-Stylized Portrait of Nautical Madness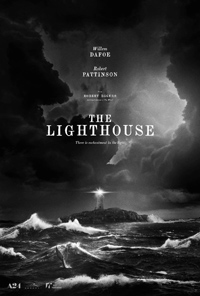 Virginia Woolf (who, having known something about the subject and its motifs as evidenced by her To the Lighthouse), remarked "Lighthouses are endlessly suggestive signifiers of both human isolation and our ultimate connectedness to each other." Such is the duality set forth in Robert Eggers' metaphorical sophomore film The Lighthouse, which follows a similar thread of humans succumbing to madness and potential supernatural forces as seen in his 2015 debut The Witch. His latest doesn't offer an opportunity for his characters to live as deliciously, but this exquisitely shot black and white two-hander offers up a powerful Willem Dafoe flanked by Robert Pattinson as a mentor and his protégé dealing with lurkers at the threshold in early twentieth century Maine. Channeling elements of German Expressionism, Franz Kafka, Herman Melville and a wild dollop of Greek mythology, this tale of isolation and insanity, is an ambitious and unheralded cinematic joy to behold, more often than not expertly succeeding at balancing a weirdo brand of sinister horror threads and lavish stabs at male hysteria.
Ephraim Winslow (Pattinson) has arrived to try his hand at being a lighthouse keeper (or, a 'wickie,' as we come to learn) under the tutelage of the gruff, alcohol Thomas Wake (Dafoe) on an isolated locale off the coast of Maine. Wake is viciously protective of "his" light and reluctantly admits the last man who held the post went mad, convinced St. Elmo's Fire had enchanted the lighthouse while sirens lingered on the jagged rocks below it. But Winslow, who has arrived with his own baggage, begins to experience strange occurrences as he toils through his endless chores. Brief reprieves to relieve his sexual frustration only lead him to new opportunities to witness bizarre happenings. But when the wind takes a turn and they're regaled by a vicious storm, the men miss their passage to the mainland. As the storm rages and relief seems uncertain, the men descend into an alcoholic binge, exacerbating their already tenuous relationship.
Robert and Max Eggers' script wields some well-researched period dialogue, although the success of some over-the-top tendencies depends on the key delivery of Dafoe, who is allotted a number of phenomenal monologues paired with gnarly close-ups of a visage which recalls Renoir's Boudu Saved from Drowning (1932). The power struggle between his Thomas Wake and Pattinson's Ephraim recalls Melville's Billy Budd, including some eventual homoerotic overtones well-played by both actors (Melville also gets a diegetic shout-out and a subtitle homage at the credits). And yet, at times, the alliterative, verbose diatribes often seem rather out-of-character, particularly for Pattinson, who seems to have a hard time keeping track of his character's accent.
In the onslaught of the increasing madness, which includes potentially (and frequent) moments where it may appear Dafoe is a master at gaslighting his employees, we aren't sure who or what to believe, which frees up the narrative parameters considerably when efficiency and restraint might have helped paralyze some questionable elements. But Dafoe delivers in one of his strangest characterizations to date as the grizzled, flatulent Thomas Wake, a lighthouse keeper whose odors we can nearly smell oozing out of the screen yet has a Joan Crawford-sized hang-up on the housekeeping rubric for his subservient.
Despite minor inconsistencies, The Lighthouse is an unusually handsome contemporary black and white film, shot by Eggers' Witch DP Jarin Blaschke and another pronounced score and sound design from Mark Korven. If Melville has a stranglehold, so does the imagery and narrative recall Kafka's "The Stoker" story, while repeated references to Triton and Prometheus spin the film off into another textual stratosphere entirely.
As with The Witch, Eggers speckles his film with snippets of delirious strangeness, including potential creature sex a la Andrzej Zulawski and various other fantastical elements (not to mention a rather unforgettable moment with an aggressive seagull, recalling the menace of the Stephen Gregory novel The Cormorant). But at its base, Eggers has utilized the highly romanticized eponymous façade to straddle the complex dichotomy of connection and isolation it represents—as well as the danger of looking into the light and seeing, perhaps, all the things one dreads they'd see.
Reviewed on May 19th at the 2019 Cannes Film Festival – Director's Fortnight, 110 Minutes
★★★½/☆☆☆☆☆