About Endlessness [Video Review]
Beauty & Banality: Andersson Ponders the Void in Potential Final Film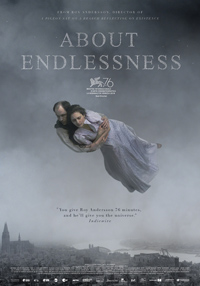 There might be no greater spiritual absurdist than Sweden's premiere arthouse auteur Roy Andersson, who has sporadically been making films since the late 1960s, with only six narrative features in his highly revered oeuvre. Having labored for fourteen years on his famed Living Trilogy, which began with 2000's Songs from the Second Floor (snatching the Jury Prize at Cannes) and ended with 2014's A Pigeon Sat on a Branch Pondering Existence (read review), his unveiling of another standalone feature five years later with About Endlessness (winning Best Director in Venice 2019) was a surprise, furthering notions of this being the final narrative offering from Andersson.
Not surprisingly, his latest plays like an addendum to the vignette-style of his last three films, perhaps leaning more into the ponderousness and banality of ideas explored in previous work, like the B-side beats which wouldn't organically settle into the mix.
For fans of Andersson, About Endlessness offers more of what they already admire, a birds-eye view of solemnity and suffering, horrors, and hopes, while an omniscient female narrator guides us like a disembodied spirit into the lives of others, some notable (Hitler again gets an Andersson ribbing, here in an homage to Russian caricaturist Kukryniksy) but mostly regular folks hemmed in by money, their faith, their lack of access or mulling consequences of their choices. Andersson leaves behind some of the bleak comedy which defined his Living Trilogy, and instead seems more fascinated in painterly landscapes (the poster highlights a repeated visual of a couple floating over bombed out Cologne, a reference to Chagall, but also recalling something like Manoel de Oliveira's 2010 film The Strange Case of Angelica in its vibe). A pair of students read about the law of thermodynamics, how everything is energy and cannot be destroyed, which seems to be the ricochet theme this time around. The result is a quiet piece of visual poetry, Andersson's artistic influences unveiled like the gentle version of something Peter Greenaway does to more bombastic effect.

Returning to work with his Pigeon DP Gergely Palos, it's a meditative and beautifully photographed feature, perhaps the least claustrophobic of Andersson's depressing, antiseptic interiors inhabited by countless downtrodden denizens. If anything, it's a film best served by a standalone, repeated viewing (stuffing Andersson into a film festival schedule is definitely a disservice), and it's his most lulling film, creating a hypnotic energy which is interrupted at just the right moments by the jauntiest scenario involving a priest who's lost his faith, shunned equally by the bureaucratic institutions with whom he seeks the respite he can no longer attain in the spiritual realm.
If Andersson is continually evoking Arendt's theory on the banality of evil when he's formulating humanity at its worst, About Endlessness closes another sort of obsessive loop, a meta exercise on the banality of the banal—which suggests eventually it becomes interesting again. For fans of Andersson, his potential final feature should be requisite viewing, but for those just discovering his pronounced cinematic language, this is an enjoyably pale echo of his greatest hits. In the realm of profound absurdity Endlessness is to Pigeon as what Jacques Tati's Trafic (1971) was to Playtime (1967), follow-ups to masterpieces which are still informed by and basking in the light of a more effective exercise.
★★★/☆☆☆☆☆