The Roads Not Taken | Review
Roadside Assistance: Potter Putters in Nonsensical Melodrama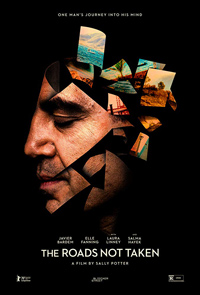 Who is the nearly catatonic man being dragged through New York by his overly sincere daughter? His name is Leo, but is he the same Leo struggling with a relationship torn asunder in Mexico? The same Leo adrift in Greece, a writer trying to reconcile the abandonment of his daughter through a nubile conduit? These are some of the questions the audience is left to ponder in Sally Potter's preposterous melodrama The Roads Not Taken, which suffers from extreme miscasting, nonsensical narrative whims and a plethora of rough transitions and awkward plot holes. Incredibly frustrating despite the best efforts of a notable ensemble cast, Potter's concept, while eventually evident, is never cohesively structured to make proper use of its poetic license and sinks like a stone from its opening moments.
Leo (Javier Bardem) appears to be nearly bedridden, rustled in a panic by his daughter, Molly (Elle Fanning). It seems she has dedicated the day to guiding her near-incapacitated father to dental and eye examinations, a task which turns out to be incredibly arduous. A head injury during transport leads them to the emergency room, where Leo's estranged ex-wife (Laura Linney) turns up, whose knowledge of his past may explain some of his ramblings about another previous relationship with Dolores (Salma Hayek) in Mexico, a situation of repeated memories and flashbacks which seem to be haunting Leo. At the same time, a significant retreat in Greece also seems to assail his thoughts. In the end, which of these trajectories is real or imagined? Which is the road Leo really did take?
From the onset, the casting of Elle Fanning (despite darker contact lenses) as the daughter of Javier Bardem ruins whatever good will one could bestow upon The Roads Not Taken. While Fanning headlined Potter's 2012 drama Ginger & Rosa (read review), it's not clear what was so integral to her casting here given the plot revolves around the multiverse of Bardem's character.
The end result is something extremely tedious as Fanning wends her way through New York inanely with a man who clearly needs to be cared for in a facility. The audience is meant to empathize with Molly's anguish about the treatment Leo receives at the dentist, the optometrist, and at the ER, but while some of these customer service workers are on the callous side, none of their reactions seem out of left field. Not so for one of the film's worst moments at a Costco when Leo is slammed to the floor by security after assailed by a racist customer upset at him for clutching her lapdog. Molly's response to this is comparably tempered. "Boy, were they brutal." Somehow the optometrist's frustration was more risible to her though his treatment by Costco security warrants legal action.
As The Roads Not Taken comes full circle, assisted by some leaden exposition delivered by a sole sequence featuring Laura Linney as Molly's mother, and we piece together tidbits from three different timelines which don't make a lick of sense (and they aren't really supposed to), the nagging question Potter eludes answering is what really happened to Leo to cause his current state of immobility? Sure, there's an allusion to a 'near death' experience, but this doesn't account for how and when Molly came back into his life and, worse, why no one single adult (including the maid who cleans his hovel of an apartment) vocalizes the obvious need for more intensive care.
Of course, there's a whole lot of extra melodrama heaped on top of this, such as Fanning's occupational pressures. Apparently, she didn't have the foresight to take a personal day for the strenuous familial activities she planned and misses out on a major 'story' she's been 'researching.' And to confound it all, Leo, who can only mumble words and be led by the hand throughout the entire narrative, somehow finds the gumption to hop onto a metro rail and wander off into the city. The plot's more untoward anguish concerning the storyline of Hayek's Dolores and Bardem is treacly, overblown angst and a waste of both performer's talents. Perversely inept considering Potter's significant filmography, including her 1992 masterpiece Orlando, an adaptation of the famed Virginia Woolf gender bender, and even her last entry, the hilarious and biting The Party (2017), not even the multiple location shot by DP Robbie Ryan can assuage.
Reviewed on February 27th at the Berlin International Film Festival – In Competition. 85 Mins.
★/☆☆☆☆☆