La Belle Captive: Coppola Pays Homage to America's Archetypal Child-Bride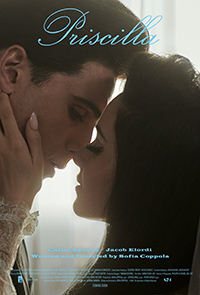 Priscilla Beaulieu Presley published her memoir Elvis & Me in 1985, which spawned a 1988 television production directed by Larry Peerce (The Incident, 1967). In the wake of Baz Luhrmann's incredibly whitewashed and inordinately sanitized 2022 Elvis biopic, which shoved his marriage with his wife to the extreme periphery of his narrative, it seems a fine time to revisit the relationship from her perspective through Sofia Coppola's brand new adaptation, Priscilla. As the title change would indicate, one might easily assume Coppola aims to portray Priscilla outside of her orbit from Elvis Presley as a standalone human being. But while staying very close to the 1985 publication (Priscilla Presley also serves as executive producer), she's still something of an unknown quantity, which makes sense considering she was groomed to be a silent bauble without thoughts or desires of her own worth examining. Presley began her memoir with the death of Elvis in 1977, the moment she also closes upon, which, just like Coppola's film, is a narrative which really starts to be intriguing when we get a sense of Priscilla becoming her own person.
In 1959 Wiesbaden, Germany, fourteen-year-old Priscilla Beaulieu (Cailee Spaeny), finds herself invited to a gathering at the home of Elvis Presley (Jacob Elordi), currently serving on military duty. Her father, Captain Beaulieu (Ari Cohen) had only recently been relocated there, with Priscilla's mother (Dagmara Dominczyk) and young brother in tow. While her parents are reluctant to let their daughter attend the party, they're assuaged by the fact she would be escorted by military members her father trusted. Elvis finds himself immediately taken with the young girl, and for the remainder of his time there, the two of them seem to be inseparable. This proves to distract from her schoolwork, and Elvis introduces her to the dangerous world of prescription pills. After he leaves, two years pass before Priscilla hears from him again, and he calls, requesting she visit him at his home in Memphis. Once again, her parents reluctantly oblige, and eventually she ends up transferring schools to finish her last semester before high school graduation. In the years following, she would become Elvis' kept love interest, waiting for him at home while he would frequently leave for Los Angeles on various movie shoots, having affairs with some of his leading ladies. The increasingly dismayed Priscilla would eventually marry Elvis at the age of twenty-one in 1967, with an unexpected pregnancy resulting in the birth of Lisa Marie in 1968, leading to their separation only four years later.
The cultural conversations regarding Priscilla's relationship to Elvis are defined by her age, a fourteen-year-old in ninth grade who would move in with him at sixteen but be forced to wait several years to be offered the title of his wife (ending another disparaging nickname, 'Live-in Lolita'). If there's a nagging sense of never quite knowing Priscilla as a girl or a woman, it's because she wasn't allowed to know herself, swept up in a romance with the most famous person in the world, a rock and roll star whose sexually charged performances at least assisted in laying the groundwork for what would become the sexual revolution over a decade after he started shaking his hips and appropriating Black music and stylization. As a film, Priscilla unpacks the sequence of events which led to her grooming as Elvis' wife-pet, manipulated, gaslit, and isolated, the crown jewel in the singer's entourage.
Neither the film nor the memoir go into any sordid details about their sexual relationship, which would also only have taken away from the troubling psychological duress which suppressed Priscilla. Elvis' penchant for anger, like many famous, powerful men, was excused, normalized, and expected. We don't need (or should be privy to) all the kinky little details (though we're led to believe innocuous dress-up games and some role-playing yielded a bountiful collection of Polaroids), but what's interesting is how Elvis' guise of 'waiting' for the right moment is really a ruse to not only satisfy his own needs when he sees fit, but also keep Priscilla dangling on a hook, like a collectible toy that can never be played with for risk of bringing down its market value. An affair she'd later have with a karate instructor just prior to leaving Elvis isn't made explicit in Coppola's film.
As Priscilla, Cailee Spaeny expertly exudes the heartbreaking naivety of adolescence, plucked from her peers by an older man, creating an intoxicating elixir specific to the kind of imbalanced relationship where the younger counterpart believes they're special, while the older one really desires their youth and malleability. Priscilla's story isn't far from the experiences of 'the other woman' prototype, or the secret gay lover, people who are constantly distressed and confronted by not being able to have their relationship validated because they're living in a shadowy, emotional vacuum, where rigid cultural norms result in their erasure. Priscilla is also comparable to Coppola's previous examination of Marie Antoinette (2006), another young woman thrust into an enviable but ultimately tenuous position of limited power.
The production of Priscilla is scaled back considerably in comparison to that film, with Coppola's The Beguiled (2017) DP Philippe Le Sourd deposed almost exclusively to the confines of Graceland alongside Priscilla. A score by Phoenix and a soundtrack exclusively excluding Elvis' discography is also a refreshing break from the usual mythos, with Coppola's use of Tommy James' "Crimson and Clover" standing in to underline Priscilla's school girl swoon. Some instrumental swaths of "Love Me Tender" filter in and out, like tinkling from a remote music box Priscilla begins to open less often in her mind.
It's interesting how Coppola avoids showcasing any of Elvis' entourage, a bunch of sycophants jousting and carousing around the singer like a group of buzzing flies. The Colonel is merely an omnipotent figure directing their lives from afar (much like in the memoir), but Coppola allows Dagmara Dominczyk some eloquence as Priscilla's supportive but confounded mother. "Euphoria" alum Jacob Elordi does a fine job of channeling the energy of Elvis without being a caricature, but the most novel reality of Coppola's film is how Spaeny's name will be the one oft-repeated (unlike, say, Season Hubley in John Carpenter's Kurt Russell led mini series in 1979 or Olivia DeJonge in Luhrmann's spectacle). In the years since her divorce, Priscilla Presley became a writer, actor, and entrepreneur, and the most interesting details about her remain private.
Reviewed on September 4th at the 2023 Venice Film Festival – In Competition. 110 Mins.
★★★/☆☆☆☆☆