All the Camera Allows: Spielberg Revisits Childhood in Semi-Autobiographical Portrait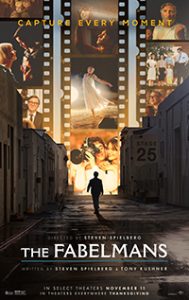 Evident in many of the titles from his iconic filmography, whether science fiction, adventure or period piece, Steven Spielberg favors the bittersweet melancholy of childhood and adolescence marked by familial disruption. Many of his characters are defined by tragedies of the hearth, spurned by the perceived shortcomings of parents. It would seem these are the echoes inherent in his own childhood as evidenced in his latest, The Fabelmans, a semi-autobiographical portrait of his youth, gazing back at his development from childhood to adolescence, from age seven to eighteen, as his family moved from New Jersey, Arizona and at long last, Los Angeles, California. Reuniting with his Lincoln (2012) scribe, Pulitzer Prize winner Tony Kushner, it's a tender, if inherently self-indulgent characterization of an upwardly mobile Jewish family evolving along with the changing cultural mores of the 1950s and 1960s. While there aren't catastrophically tragic internal upheavals amongst this particular nuclear family and their eventual dissolution, it's ultimately a poignant love letter from a son to his mother as maturation has allowed him to understand her struggle to embrace happiness.
During the winter of 1952, New Jersey, Sammy Fabelman (Mateo Zoryon Francis-DeFord) is introduced to the world of cinema at the age of seven and becomes instantly enamored. His father (Paul Dano) is an electrical engineer, while his mother (Michelle Williams) runs a household which includes three sisters and the company of his father's best friend and colleague (Seth Rogen), who's earned the distinction of 'uncle.' They're the only Jewish family in the neighborhood, but life seems perpetually blissful until his father is promoted based on his development of ideas with computers, relocating the family to Arizona.
Through his mother's insistence, their uncle moves along with the family. Spending his early teenage years in Arizona, Sammy (now Gabriel LaBelle) becomes a keen amateur filmmaker, crafting increasingly lavish film productions with other local kids. When his maternal grandmother (Robin Bartlett) dies, it sends his mother into a depression, and following a family camping trip, which he splices together into a home movie, Sammy suddenly realizes his mother, who deferred her dreams as a pianist, is actually in love with their beloved uncle. When IBM comes calling, the family is uprooted to northern California, leaving their happiness and their uncle behind. While there mother spirals into another depression, Sammy becomes the victim of Anti-semitism, but rediscovers his love of filmmaking and sets his sights on moving to Los Angeles to pursue work in the entertainment industry.
It's impossible not to encounter the sentiments of Thomas Wolfe in Spielberg's rosy-tinted, partially fabricated reclamation of his past. As part of the larger statement in Wolfe's You Can't Go Home Again, it concludes with a phrase on the impossibility of going "back home to the escapes of Time and Memory." Wolfe gets into something closer to Proust's Remembrance of Things Past and the intoxicating drift of involuntary memory, whereas Spielberg can't avoid feeling a bit manufactured in his reclamation.
Through its nature, cinema itself demands a rigorous creative effort, and thus the highly mannered through line of Sammy Fabelman as conduit is more of a concretized amalgamation of Spielberg's thoughts, memories and theme. In short, his Sammy is more of a placeholder and purveyor than a character we come to understand or admire. It's not through lack of performance, as Gabriel LaBelle is one of the highlights by default (though brown colored contacts sometimes distract in many of Janusz Kaminski's steady close-ups), but rather as a tonal byproduct because Sammy Fabelman is Spielberg, and we're simply catching a glimpse at his processing of life events which led him to become not just a filmmaker, but one of the most innovative contemporary technicians of the medium, whose contributions redefined how films are made and how film studios craft legacies.
To better appreciate The Fabelmans, a familiarity with not only Spielberg's filmography but a sense of the studio era which crafted his sensibilities is helpful. An homage to the train wreck in 1952's The Greatest Show on Earth and the The Man Who Shot Liberty Valance (1962) craft the forked witching wand to Spielberg's primal fascinations, and a cameo from David Lynch as John Ford is cute, if ultimately strange in how it crosses the divide of auteur streams.
The resilient but lovelorn mothers and steadfast but emotionally distant fathers littering the Spielbergian landscape are crystallized in the essence of the Fabelman family, but the only figure gifted with any interiority is Michelle Williams, arguably reading as a bit too much of a shiksa with her blonde bob. Williams is consistently empathetic, torn between the duty of her marriage to a likable, if understated Paul Dano, and her attraction to the more gregarious Seth Rogen (who doesn't have enough screen time to serve anything other than a specific purpose).
Interestingly, the Williams-Rogen continuum is a reversal of the situation of their relationship in Sarah Polley's Take This Waltz (2011), but there's no room for adult relationship intimacies or intricacies since everything is realized through a lens darkly from the perspective of a child just beginning to understand the complexities of relationship realities. At its height, Speilberg channels a sense of Douglas Sirk's soapy melodramas, such as All That Heaven Allows (read review) or There's Always Tomorrow (1956), where Jane Wyman and Barbara Stanwyck play mothers whose children disastrously intervene in their love lives. Judd Hirsch makes a winning impression as Williams' uncle (allowed more screen time than Robin Bartlett as her mother), and it's a delight to see Jeannie Berlin as Dano's judgmental mother.
Kushner's script ends up feeling like the real star, and there is a freewheeling energy which straddles Spielberg's hallowed intersection of childhood and cinema. Moments dealing with initial romantic inclinations, like in E.T. (1982) or the boy scouts which conjure the opening of Indiana Jones and the Last Crusade (1989) are only a couple of the nods to Spielberg's own creative conjurings, but in essence, besides the cinematic prowess of Kaminski (and playful nods to what constitutes an interesting horizon line), there's little to differentiate the tone of The Fabelmans from a myriad of other memoir-inclined narratives (think last year's The Tender Bar, for instance). Perhaps a bit vainglorious, it is Spielberg pared down to his most intimate underpinnings, and thus one of the more emotionally persuasive offerings from the late period of his filmography.
Reviewed on September 10th at the 2022 Toronto International Film Festival – Special Presentations Programme. 151 Mins.
★★★/☆☆☆☆☆