Faraway, So Close: Nayfeh Showcases Absurdity's Segue to Tragedy in Meaningful Debut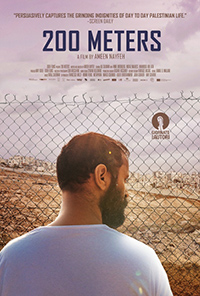 The ongoing conflict between Israel and Palestine is one of several contemporary global situations between two neighboring cultures in what feels like an eternal impasse, with the Palestinians continually subjected to various bureaucratic roadblocks as ongoing peace processes are still, purportedly, a goal. The checkpoint between Israel and Palestine is a necessary and unfortunately normalized fixture in depictions of life from this region, the frantic stress it causes and time-consuming processes a modern depiction of the Kafkaesque. Countless narratives have showcased how the formidable divisions lead to constant conflict and demeaning instances, and director Ameen Nayfeh continues to explore the ripple effects of such realities with his directorial debut, 200 Meters, building what amounts to an ethical dilemma exacerbated by extreme rigidity and unyielding cultural conflicts.
Mustafa (Ali Suliman) lives only 200 meters away from his ex-wife Salsa (Lana Zreik) and their son, but he resides on the Palestinian side of the checkpoint and his refusal to obtain an Israeli identification proves to be problematic. When his work permit expires, forcing him to forego a job because he can't cross over, he receives a call that his son has suffered an accident and is in the hospital. Desperate to be at his son's side no matter the cost, he pays an exorbitant fee to cross illegally, but his guide is simultaneously assisting several others, including a German woman, Anne (Anna Unterberger), who is filming a documentary on the difficulties people have who are forced to cross illegally for various reasons. But an already intense scenario is automatically exacerbated by the presence of a white foreigner, and Mustafa's predicament swiftly turns into an ever-darkening nightmare.
Nayfeh's 2017 short "The Crossing" is also a narrative focused on families separated by the checkpoint, where even having all the required documents doesn't guarantee passage. He takes this situation to the next logical conclusion through the desperate tale of Mustafa, played by masterful actor Ali Suliman, recognizable for his presence in a number of English language features but perhaps most striking in items such as Hany Abu-Assad's Paradise Now (2005) or Ziad Doueiri's The Attack (2012). It's a painfully anxious ordeal crossing any border illegally, one bungled here thanks to the selfishness of fellow passengers, including the German documentarian whose star subject lies to the other passengers about her heritage to assuage their ire.
That the proceedings of 200 Meters are believable but predictable isn't so much a fault of Nayfeh's storytelling skills than it is a way to safely and respectfully highlight the terrible effects these situations can have, keeping families apart and, worse, forcing people to compromise what limited freedoms they have in order to be with children or loved ones. What Nayfeh accomplishes is presenting this situation in a logical format that the documentarian Anne is attempting to convey within the film—but sometimes such guerilla journalism compromises its subjects irreparably, causing more harm than good. The point is simple, effective, and clear-headed, and Nayfeh owes a lot to leading man Suliman's compassionate performance.
Reviewed virtually on September 3rd at the 2020 Venice Film Festival. Venice Days – 96 Mins
★★★/☆☆☆☆☆