Stranger in a Bland Land: Scott's Toilsome Return to Space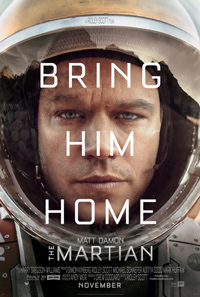 Ridley Scott, who is on the same annual cinematic trajectory as Woody Allen when it comes to churning out films, returns again to sci-fi with The Martian, an adaptation of Andy Weir's novel. Fans of the source material will already know the title is somewhat of a misnomer, as this is one epic from Scott that doesn't include an extra-terrestrial presence. Thematically, this is family friendly stuff, of the Ron Howard Apollo 13 ilk, and the film's visual power, featuring the work of Scott's returning DoP Dariusz Wolski, makes this 3D space epic seem superbly outfitted. But, as many have often criticized Scott as regards his recent output, it also lacks key components that made his earlier classics timeless—dramatic tension, spectacular thrills, and memorable characters. Instead, this rather feels like a sharply dressed rescue mission procedural, with every single minute geared toward the inevitable finale where a fallen space comrade is united with terra under his feet.
A team of scientists working on the surface of Mars are forced to abandon their mission due to a violent storm. Before the entire team can get to safety, botanist Mark Watney (Matt Damon) is swept away by debris and presumed dead, while the commanding officer (Jessica Chastain) heads back to Earth with the remaining crew (Kate Mara, Michael Pena, Sebastian Stan, Aksel Hennie). Meanwhile, the Director of Nasa (Jeff Daniels) alerts the media. But Watney, in fact, didn't die, and figures out a way to keep himself alive by cultivating potatoes using his own feces. Satellite imagery eventually alerts NASA of his presence, and soon, ambitious designs take place in an effort to save Watney before he inevitably runs out of food.
In a certain sense, there's a languid romanticism to be had here. A sprawling set of mostly unnecessary characters flounder around in the background (they're all about as sharply drawn as the cast of extras filling Times Square in one scene), building the importance of this ambitious rescue mission, sort of like Gravity churned through later period David Lean.
Those in awe or enthralled by the mere spectacle of Mars and its arid, red hills may be transfixed at the visual accomplishments. Damon gives a charming turn as the likeable lead, and yet, it's hard not to view his orchestrated quips as more than over rehearsed showmanship uttered by someone who fully expects someone to pore over his recorded footage. In other words, nothing about him feels genuine, sounding like someone's diary left out for easy discovery. We rarely get a candid glimpse of Damon's Watney, his wishes, fears, or fantasies somehow all left out of this two hour plus endeavor.
Damon's co-star from Interstellar, Jessica Chastain, gets another one-dimensional role here, though in material far less complicated and compelling. Those that found Nolan's film to be too complex (or even illogical) will most likely find The Martian at the other end of the spectrum—all is laid out, usually even in strict layman's terminology. But one can't fault Chastain or her cast mates. She's one of many overly qualified actors sputtering about in broadly drawn characterizations, a cast packed to the gills, which only leads to distraction.
The purpose of Kristen Wiig as the publicity manager for NASA is never evident, besides some clunky asides of humor with a pompous Jeff Daniels and Danny Glover as one of those zany genius types defined by weird character tics between jumbles of scientific jargon.
There are moments nearing a kind of tension in The Martian, until our fears are easily quelled by the soundtrack, courtesy of Chastain's only defining characteristic, her love of 70s disco. And so, when a mission critical moment appears, as when the homeward bound crew is tasked with snapping up supplies, (of which the bungling of could very well seal their fate), David Bowie's "Starman" placates any sense of alarm.
A film without significant highs or lows, everything about The Martian feels in-between, like a narrative waiting for its spark. Compared to Scott's last two films, The Counselor and Exodus: Gods and Kings, this is an improvement and does seem to be a bit more lively, but for those expecting something more domineering from the Alien director (and yes, Prometheus, a problematic yet welcome reprieve in comparison), will be disappointed to find The Martian is a simple if spirited adventure featuring emotionally uncomplicated human beings.
Reviewed on September 11 at the 2015 Toronto International Film Festival – Galas Program. 130 Mins.