Those Who Leave: Petzold Collapses Past and Present with Holocaust Redux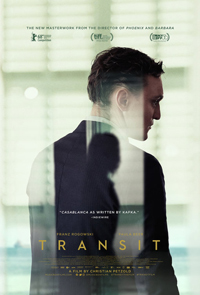 Switching things up considerably compared to his previous offerings, German auteur Christian Petzold makes his most daring and ultimately divisive venture to date with Transit, based on a 1942 novel by Anna Seghers. Those expecting a third part in his recent historical saga, marked by lauded successes Barbara (2012) and Phoenix (2014) might be a tad disappointed (especially as this is also Petzold's first feature sans Nina Hoss in over a decade). Switching to a masculine perspective and mashing the parameters of the original text atop a contemporary yet pointedly undefined European platform in the midst of experiencing another German occupation, it's a rather discombobulating experience for several reasons—and structurally perhaps best succeeds in presenting the actual condition implied by its title, a state of constant flux, instability, and foreboding.
Stuck in Marseilles as fascist troops from his mother land weave their way through modern day France as an occupying military force, Georg (Franz Rogowski) is in danger of getting swept into a concentration camp when the "spring cleaning" gets to the port. Desperate for transit papers, a complicated paper trail which dictates he can't even stay in Marseilles legally unless he can prove he has the ability to leave, providence presents itself when he is allowed the opportunity to steal the identity of a recently and mysteriously deceased writer of note who had been making his way to Mexico. However, the writer's estranged wife (Paula Beer of Ozon's Frantz) is desperately searching for him, and as their paths continue to cross, Georg begins to become enamored with her. A troubled triangle develops between a doctor (Godehard Giese) she's currently involved with as the specter of the dead writer haunts them all.
In several ways, what Transit does with Seghers' source text is similar to how Petzold has regurgitated other narratives for his own unique purposes—2007's Yella is inspired by Carnival of Souls, 2008's Jerichow a recognizable take on The Postman Always Rings Twice, and 2014's Phoenix is a remake of Return from the Ashes (1965). An overwhelming, Kafkaesque tonal discord ensues as the identity issues (similar to that of Phoenix) of Seghers' mid-WWII noir bleed over contemporary refugee crises heightened by another genocidal wave of fascism which feels all too plausible considering current tenuous international relationships between several world powers.
Questions abound on the plausibility here—with current technological capabilities, how does Georg simply adopt the identity of another, even during the chaos of impending war? Or are we entering a narrative following the end of net neutrality, perhaps when culture has regressed to anachronism as a way to control the sharing of information yet allow for these sorts of slippery loopholes for certain people? Petzold uses Seghers as a springboard much as Sergei Loznitsa utilizes Dostoevsky to examine the nightmares of contemporary Russia in the difficult yet exceptional A Gentle Creature (2017).
Although Petzold never clearly defines the parameters, Transit leaves us on edge, especially as the phantom Paula Beer finally makes her way into the dialogue nearly an hour after the film starts. More of an accent than a character, she is the ghost haunting the romantic desires of three men, her relationship with all three left purposefully vague. Both Beer and Rogowski have a haunted, spectral look to them, their supposed intimacy more of a survival mechanism since life as they know is spinning quickly into its death throe. A return to the bleakness of Petzold's work in the early 2000s, gone is the emotional heartbeat of his previous two films. This is a new, dubious world redefined through another wave of a rising terror which was never completely quelled in the first place.
Reviewed on February 17th at the 2018 Berlin International Film Festival. Competition. 101 Mins.
★★★★/☆☆☆☆☆