Don't Stop Till You Get Enough: Noe Does Sensory Deception with Latest Dark Odyssey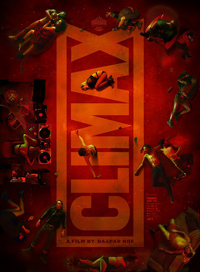 Come again? Enfant terrible Gaspar Noe returns to cinema of sensation with his fifth feature, Climax, an odyssey of orgiastic, though not quite orgasmic pleasures. Three years after his heteronormative 3D sex extravaganza Love (review), Noe turns to something a bit more pansexual with perhaps his most subversive, yet simplistic exploration to date, exploring a 1990s urban dance crew who are unwittingly drugged with spiked communal sangria on the eve of their last rehearsal. Featuring a stunning mash-up of period perfect artists like Aphex Twins and Daft Punk, Noe takes inspiration from the drag ball scene to capture a pulse-pounding opening number which evokes equal parts dance club and bathhouse. Noe, forever attuned to the sensory possibilities of cinema, provides a film which begins like a hit of amyl nitrate before it descends headlong into hysterical overdose territory, reeling like a nasty hangover after closing time at Berghain.
After a jarring reverse credit sequence announcing the events of the film transpired in 1996, France, audition tapes of various members from a dance troupe profess their relationship to either the art of dancing or experience with drugs. Noe frames the grainy television footage with stacks of books on film and various VHS tapes, several of which become obvious frames of reference. On the tail end of their rehearsal, various simmering sexual tensions surface as they descend during one last bacchanalian in their isolated dance school in the woods. But eventually, everyone realizes someone has spiked the sangria.
"Birth is a unique opportunity, life is an impossible collective, and death is an extraordinary experience" read three title cards which flash throughout the journey of Climax, an exercise glorifying several of Noe's cinematic flourishes. The dance school setting may recall Suspiria, but Noe allows a more pronounced homage to Zulawski's Possession (1981) with an aside featuring Sofia Boutella, a central figure as the troupe leader, as well as the most recognizable cast member out of a diverse crew of international dancers.
The real star of the hour is Noe's phenomenal DP Benoit Debie, who accomplishes several extraordinary long, roving takes, particularly in the film's first half of thumping dance sequences. Clips of the crew discussing their sexual proclivities reveals various shortcomings, desires, and vulnerabilities, information which provides a template for how each of them experiences their hellacious hallucinations. These veer from ludicrous exchanges to violent altercations between lovers, siblings, and various sexual intermingling. While Noe's characterizations are distinct, his use of the name Psyche evokes Greek mythological aspirations, the woman who is granted immortality for a commitment to sexual love…except for Noe, her commitment is unrequited.
While Climax isn't sexy per se, it inspires a sort of nostalgia for the grungy depravity it evokes, presenting such long-winding sequences it delivers not one but several ultimate climaxes. Plenty of discomfort is also to be had, especially with some of Noe's favored motifs, revisiting the kicking of a pregnant woman's abdomen a la his 1998 debut I Stand Alone.
Although Climax is not necessarily as gruesome or perhaps boundary pushing as one might expect, it's his return to the cohesive, nightmarish mise-en-scene demonstrated in both Irreversible and Enter the Void. Eclectic, idiosyncratic, and above-all, another singularly invigorating experience from Gaspar Noe, Climax is a sensory overload which edges one to the precipice of cinematic glory, with a payoff which will be satisfactory to some, and perhaps unfulfilling for others—but either way, an unforgettable aesthetic experience (and kudos to the Uli Edel Christiane F. reference).
Reviewed on May 13th at 2018 Cannes Film Festival – Directors' Fortnight. 95 Mins.
★★★★½/☆☆☆☆☆