F is for Fake: Giannoli Highlights Prescience in Adaptation of Balzac Classic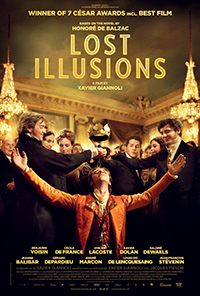 The erosion of romanticism and idealism is at the core of Honore de Balzac's classic 1843 text Lost Illusions, initially published as a serial and forms part of the author's famed interlinking The Human Comedy. Directed by Xavier Giannoli, reuniting with his The Singer (2006) actors Cécile de France and Gerard Depardieu, this is far from a mere costume drama reflecting the specific sentiments of a certain time and place. Rather, it highlights a prototype of how stunt journalism shaped news media and the exchange of information compromised by subject, self-serving interest. Having much to say about the nature of criticism and the general acceptance of anything stated in any type of public platform, it's a testament on not only human nature but our conditioned inability to sometimes distinguish authenticity and falsehood to those deigned authorities. In other words, fake news is as old as the printing press, and defying humankind's continual cultural hierarchies an enduring fodder for its continuation.
In 19th century Angouleme, young Lucien Chadron's poetry allows him to enter the house of Madame Louise de Bargeton (Cécile de France), an aristocrat in love with beauty and all the finer things of life. Heralding him as an equal to famed contemporaries from afar, they begin a love affair, which threatens violence from her much older husband. To avoid scandal, Louise sneaks off to Paris with Lucien, though immediately finds her associations with him will compromise her further. To mitigate, her admirer Baron du Chatelet (André Marcon) puts Lucien up in his own flat, and they introduce him to society at the theater, where he is seated with Louise's cousin, Marquise d'Espard (Jeanne Balibar), who has connections to the king. It's clear Lucien is not made aware of how he's supposed to behave, and the Baron ruins him with the gossip machine, as the young man's been using his mother's prestigious last name, but in reality is a peasant. With Louise abandoning him and his struggle to continue to write hampered by the need to support himself, a chance meeting with newspaper publisher Etienne Lousteau (Vincent Lacoste) finds Lucien climbing a new social order, aiming for vengeance as he mocks the Royalist party of Louise's crowd, taking a lover in stage actress Coralie (Salome Dewaels). Rising to the ranks of Lousteau's paper, a manufactured rivalry with the author Nathan (Xavier Dolan). Scruples or integrity, he soon finds, are merely illusions.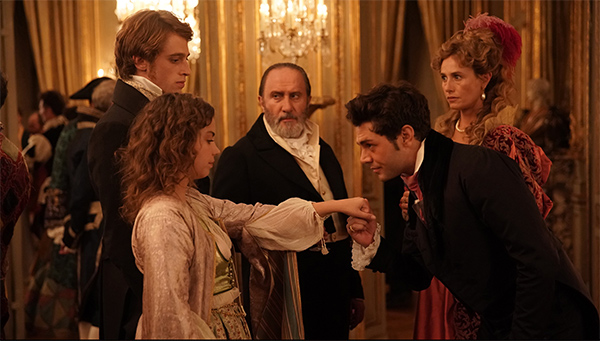 Adapting Balzac's dense novel is an ambitious undertaking in itself, and utilizing Dolan's Nathan as the omniscient narrator ensures the author's magnificent tone, and some of his droll, withering prose, remains intact. At the same time, it's specific to a certain period, the 1820s, where freedom of the opposing press was allowed a short time to flourish by the Royalists. Within it, a seething class resentment unfurls, which is eventually the Achilles heel of Lucien, unable to properly pay the game, victim to his own hubris.
Dolan is novel casting as Lucien's frenemy, considering the critical backlash some of Dolan's own eventual directorial efforts received following his early praise as a wunderkind. Benjamin Voisin is particularly well situated for period pieces (at least also taking into consideration a supporting role in Melanie Laurent's upcoming The Mad Women's Ball), and he has a lean, hungry energy as a stilted lover cum social climber. Cecile de France is exquisite as the unhappy Louise, caught between her passion and the realities of the comfort allowed by her social standing—it's only a pity there was no screen time for Balzac's striking backstory of her rather deranged reputation in Angouleme. Gerard Depardieu has a small appearance as the illiterate powerhouse published Dauriat, while Jeanne Balibar is exquisitely villainous as the vengeful Marquise d'Espard.
Balzac remains an untapped figure in cinema, with every decade or so a major attempt to revitalize something from his resume. Balibar headlined a great one, 2007's The Duchess of Langeais, but in the English language, 1998's Cousin Bette might remain the best known in contemporary offerings. What Giannoli accomplishes is a scathing portrait of society while also embracing the eternal, melancholic yearning ever present, the "love of beauty," which compromises all. Like Madame Bovary, Lucien spends his way into impossibility while chasing something likely to disappoint in its vacuity, even if achieved. The depiction of the press, and the compromised integrity of journalism isn't exactly an indictment than an inevitability, but a portrait of survival, a game of would-be megalomaniacs.
In a sequence where Lucien and Lousteau cackle like hyenas over the duality of praise or disparagement, and the thin line between them, there's a mad glee, a monstrous reality of publications crafting exactly what their audience wants to hear. Obviously a statement about the current reality of the news media, for all the attention granted cynicism and cruelty in their world (like Leconte's Ridicule, 1996), permutations in play today favor hyperbolic praise. Like Kubrick's Barry Lyndon (1975) on uppers, it's a rarity in period pieces, much less adaptations. Expertly juxtaposing the provincial Angouleme with the grungy inferno of Paris, DP Christophe Beaucarne and production designer Riton Dupire-Clement assist in creating a flavorful period piece of epic sentiments, both viciously witty and savagely honest in its deliberation on, as Balzac would have it, the human comedy.
Reviewed on September 7th at the 2021 Venice Film Festival – Main Competition. 144 Mins
★★★★/☆☆☆☆☆