You-Hoo: Wolfe's ALS Drama Tries To Balance Sentiment With Schmaltz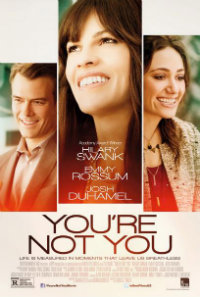 Hilary Swank seems attracted to playing daunted heroines, continually up against considerable odds—the homophobic rednecks of Boys Don't Cry, the white trash family unit of Million Dollar Baby, Gary Marshall's ineptness in New Year's Eve, and recently the misogyny of the Old West in The Homesman. Her latest drama, You're Not You, finds the actress experiencing the deteriorating effects of ALS (Amyotrophic Lateral Sclerosis), also known as Lou Gehrig's disease, a neurodegenerative disorder. Though winning two Oscars, Swank isn't always the herald of great cinema, more often than not making questionable choices for someone of her caliber and talent. Flanked by co-stars like Emmy Rossum and Josh Duhamel, a director whose last film was Nights in Rodanthe (2008), and co-written by Shana Feste, the director of sugary sap like The Greatest (2009) and Country Strong (2010), the odds seemed stacked perilously against the success of this ALS exploration. And perhaps that's where its unassuming power lies, because a great deal of the film does manage to be emotionally engaging and even well performed, even as it oscillates willingly into stagey cliché.
Kate (Swank) is a classical pianist that seems to have it all—a well-matched attorney husband (Duhamel), a handsome set of society friends (headed by Ali Larter) and a glistening reputation. But Kate suddenly develops ALS, and a year later, she's wheelchair bound in need of constant assistance. Firing her last assistant and eager to find someone that won't treat her like she's sick, Kate solicits interviews and stumbles upon Bec (Rossum), a struggling musician and college student who doesn't quite know how to take care of herself much less someone else. While Bec is at immediate odds with Kate's husband, the women bond in unexpected ways.
If you can make it through the axe grinding onslaught of its initial set-up, You're Not You does eventually reap some emotional resonance in its well-meaning intentions. Rossum is still being marketed as 'a rising star,' even though she's had lead film roles in projects for well over a decade (The Phantom of the Opera anyone?) and an unsuccessfully launched music career to boot. Initially, her spastic rendition of messy girl Bec is unforgivably groan worthy as well as unbelievable. But it's a problem that begins with the highly artificial script from Feste and Jordan Roberts (who directed the problematic indie comedy 3,2,1…Frankie Go Boom, 2012).
Rossum does find some common ground with Swank, but an actress with a bit more finesse would have been able to better navigate the rampant cliché. Swank is often quite moving, again saddled with uncaring family members (Frances Fisher, a kind of empathetic Ed Begley Jr.), though even in a state of significant deterioration, she often appears much too coiffed. Of course, we have the added dramatic element of her previous career as a celebrated pianist to up the ante, a significant detail lazily dealt with in the screenplay.
A much more interesting focal point would have been the character played by the lovely Loretta Devine, but we'll have settle with at least getting to see her on the sidelines. A host of other faces pop up there, too, including Ali Larter, Ernie Hudson, Jason Ritter (the expected romantic angle with Rossum is tiring), and Marcia Gay Harden. To be fair, one should mention that George C. Wolfe also directed a celebrated television film starring S. Epatha Merkerson, Lackawanna Blues (2005), and this latest film is closer in spirit to that endeavor than Wolfe's paycheck adaptation of the Nicholas Sparks' novel. Better than expected but not quite believable in every regard, You're Not You is at least an honest attempt to grapple with a portrait of the disease.
★★½/☆☆☆☆☆