Disc Reviews
Tuesday Blus: Stanley Kramer's Not as a Stranger & Andy Muschetti's It
This week's edition of Tuesday Blus includes the following titles: Not as a Stranger (1955) – Kino Lorber, The Taking of Beverly Hills (1991) – Kino Lorber, It (2017) – Warner Bros., Death Laid an Egg (1968) – Cult Epics.
Not as a Stranger (1955)
Film Review: ★★/☆☆☆☆☆
Disc Review: ★★★/☆☆☆☆☆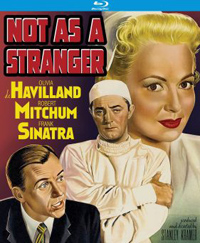 Director Stanley Kramer flexed his interests in social message melodrama right out the gate with his 1955 debut Not as a Stranger, based on the popular Morton Thompson novel, a bestseller at the time. Adapted by writing duo Edna and Edward Anhalt (who would work with Kramer again on 1957's The Pride and the Passion), a trio of 1950s heavy hitters, including Oscar winners Olivia de Havilland, Frank Sinatra, and Gloria Grahame, support leading star Robert Mitchum, who plays an aggressively egotistical medical student whose desire to become a leading physician blots out all else. While Sinatra (fresh off that From Here to Eternity Oscar), and Mitchum play best medical student pals, both seem much too ripe to be second year students. While the film was Oscar nominated for Best Sound Recording, this is clearly a beginning film for Kramer, who doesn't seem concerned with the idea of pacing. Poor Olivia de Havilland is saddled with a thick Swedish accent, the woman whose rich parents make her a lucrative match for the economically disenfranchised Mitchum (who gets to star opposite Lon Chaney Jr. and Broderick Crawford as his actual and desired father figures, both men who were noted drinking buddies in real life). Decked out with a flaming platinum hair-do which washes her out in every frame of DP Franz Planer's (Roman Holiday, 1953), she's no competition for the vampish Gloria Grahame, who oozes manipulative feminine wiles in her seduction of Mitchum.
Lucas Marsh (Mitchum), an ambitious medical student who lives with an alcoholic deadbeat dad (Lon Chaney, Jr.) has a passionate desire to become a successful doctor. Under the tutelage of his mentor (Broderick Crawford), and the help of a romance with a fellow nurse, the "Swedish Nightingale" Kristina Hedvigson (Olivia de Havilland), he's able to pay for and complete school. When he sets up a private practice in a small town, his extreme perfectionism begins to get the better of him and alienates him from his wife and best bud Alfred (Frank Sinatra). Soon, temptation comes knocking in the form of a beautiful woman (Gloria Grahame) and Marsh's perfect plans gang aft agley.
Sinatra received a BAFTA nod, and is potentially the liveliest personality in this cadre of predictable characters (though a passage between de Havilland and Mitchum on a date to see The Barefoot Contessa and commenting on the ravishing beauty of Ava Gardner seems a bit heavy-handed in its framing of Kristina as a plain woman), and Mitchum's rise to prominence and subsequent fall from grace in the eyes of his wife is rather conservative for the button-pushing associated with Kramer. Domestic certitude, in the form of a pregnancy, provides the crux of the moral dilemma for the self-centered Mitchum, and the death of a colleague forces him to reconsider his mortality. All's well that end's well in this rather banal narrative, which is otherwise enjoyable for fans of any of the four prominent actors (and Lee Marvin appears in an early role as a fellow medical student).
Kino Lorber presents the film in 1.85:1, and picture and sound quality are serviceable in this transfer (which features lots of close-ups on the leads). Besides the original theatrical trailer, only an audio commentary track from film historian Troy Howarth is available.
***
It: Chapter One (2017)
Film Review: ★★★½/☆☆☆☆☆
Disc Review: ★★★½/☆☆☆☆☆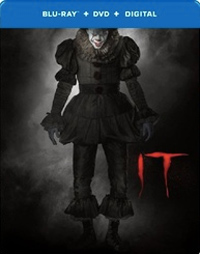 One of 2017's most notable cinematic ventures was the first big screen adaptation of Stephen King's seminal 1984 horror classic It (which had previously terrified the zeitgeist in a campy 1990 television miniseries which famously starred Tim Curry as Pennywise the Clown). Director Andy Muschetti (of 2013's Mama) does a fine job of conjuring up 1980s horror nostalgia in a venture which went on to gross a little under four hundred million worldwide (its theatrical trailer broke records for most watched preview and French-Canadian auteur Xavier Dolan was moved to knight the film as 'best of the century'). All hype aside, Muschetti's achievement stands as one of the better Stephen King adaptations in the cinematic canon. In our theatrical review, "it isn't nearly as daring as King's novel, capturing the tone and emotional essence goes a long way towards making this study on fear and trembling effectively entertaining."
Warner Bros. presents their box office hit in 2.4:1 high definition with 5.1 Dolby Digital. Picture and sound quality are impressive in this transfer, but what aficionados will most likely appreciate are several extra features, includes a handful of deleted scenes. Pennywise Lives!: This sixteen-minute sequence delves into the mythology of Pennywise, with Bill Skarsgard commenting on his approach, as well as the child cast-members sharing their anticipation of seeing the clown in behind-the-scenes sequences. The Losers' Club: In this fifteen-minute bit, the child cast member's share their unique experience filming It and their behind-the-scenes friendships which were forged while making the film. Author of Fear: Stephen King shares his thoughts and experiences on It in this thirteen-minute feature, which explores some of the autobiographical inspirations in the novel. Deleted Scenes: Eleven deleted or extended sequences, about of screen time, is included as a bonus feature.
***
The Taking of Beverly Hills (1991)
Film Review: ★/☆☆☆☆☆
Disc Review: ★★★½/☆☆☆☆☆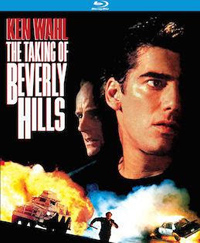 Director Sidney J. Furie retains an impressively varied and sometimes confounding filmography. The Canadian born director began with B-movie cheapies and kinda sorta ended up there again from the 1990s through today, but along the way he presented successful, lauded titles across a wide variety of genres through the 1970s (which include a number of delights, including a Jeannie Berlin vehicle) and 80s. Amongst his best offerings are 1965's The Ipcress File, which competed in Cannes and won him a BAFTA, 1972's Lady Sings the Blues, which featured an unforgettable Diana Ross as the tragic Billie Holiday, and the 1981 horror classic The Entity with Barbara Hershey.
However, once Furie got into Superman IV: The Quest for Peace territory, and various sequels to his 1986 film Iron Eagle, quality seemed to be compromised. No where is this more apparent than in the Die Hard inspired The Taking of Beverly Hills, which is headlined by The Wanderers alum Ken Wahl, who plays a football hunk styled like the real-life version of the Patrick Warburton voiced Kronk from The Emperor's New Groove (2000). When a rebel faction of security guards led by an ex-cop with an axe to grind against the elitist yuppies of Beverly Hills, a hoax toxic chemical spill causes a mass evacuation in the moneyed Los Angeles city. With all the homes and shops empty, a crew of criminals descends en masse and the looting begins. Until Wahl's Boomer Hayes and his elaborate coif begins to take out all the bad guys in a series of elaborate car chase sequences set to a soundtrack that includes Janet Jackson, Black Box, Marvin Gaye, and Sheena Easton.
While Wahl (who's about as lifeless as blow-up doll) is uncomfortable to watch, a notable supporting cast of period players allow some of this to be entertaining, at least for nostalgic reasons. Lee Ving (of Flashdance) is a crusty little villain, Robert Davi (who was also in Die Hard) is a menacing "class-appropriate" suitor to female lead Harley Jane Kozak (the mom from Arachnophobia, 1990), and Matt Frewer of Honey, I Shrunk the Kids (1989), provides mild comic relief (and unnecessary voice over). Additionally, Lyman Ward (of Ferris Bueller's Day Off and Sleepwalkers) plays the Beverly Hills police chief who lives in Pasadena.
Unfortunately, The Taking of Beverly Hills is mostly a waste of time (besides an incredibly impressive soundtrack), and certainly isn't an underrated jewel in Furie's later filmography. Unable to maintain the compelling strands of its B-movie narrative from jump, lovers of Die Hard knockoffs and early 1990s cinema may find this of interest, while those hoping for a portrait of Los Angeles from the period will also be disappointed because—besides a handful of exterior shots in the opening montage, this was filmed in Mexico utilizing a Styrofoam set of Rodeo Drive's storefronts.
Kino Lorber dredges up this action obscurity in 2.35:1. Picture and sound quality are serviceable (though this certainly doesn't live up the second part of its Studio Classics label), but the audio commentary from film historian Howard S. Berger and Furie biographer Daniel Kremer is perhaps the most interesting element of the package.
***
Death Laid an Egg (1968)
Film Review: ★★½/☆☆☆☆☆
Disc Review: ★★★½/☆☆☆☆☆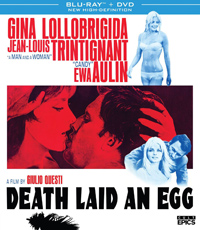 There's a lot going on in the 1968 oddity Death Laid an Egg, what would probably best be classified as a giallo thanks to its origins, but would probably be better described as a dark comedy about marriage and property. Playing kind of like the dark sister to the beloved American slapstick comedy The Egg and I (1947), Italian megastar Gina Lollabrigida plays the wife of Jean-Louis Trintignant. Together, they run a high-tech chicken farm thanks to her family's ties (Trintignant is often called into the head honcho's office, where an omnipotent oil painting of chickens looms nigh), which has been beset by problems. One such issue is the presence of a blonde nymphet played by rising ingenue Ewa Aulin, probably best remembered for the sordid but star packed Candy, which was released the same year (several years later she would leave the profession entirely). As these things go, a love triangle develops, albeit one complicated by Trintignant's penchant for slaughtering prostitutes and taping their grisly death pleas and some complications on the chicken farm where an accidental chemical formulation results in chickens being born without heads or wings and virtually boneless (which the CEO thinks is marvelous, and was an idea better explored by Margaret Atwood in her novel Oryx and Crake with what she termed 'nobbies').
Director Giulio Questi is perhaps best remembered for his entry in the Django spaghetti western franchise, 1967's Django Kill…If You Live, Shoot!, which featured, among many things, a band of homosexual cowboys. His Death Laid an Egg is such an oddity, it seems almost sacrilegious to denounce some of its stagnant pacing. To be fair, nothing is actually as it seems, as everyone seems to be harboring significant (and some surprising) secrets. A bourgeois shindig turns kinky in a sequence which plays like a key party circa Woody Allen's Sleeper (1973), and many conversations about love (apparently it changes the color of one's eyes) and marriage makes Trintignant and Aulin share the film's dullest moments. This was one of six titles in which Trintignant appeared in 1968—already a regular in the Italian and French film industry. Death Laid an Egg came out in the same period as Chabrol's Les Biches, Corbucci's The Great Silence, Robbe-Grillet's The Man Who Lies, and another Italian B-side favorite, Pasquale Festa Campanile's The Libertine.
Lollabrigida gets all the best withering lines as a woman who suddenly seems eager about arousing her husband's sexual interests once Aulin confirms he's been fiddling around with prostitutes. Her grand plan? Disguise herself as a sex worker and hole up in his secret hotel room. This was also a notable period for Lollabrigida, who starred in four films in 1968, including a signature role in the sex comedy Buona Sera, Mrs. Campbell, the narrative which provided the inspiration for, of all things, Mamma Mia.
Cult Epics continues to release some of Italy's greatest obscured titles from master filmmakers (their recent slate also included Marco Ferreri's The Flesh). Presented in high-definition 1.78:1, picture and sound quality could have majorly benefitted from a restoration. DP Dario Di Palma (who lensed Scola's Ugly, Dirty, and Bad, 1976, likes to focus on eyes, particularly the mascara lined orbs of Lollabrigida and Aulin, which lends the film its most voyeuristic shades). A lobby card photo gallery, the original theatrical trailer, and an isolated score from Bruno Maderna (which is a jarring symphony of discord and would prove to be his last) represent the package's extra features.