Top 100 Most Anticipated American Indie Films of 2018: Picks 200 to 101
Last week, Nicholas Bell helped us ring in the new year with our Top 200 most anticipated world cinema items. We also highlighted our Top 25 studio film items and this past Monday, Matthew Roe re-launched the bi-monthly What's Up Doc? Top 100. This Sunday, and running up to D-Day (an American independent cinema love-fest known as Sundance) we begin our countdown to the top offerings in American indie for 2018.
Below, I supplement one hundred reasons to be enthusiastic for future microbudget (a la Jarmusch's 1984 film, Stranger Than Paradise), small and medium-sized budget independent film offerings, with a listing of 100 more reasons to champion 2018. Some of these were included at Sundance/Slamdance, some will trickle into SXSW, Tribeca, TIFF, and some will find their home at prestige Euro fest, launch from one of the streaming type services or one of the many U.S. based film fests. While the status of Shane Carruth and the Spike Jonze/Frank Ocean/Brad Pitt projects remain a mystery, most of these films mentioned below and in our top 100 have already seen clapperboard action including a now defunct item (#199 position) that we wish could find an All the Money in the World resolve, a film caught in legal limbo (#200 position), and three made for TV films * . Make sure to visit is on Sunday, follow us on twitter @ioncinema or grab our RSS feed.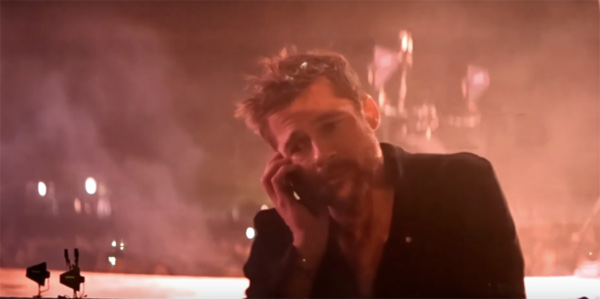 #101. Hereditary – Ari Aster
#102. Butterfly in the Typewriter – David DuBos
#103. Burden – Andrew Heckler
#104. Lost Girls – Liz Garbus
#105. American Woman – Semi Chellas
#106. Lying and Stealing – Matt Aselton
#107. The Pervert – Jack Dunphy, Nathan Silver
#108. Zoe – Drake Doremus
#109. Clara's Ghost – Bridey Elliott
#110. Bel Canto – Paul Weitz
#111. My Dinner with Hervé – Sacha Gervasi *
#112. Fahrenheit 451 – Ramin Bahrani *
#113. Sadie – Megan Griffiths
#114. Mid '90s – Jonah Hill
#115. Brighton Beach – David Gutnik
#116. Never Goin' Back – Augustine Frizzell
#117. A Bread Factory, Part Two – Patrick Wang
#118. Honky Kong – Stephen Gurewitz
#119. On the Basis of Sex – Mimi Leder
#120. Beirut – Brad Anderson
#121. A Bread Factory, Part One – Patrick Wang
#122. Arizona – Jonathan Watson
#123. Happy Valley – Barry Levinson *
#124. Monsters and Men – Reinaldo Marcus Green
#125. The Turning – Floria Sigismondi
#126. Ghostbox Cowboy – John Maringouin
#127. Deep Murder – Nick Corirossi
#128. Search – Aneesh Chaganty
#129. A Boy, A Girl, A Dream. – Qasim Basir
#130. Blindspotting – Carlos López Estrada
#131. Furlough – Laurie Collyer
#132. Bushwick Beats – A. Sayeeda Moreno, Chloe Sarbib, Brian Shoaf, Sonejuhi Sinha, James Sweeny, Anu Valia
#133. IO – Jonathan Helpert
#134. Juliet, Naked – Jesse Peretz
#135. The Catcher Was a Spy – Ben Lewin
#136. The Burning Woman – Jake Scott
#137. Two Plains and a Fancy – Lev Kalman & Whitney Horn
#138. Alex Strangelove – Craig Johnson
#139. A Kid Like Jake – Silas Howard
#140. A Name Without a Place – Kenny Riches
#141. The Peanut Butter Falcon – Tyler Nilson and Michael Schwartz
#142. Puzzle – Marc Turtletaub
#143. White Rabbit – Daryl Wein
#144. Tau – Federico D'Alessandro
#145. Them That Follow – Brittany Poulton & Daniel Savage
#146. The Beach House – Jeff Brown
#147. A Rainy Day in New York – Woody Allen
#148. Dragged Across Concrete – S. Craig Zahler
#149. In a Relationship – Sam Boyd
#150. The Little Stranger – Lenny Abrahamson
#151. Unabomb – Robert Lorenz
#152. The Best of Enemies – Robin Bissell
#153. Corpse Tub – Vivieno Caldinelli
#154. Shadow Girl – Claudia Myers
#155. We Have Always Live in the Castle – Stacie Passon
#156. Behold My Heart – Joshua Leonard
#157. Ideal Home – Andrew Fleming
#158. Jonathan – Bill Oliver
#159. Fast Color – Julie Hart
#160. Kin – Jonathan Baker, Josh Baker
#161. The Pretenders – James Franco
#162. Lucky Day – Roger Avary
#163. How It Ends – David M. Rosenthal
#164. Family Ritual – Radio Silence
#165. Amateur – Ryan Koo
#166. The Legacy of a Whitetail Deer Hunter – Jody Hill
#167. Human Affairs – Charlie Birns
#168. The Long Home – James Franco
#169. Hearts Beat Loud – Brett Haley
#170. A Futile & Stupid Gesture – David Wain
#171. Richard Says Goodbye – Wayne Roberts
#172. Lapham Rising – Charlie Kessler
#173. Jobe'z World – Mike Bilandic
#174. Replicas – Jeffrey Nachmanoff
#175. Time Freak – Andrew Bowler
#176. Captive State – Rupert Wyatt
#177. The True Adventures of Wolfboy – Martin Krejcí
#178. The Party's Just Beginning – Karen Gillan
#179. Billionaire Boys Club – James Cox
#180. The Titan – Lennart Ruff
#181. The World Without You – Damon Shalit
#182. Going Places – John Turturro
#183. Flower – Max Winkler
#184. The Rainbow Experiment – Christina Kallas
#185. Always All Ways, Anne Marie – Zia Anger
#186. Chained for Life – Aaron Schimberg
#187. Tuscaloosa – Philip Harder
#188. You Can Choose Your Family – Miranda Bailey
#189. Shotgun – Hannah Marks & Joey Power
#190. Three Seconds – Andrea Di Stefano
#191. Wild Honey Pie – Jamie Adams
#192. The Philosophy of Phil – Greg Kinnear
#193. Killroy Was Here – Kevin Smith
#194. Departures – Peter Hutchings
#195. An L.A. Minute – Daniel Adams
#196. The Kid – Vincent D'Onofrio
#197. Cruise – Robert Siegel
#198. Rosy – Jess Manafort
#199. Gore – Michael Hoffman
#200. London Fields – Mathew Cullen
Related Topics:
2018 Most Anticipated American Independent Film, A Boy A Girl A Dream. Qasim Basir, A Bread Factory Part One, A Bread Factory Part Two, A Futile & Stupid Gesture, A Kid Like Jake, A Name Without a Place, A Rainy Day in New York, A. Sayeeda Moreno, Aaron Schimberg, Alex Strangelove, Always All Ways Anne Marie, Amateur, American Indie Film, American Woman, An L.A. Minute, Andrea Di Stefano, Andrew Bowler, Andrew Fleming, Andrew Heckler, Aneesh Chaganty, Anu Valia, Ari Aster, Arizona, Augustine Frizzell, Barry Levinson, Behold My Heart, Beirut, Bel Canto, Ben Lewin, Bill Oliver, Billionaire Boys Club, Blindspotting, Brad Anderson, Brett Haley, Brian Shoaf, Bridey Elliott, Brighton Beach, Brittany Poulton, Burden, Bushwick Beats, Butterfly in the Typewriter, Captive State, Carlos Lopez Estrada, Chained for Life, Charlie Birns, Charlie Kessler, Chloe Sarbib, Christina Kallas, Clara's Ghost, Claudia Myers, Corpse Tub, Craig Johnson, Cruise, Damon Shalit, Daniel Adams, Daniel Savage, Daryl Wein, David DuBos, David Gutnik, David M. Rosenthal, David Wain, Deep Murder, Departures, Dragged Across Concrete, Drake Doremus, Fahrenheit 451, Family Ritual, Fast Color, Federico D'Alessandro, Floria Sigismondi, FLOWER, Furlough, Ghostbox Cowboy, Going Places, Gore, Greg Kinnear, Hannah Marks, Happy Valley, Hearts Beat Loud, Hereditary, Honky Kong, How It Ends, Human Affairs, Ideal Home, In a Relationship, IO, Jack Dunphy, Jake Scott, James Cox, James Franco, James Sweeny, Jamie Adams, Jeff Brown, Jeffrey Nachmanoff, Jess Manafort, Jesse Peretz, Jobe'z World, Jody Hill, Joey Power, John Maringouin, John Turturro, Jonah Hill, Jonathan, Jonathan Baker, Jonathan Helpert, Jonathan Watson, Josh Baker, Joshua Leonard, Julia Hart, Juliet Naked, Karen Gillan, Kenny Riches, Kevin Smith, Killroy Was Here, Kin, Lapham Rising, Laurie Collyer, Lennart Ruff, Lenny Abrahamson, Lev Kalman, Liz Garbus, London Fields, Lost Girls, Lucky Day, Lying and Stealing, Marc Turtletaub, Martin Krejcí, Mathew Cullen, Matt Aselton, Max Winkle, Megan Griffiths, Michael Hoffman, Michael Schwartz, Mid '90s, Mike Bilandic, Mimi Leder, Miranda Bailey, Monsters and Men, My Dinner with Hervé, Nathan Silver, Never Goin' Back, Nick Corirossi, On the Basis of Sex, Patrick Wang, Paul Weitz, Peter Hutchings, Philip Harder, Puzzle, Radio Silence, Ramin Bahrani, Reinaldo Marcus Green, Replicas, Richard Says Goodbye, Robert Lorenz, Robert Siegel, Robin Bissell, Roger Avary, Rosy, Rupert Wyatt, Ryan Koo, S. Craig Zahler, Sacha Gervasi, Sadie, Sam Boyd, Search, Semi Chellas, Shadow Girl, Shotgun, Silas Howard, Sonejuhi Sinha, Stacie Passon, Stephen Gurewitz, Tau, The Beach House, The Best of Enemies, The Burning Woman, The Catcher Was A Spy, The Kid, The Legacy of a Whitetail Deer Hunter, The Little Stranger, The Long Home, The Party's Just Beginning, The Peanut Butter Falcon, The Pervert, The Philosophy of Phil, The Pretenders, The Rainbow Experiment, The Titan, The True Adventures of Wolfboy, The Turning, The World Without You, Them That Follow, Three Seconds, Time Freak, top-stories, Tuscaloosa, Two Plains and a Fancy, Tyler Nilson, U.S. Indie Film News, Unabomb, Vincent D'Onofrio, Vivieno Caldinelli, Wayne Roberts, We Have Always Live in the Castle, White Rabbit, Whitney Horn, Wild Honey Pie, Woody Allen, You Can Choose Your Family, Zia Anger, Zoe
Eric Lavallée
Eric Lavallée is the founder, CEO, editor-in-chief, film journalist and critic at IONCINEMA.com (founded in 2000). Eric splits his time between his home base in Montreal, NYC, and is a regular at Sundance, Cannes and TIFF. He has a BFA in Film Studies at the Mel Hoppenheim School of Cinema. In 2013 he served as a Narrative Competition Jury Member at the SXSW Film Festival. Top 3 from 2016: Certain Women (Kelly Reichardt), Things to Come (Mia Hansen-Løve), Toni Erdmann (Maren Ade)