La Jauría | 2022 Cannes Film Festival Review
Beasts in the Jungle: Pulido Suffers the Children in Sinister Debut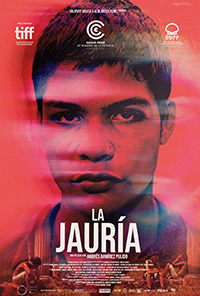 At the bizarre intersection of a walkabout and a penal colony is La Jauría (The Pack), the debut from Colombian director Andres Ramirez Pulido. A hard labor camp doubling as group therapy for wayward male teens outside Bogota is an experiment ripe for failure in this ominous exercise focusing on two friends involved in an accidental murder. As usual, good intentions pave the way to chaos and eventual depravity, aided by the simmering, sweltering anxiety of a tropical jungle.
A strong ensemble of first time actors bolster two lead performers whose characters seem fated to ruin, and there's a sweaty, brooding ambience suggesting a William Goldman styled dystopia hurtling toward implosion. Beautifully shot by DP Balthazar Lab (who lensed last year's The Heroics for Maxime Roy, a much different film in look and tone), it's not quite at the level of Heart of Darkness, but to paraphrase Joseph Conrad's words, the boys are loyal to the nightmare of their choice.
Eliu (Johjan Estiven Jimenez) has been sentenced to serve time in an experimental hard labor youth camp in the heart of the Colombian jungle. Bouts of manual labor are broken up with prayer, breathing exercises and group therapy administered by Alvarez (Miguel Viera) while local guard Godoy (Diego Rincoin) seems to despise his unruly wards. When a new group of boys arrive, Eliu is reunited with his partner in crime, El Mono (Maicol Andres Jimenez), his presence instigating an immediate change in the camp. When another inmate, Calate (Calate Wismer Vasquez) makes a complaint about the uselessness of the therapy administered by Alvarez, a resulting punishment goes too far, jeopardizing the tenuous hard labor program.
Pulido clearly harbors a morbid interest in examining kids isolated in mysterious environments as La Jauría follows his celebrated shorts "El Eden," about boys exploring an abandoned health resort, and "Damiana," where a group of girls are supervised deep in the jungle. His debut also follows on the heels of other depictions of militant or violent children grouped and eventually dispersed in the wild, such as Alejandro Landes' Monos (2019) and Joaquin del Paso's The Hole in the Fence (2021). Pulido is interested in something a bit more primal and straightforward with La Jauría, with this pair of boys hemmed up for killing the wrong man and instead taking down a mysterious figure known as The Invisible One.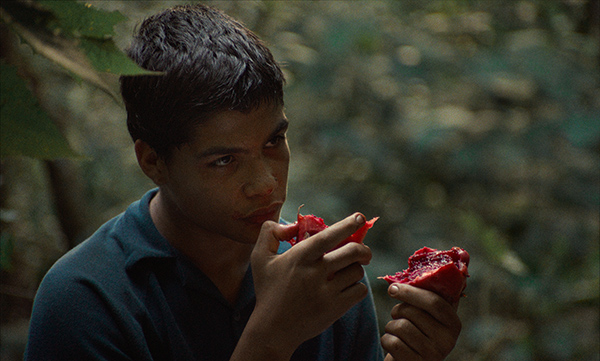 As Eliu, Johjan Estiven Jimenez gets the more arresting role, for he meant to kill his father rather than his eventual victim, while the recurring figure of a younger, wayward brother assists in solidifying his dysfunction. As El Mono, Maicol Andres Jimenez is effective, but feels utilized more as the initial catalyst of degeneration. Miguel Viera is also a standout as the well meaning Alvarez, but his righteousness also proves to be his downfall. Considering the drastic measures undertaken to cover up a crime in the third act, La Jauría surprisingly ends on a somewhat hopeful note, as if through all the misery, a lesson might have been learned.
Reviewed on May 24th at the 2022 Cannes Film Festival – Critics' Week. 86 Mins
★★★/☆☆☆☆☆