Support the Girls | 2018 SXSW Film Festival Review
Give a Hoot: Regina Hall shines in Bujalski's latest Slice of Life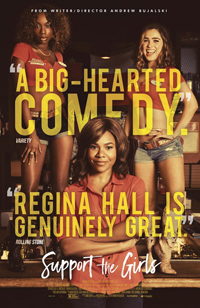 Andrew Bujalski is one of those quintessential American independent filmmakers whose mature work is both influential and almost instantaneously dependable as a point of reference (his debut film Funny Ha Ha inspired Lena Dunham to create Tiny Furniture). This tendency is likely to continue with his sixth feature film, which will undoubtedly inspire some young female African-American filmmakers to capture the everyday authenticity of the world around them. Support The Girls may be Bujalski's warmest-hearted to date, with an ensemble cast that oozes likability, with the most benevolent of them all being Regina Hall in a star turn that showcases her versatility. Sweet and seductive like a boozy milkshake, this will leave auds fulfilled and slightly tipsy.
The characters fill out a roster of women who tend a sports bar called 'Double Whammies' that's, "90% Applebees and 10% strip club." Each girl's thread is given a couple of beats, but they all revolve around general manager Lisa, and it's impossible to not get drawn into her orbit. The drama includes a wannabe thief who gets stuck in the air vent, the satellite TV going out, and a number of unruly customers. Lisa organizes an unsanctioned carwash for one of the girl's legal fees after she ran over an abusive boyfriend with her car. New hires include Jennelle (Dylan Gelula), who shows a little too much skin, and the veterans include Maci (a perky Haley Lu Richardson), who may or may not be dating a septuagenarian, and Danyelle (Shayna McHayle), who's reluctant to take a promotion. Lisa does a lot of 'supporting' throughout, arranging a babysitter for one of her girls, and even helping her ex-husband move into a new apartment. But her generosity only goes so far when the girl they fundraised for is revealed to be back with her violent boyfriend.
The film is made up of small moments of varying degrees of hilarity or poignancy. The owner of Double Whammies could be considered a villain, but his bark is bigger than his bite, proven in a road rage scene that ends with an uproarious thud. Bujalski can somehow make a plot point out of an empty space where a foosball table used to sit. It's an underappreciated talent to make the subtleties of everyday life seem more than mildly interesting, but taken as a whole, the picture is quietly compelling. Though not too quiet: the final scene ends with Lisa and two other girls screaming at the top of their lungs on the roof of a building.
If Kevin Corrigan's character in Results and Regina Hall's Lisa in Support The Girls are two sides of the same Bujalski coin, then he's quite the chameleon. The one thing they share in common is that they're both a little beat up. His characters are rarely winning the metaphorical competition of life. But Lisa is far from a loser– she's one of the brightest spots in his filmography, and it should yield her further acclaim for her nuanced performance. Perhaps to the surprise of their respective fans, Hall and Bujalski are a match made in Hooters.
Reviewed on March 9th at the 2018 SXSW Film Festival – Narrative Spotlight. 93 Mins.
★★★★/☆☆☆☆☆