Robe of Gems | 2022 Berlin International Film Festival Review
Trojan Women: Lopez Crafts Collage of Complicity in Stellar Debut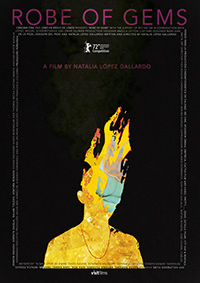 For her directorial debut Robe of Gems (Manto de gemas), Natalia López Gallardo resists expectations in a chilly narrative of complex intersections. Heretofore celebrated as the editor of critically revered titles from Amat Escalante, Lisandro Alonso and her partner Carlos Reygadas (with whom she co-starred in the underrated 2018's Our Time – read review), Lopez's stylistic choices remain self-evident, but there's an almost harsh reticence in how she continually undermines not only a certain arthouse convention, but the inherent apathy of those balanced precariously in this world on a wire. Lopez focuses on how class, privilege and social status tend to evaporate when the women connecting her narrative dare to employ any real sense of agency, highlighting their often chilling relationship to a power structure which demands their complicity. Oblique in ways which channel the cold austerity of Haneke more so than the shock value associated with her previous collaborations as editor, there's a crushing sense of hopelessness bordering on the misanthropic in this languidly paced tale as easy to embrace artistically as it is to recoil from emotionally.
Isabel (Nailea Norvind) has moved to her mother's neglected villa in rural Mexico, though her marriage is crumbling and she seems disinterested in her children. Reunited with their domestic worker Maria (Antonia Olivares), it seems all is not well in the countryside. Maria's sister disappeared over a year ago, and Isabel takes it upon herself to use her wealth to assist in following leads the police seem to eschew, such as the suspicion of a local taxi driver's involvement. But Isabel's naiveté proves dangerous. At the same time, local police officer Torta (Aida Roa) becomes involved with both these women, though she's distracted by her son Adan's (Juan Daniel Garcia Trevino) criminal activities, who has also been working with Maria through her attempts to make ends meet illegally. All of their lives are compromised due to this disappearance, but none of the women have the ability to truly assist one another.

It really isn't until the finale when we get a characteristically morbid sense of Lopez's Robe of Gems as a title, one of many exemplary extended shot sequences from cinematographer Adrián Durazo (Our Time) in a film where the visual and aural fabric plays like an escape to the miserable estrangements faced by each of the women. When we're left alone with Isabel, Maria or Torta, in some of the film's striking use of close-ups, there's only misery or anxiety to be experienced. More shocking are their tempestuous exchanges with those who have control of them, with Maria being lowest on this rotting totem pole.
Although there are moments of significant violence, Lopez frames these in a way which suggests a tiring inevitability. Isabel is told from the start she has no idea what she's getting into as she starts to meddle with generating interest in locating Maria's missing sister. She hardly pays the highest price, but it's Isabel who has the most dignity to lose, perhaps as a way to expiate her feelings of uselessness and ambivalence. Strikingly, there's nowhere to turn for respite—-in fact, the few moments of camaraderie are what generate inevitable tragedy for these women, as if it's their banding together the universe feels so punitive about.

Slyly suggesting its intentions of genre before morphing into something more like estranged social realism, Robe of Gems plays a cold, cruel, and ultimately esoteric game with the missing persons melodrama. It's a world to squirm away from, and in its final frames, the devastating finale instead brings a relief, or maybe just a drastic escape, recalling a famous line by Ray Bradbury, "It was a pleasure to burn."
Reviewed on February 11th at the 2022 Berlin International Film Festival – Competition Section. 118 mins.
★★★½/☆☆☆☆☆