Afire (Roter Himmel) | 2023 Berlin Film Festival Review
Pleasure to Burn: Petzold Stokes the Flames in Diffident Drama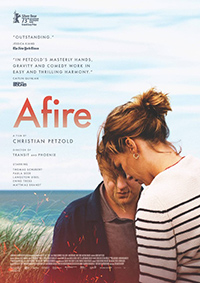 A fragile male ego finds itself dismantled in Afire (Roter Himmel), the second chapter in Christian Petzold's elemental themed trilogy, following the aquatic infused Undine (2020). Smaller in scale, though not necessarily substance, than Petzold's greatest hits, he also reunites for the third time with Paula Beer, assuming the centrifugal focal point previously occupied by Nina Hoss in the majority of his earlier works.
There's also an expression of the experimental this time around, focusing on a trio of intelligent creatives who are at a specific transitional precipice during one quiet summer soon to be consumed by a raging forest fire. There's a greater blight, however, than the razing of Mother Nature occupying Petzold's narrative. An obnoxious, self-consumed male writer, oblivious to his surroundings but whose perspective comes to be challenged, is the driving force behind this fable of how creativity and receptiveness are symbiotic.
Leon (Thomas Schubert) and Felix (Langston Uibel) are heading to the latter's family holiday home on the Baltic coast for a week. Leon is anxious to finish the manuscript for his second novel prior to his editor's impending visit while Felix is supposed to complete his portfolio for admission to an art school program. With their car breaking down on the way to the remote home, it seems things are off to a rough start. Worse, Felix's mother neglected to mention she has allowed Nadja (Paula Beer), the niece of a family friend, to occupy the home for the summer. Leon is immediately distressed at the compromised space, who demands quiet solitude for his work. Nadja, it seems, has made it a habit of having gentlemen callers over at night, the noise of their lovemaking disrupting Leon's sleep, which hobbles his writing time during the day. In town, they learn a forest fire has consumed a town 30 kilometers away and the locals are on high alert. Meanwhile, Felix seems driven to distraction, puttering around the home and going to the nearby beach everyday. When Nadja's lover Devid (Enno Trebs), a rescue swimmer from the beach, becomes part of their small group, Leon feels further threatened, lashing out in rebellion. His behavior backfires since he's drawn to the mysterious Nadja, who tries to be inviting. As Devid and Felix become lovers, Leon makes passive attempts to court Nadja's favor, but can't seem to think about anything beyond himself.
Likely to be defined as a minor curiosity in Petzold's oeuvre, Afire (the actual translation of the German title is the more befitting Red Sky), dangles its handful of more interesting characters before our eyes only to deny us the pleasure of spending time with them. Viewing this world through the pompous eyes of Leon takes some getting used to, and the greatest hurdle the film faces is convincing us as to why Felix is so attached to him or why Nadja would even bother with him. Toxic and filled with self-loathing, his disdainful behavior makes sense, even if Leon hasn't figured out his repellant demeanor remains a somewhat self-fulfilling prophecy.
Petzold's casting of Thomas Schubert (a supporting player in Jons Jonsson's Axiom, also concerned with an unbearably icky male protagonist) as Leon is fitting, even if the film too easily tries to shoehorn him into a more favorable light by the finale. Paula Beer is, once again, formatted as a sensuous free spirit with secrets of her own (the revelation of which is one the film's best scenes), while Langston Uibel's Felix and Enno Trebs' David (who appeared in Undine, as well as Haneke's The White Ribbon, 2009) are a peripheral and interesting queer element for Petzold's explorations of consuming intensity.
But the real pleasure is in Petzold's writing of his characters, and there's an oddly satisfying authenticity to the discomforts and aggressions caused by Leon's pretension-as-self-defense moments. The third act appearance of his editor, whose visit has mustered as much anxiety as the forest fire, allows for the only real peek into Leon's thought process as a presumably talented writer who has let early success stand in the way of his self development. Although the climax marries too many elements of convenience, including various life and death symbols on a surprise trip to the hospital for one of the characters, one can almost smell the summertime sadness permeating Hans Fromm's cinematography.
Reviewed on February 22nd at the 2023 Berlin International Film Festival – Competition section. 103 mins.
★★★½/☆☆☆☆☆